Eradicating Obstetric Fistula: Afghanistan
Image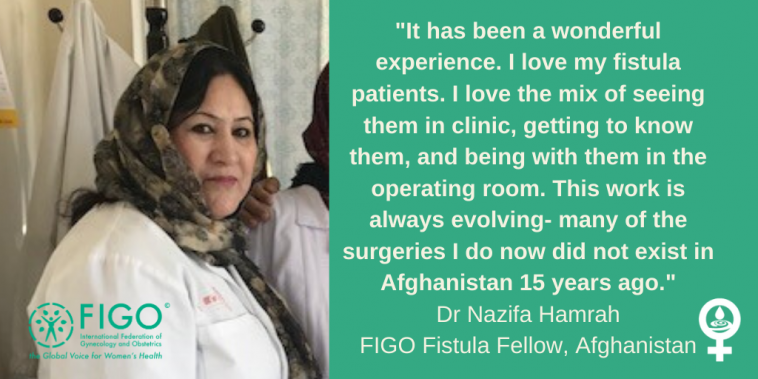 It is estimated that only one woman in 50 has access to fistula treatment. 
One FIGO Fellow, trained to provide life-transforming care to help significantly address the global treatment gap, is Dr Nazifa Hamrah, FIGO Fellow, Malalai Maternity Hospital, Kabul, Afghanistan
This month, FIGO spoke to Dr Nazifa Hamrah about her experience of being a fistula surgeon. 
When I was an OBGYN specialist, I travelled to one of the provinces in Afghanistan, where I met a woman who suffered from urinary incontinence since the birth of her first child. During that time, I really wished to have been a fistula surgeon so that I could have treated her. When the first fistula ward was established in Malalai Maternity Hospital, in Kabul, Afghanistan, I decided to become a fistula surgeon.
It has been a wonderful experience. I love my fistula patients. I love the mix of seeing them in the clinic, getting to know them, and being with them in the operating room. This work is always evolving- many of the surgeries I do now did not exist in Afghanistan 15 years ago. Fistula operations can be complex and lengthy, it is however very satisfying and rewarding once the patient is cured. 
Fistula surgeons have the joy of restoring the dignity of women in the community. Since I have joined the FIGO Training programme as a FIGO Fellow, I have further developed my scientific and practical knowledge. Being a FIGO Fellow fills me with a sense of responsibility, pride and honour.
A Patient's Story
I treated a patient named Noor Jahan who was 65 years old. She had developed an obstetric fistula during her first pregnancy when she was only 15 years old. She lived with a fistula for 50 years. She was admitted to hospital, had the surgery and became healthy, happy and content again. Ultimately, Noor Jahan was overjoyed with tears and kissed my hands incessantly. I will never forget that she was able to live with pride and dignity again. 
The Impact of COVID-19
Around half of the world's population is currently in lockdown in an attempt to stop the spread of COVID-19, a public health emergency that has claimed thousands of lives. Kabul City is in lockdown and until the pandemic is over, patients will not be admitted to hospital. Elective procedures, such as fistula surgery, have also been postponed until the end of lockdown and therefore, the fistula ward does not have any patients at the moment.
Eradicating Obstetric Fistula 
The public must be aware that obstetric fistula is entirely preventable and women who live with a fistula should never be ashamed and embarrassed of themselves. It is our public duty to make fistula patients healthy once again.
The long-term strategies to eradicate obstetric fistula must include universal access to emergency obstetric care, improved access to family planning services, increased education for girls and women, community economic development, and enhanced gender equity.
The FIGO Fistula Surgery Training Initiative is a globally recognised, state-of-the-art training programme. Using FIGO's Global Competency-Based Fistula Surgery Training Manual, the world's first standardised curriculum, we deliver training, education and research. Dr Nazifa Hamrah is one ofour 62 trainee surgeons - 'FIGO Fellows' – doing incredible work in some of the world's most underserved regions.