PPIUD Project: India
Globally, 214 million women have an unmet need for contraception. The postpartum period provides an excellent opportunity to initiate access to family planning.
To this end, in 2013 FIGO began the 'Institutionalisation of Immediate Postpartum IUD (PPIUD) Services Initiative'. The project has trained community midwives, health workers, doctors and delivery unit staff in counselling on postpartum family planning and insertion of PPIUD immediately postpartum.
We are proud to celebrate the impressive achievements of each of the countries involved in this project.
Background
In India the initiative began in May 2015 and it held great significance as it was in line with the Government of India's commmitment to reduce maternal, infant and child mortality.
Implementation in India went from strength to strength, achieving consistently high counselling and insertion rates. Notably, JNM Hospital in Kalyani pioneered task-sharing of counselling and insertion after vaginal delivery to include nursing staff. This innovative strategy saw insertion rates soar above 20%. 
Project Duration: 3 years (2015-2018)            
Partner Society: Federation of Obstetrics and Gynaecological Societies of India / AVNI Health Foundation             
Number of Facilities: 6
Key Data
Image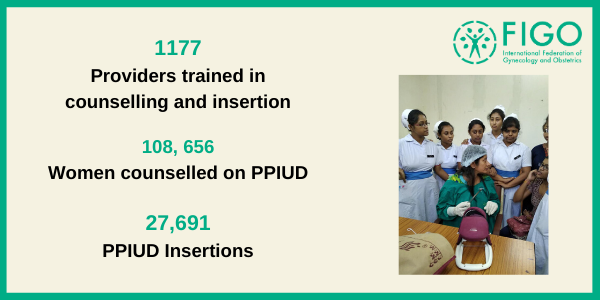 India Project Publications