FIGO Regional Congress – Cartagena 2022: Day one round-up
On 3–5 November, FIGO leaders from around the world welcomed hundreds of clinicians and decision-makers in women's health and rights to Cartagena, Colombia, for the FIGO Latin America Regional Congress.
Day one of Regional Congress focused on sexual and reproductive health and rights, the effects of environmental exposures on pregnancy, infections during pregnancy and caesarean rates. Here, we share some of the highlights from the key sessions.
Breakfast session: Telemedicine in sexual and reproductive health 
This session, organised by FIGO's Committee on Contraception, focused on the key areas where telemedicine plays a particularly important role in the provision of sexual and reproductive health. Dr Aparna Sridhar, Chair of the Committee, highlighted its role in supporting women and girls' mental health needs, contraception counselling services, abortion provision and advice on sexually transmitted diseases (STDs).  
The interactive session led to lively discussions about the importance of confidentiality in providing telemedicine services and the differences in national contexts to provide these services.   
"In this unique session, we highlighted the use of telemedicine in the field of sexual and reproductive health. In addition to understanding the clinical components of telemedicine, the session reviewed guiding principles, legal considerations as well as implementation guidelines put forward by major health experts and organisations. The session also touched upon the novel educational tools that can be utilised to expand telemedicine for medical education purposes."

– Dr Aparna Sridhar 
Breakout session: The FIGO Preterm Birth Guidelines  
Dr Leopoldo Santiago Sanabria, Residente de Ginecología y Obstetricia. Hospital Ángeles Lomas and Junior Fellow of The American College of Obstetricians and Gynecologists (ACOG), writes: 
Professor Heikinheimo from Finland coordinated the sessions. Professor Bo Jacobsson from Sweden, Director of FIGO's Division of Maternal and Newborn Health, made us reflect on the main aetiologies and strategies that we can implement. Dr Shennan, Chair of the FIGO Committee on Preterm Birth, from the UK, told us about interventions for prevention, such as cerclage, pessaries and progesterone.  
Dr Soma-Pillay from South Africa made us reflect on the importance of implementing action plans to modify important risk factors. Dr Biachi from Uruguay made us aware of the use of corticosteroids, their application and when not to administer them. Dr Anumba from the UK explained to us the global strategies to reduce preterm birth and how effective they have been. 
Keynote lecture: Ethics of abortion  
Organised by the FIGO Committee on Ethical Aspects of Human Reproduction and Women's Health, this session began with an overview of the ethics of restrictive abortion regulations.  
Dr Gonzalez highlighted that regulations in Latin America view prenatal life to be biological life, which confuses this difference between personhood (the rights of the foetus) and life. This ultimately creates a division between the foetus and the women, considering the foetus to be a separate and independent entity. Dr Gonzalez closed by suggesting abortion outside of legality as a moral solution.   
Image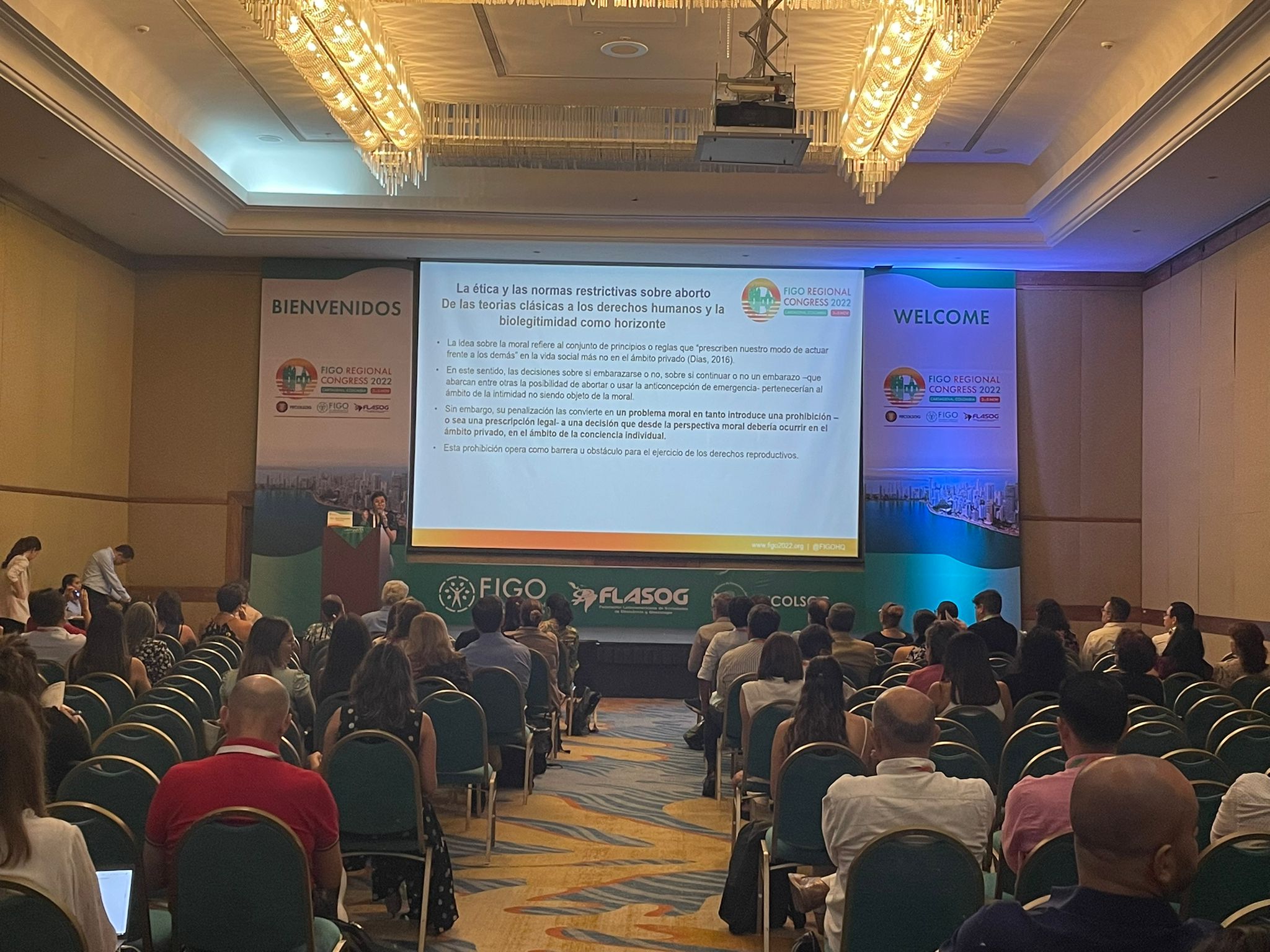 Keynote lecture: New challenging infections during pregnancy: COVID-19 and monkeypox  
Organised by the FIGO Committee on Infections During Pregnancy, this session focused on the disproportionate impact infections have during pregnancy. Dr Eliana Castillo began by providing an overview of the impact of various infections, including zika, ebola, monkeypox and COVID-19 on pregnancy and newborns and summarised how these infections are transmitted.   
Dr Castillo then went on to highlight the extent to which pregnant people are excluded from medical trials, stating that the average time it takes to assign a pregnancy-specific risk level to this medication is 27 years post-approval.   
"Emerging infections have disproportionately affected pregnant people and their offspring... they always have and they always will."

– Dr Eliana Castillo 
The lecture closed with a call to FIGO to advocate for the involvement of pregnant people in research from day one.  
Keynote lecture: Occupational and environmental exposures and women's health: effects and regulatory approaches  
This session, organised by the FIGO Committee on Climate Change and Toxic Environmental Exposures, began by outlining the extent to which employees across many occupations face environmental exposures. Health care professionals may be aware of the dangers; many individuals are not. Dr Marya Zlatnik provided an overview of the impact of exposure on pregnant people and newborn babies.   
Dr Zlatnik continued to discuss the various regulatory approaches across the Americas, highlighting that social protections are often better in the formal economy than in the informal economy within which many pregnant people work.  
"People shouldn't have to choose between health and feeding their families."

– Dr Marya Zlatnik 
The session closed with Dr Zlatnik stating the importance of protecting the most vulnerable, i.e. foetuses, as this would in turn would protect all workers.  
Breakout session: Challenges and solutions to optimising caesarean delivery rates in LMICs  
In a session organised by FIGO's Committee on Childbirth and Postpartum Haemorrhage, speakers discussed caesarean deliveries in low- and middle-income countries.   
Dr Ravi Chandran gave a presentation on caesarean section for non-medical indications and socio-cultural factors contributing to caesarean delivery rates in Asia. In his session, Dr Chandran highlighted the medical dilemmas that arise for OBGYNs in the case of caesarean delivery on maternal request, and stressed the need for unbiased counselling for women to be educated and informed when making decisions.  
South America currently has the highest rates of caesarean deliveries in the world. In light of this, Dr Alison Wright's presentation focused on the management of the second stage of labour to reduce caesarean delivery rates. Dr Wright highlighted the importance of training and team preparedness to manage the second stage of labour effectively and safely.  
Image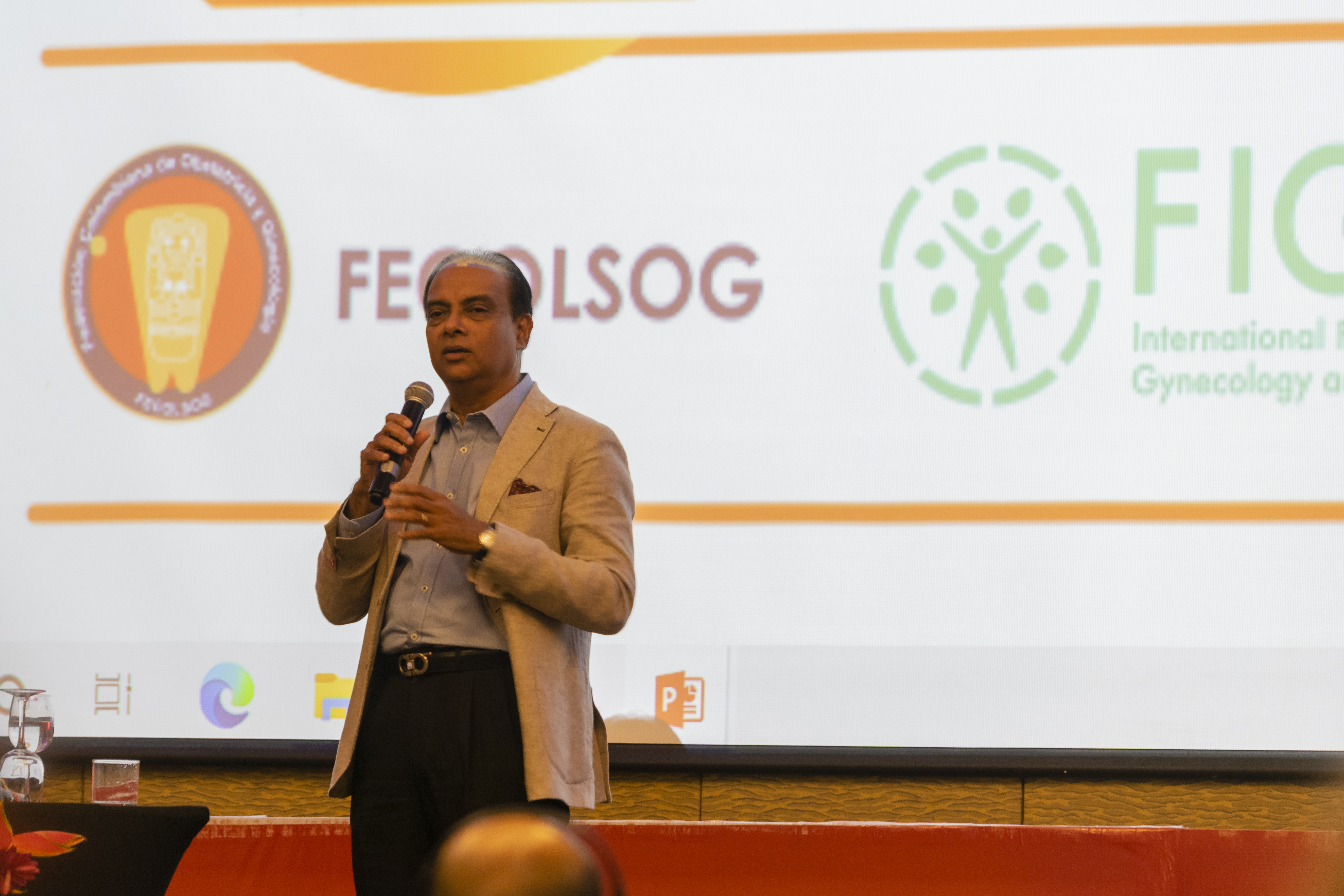 Congress Opening Ceremony
The first day of the Regional Congress came to an end with an opening ceremony, which included live versions of the Colombian and Cartagena anthems played by a local bans, followed by introductions from FIGO, Federación Colombiana de Obstetricia y Ginecología (FECOLSOG) and the Federación Latinoamericana de Sociedades de Obstetricia y Ginecología (FLASOG) representatives. 
Dr Jeanne Conry, FIGO President, Dr Edgar Iván Ortiz Lizcano, FIGO Trustee for Latin America, Dr Juan Diego Villegas-Echeverri, Director of FIGO's Division of Benign Surgery, Dr Nestor Garello, FLASOG President and Dr Orlando Florez, FECOLSOG President-Elect, welcomed attendees to the Regional Congress. The opening ceremony was also an opportunity to recognise Dr Carlos Füchtner, FIGO Immediate Past President, for his dedication to women's health throughout his career and his contribution to bringing a FIGO Regional Congress to the Latin American subcontinent.  
Helping to move Latin America closer to achieving its scientific, health care and sustainable development goals, the FIGO Regional Congress was hosted in collaboration with FECOLSOG and FLASOG.
More from the FIGO Regional Congress – Cartagena 2022