FIGO at RCOG World Congress
Image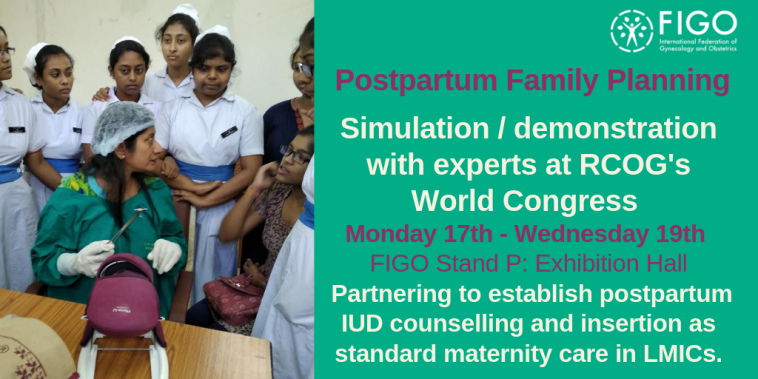 FIGO joins the Royal College of Obstetricians & Gynaecologists (RCOG), FIGO National Member Society, at their World Congress 2019 in London, U.K., Sunday 16th – Wednesday 19th June.
FIGO's exhibition stand, located in the Registration Hall, is the place to exchange ideas, expertise and opportunities with the global OBGYN community as we work towards our shared mission: improving the health and wellbeing of women and newborns worldwide.
Location: Exhibition Hall, Stand P
885 million women of reproductive age in low-resource settings want to avoid a pregnancy, but 214 million have an unmet need for modern contraception. FIGO is partnering with National Member Societies and colleagues in low-resource settings to establish postpartum IUD counselling and insertion as standard maternity care.
Early Riser: Implementing Postpartum Contraception Programmes 
Tuesday 18th, 7:15am, Capital Suite Room 2/3/4 Coffee and croissants will be served.
Simulation / demonstration with expert trainers 
Monday 17th, FIGO Stand, Registration Hall
8:45 - 9:15am: Prof Sir Sabaratnam Arulkumaran, PPIUD Project Advisor 
1:45 - 2:15pm: Dr Deeba, Deputy Facility Coordinator for the PPIUD initiative at BSMMU, Dhaka, Bangladesh
Tuesday 18th, FIGO Stand, Registration Hall
10:30 - 11:00am: Dr Runa, Deputy Facility Coordinator for the PPIUD initiative at Chittagong Medical College, Chittagong, Bangladesh
12:45 - 1:15pm: Prof Lucky, Facility Coordinator for the PPIUD initiative at Khulna Medical College, Khulna, Bangladesh
4:20 - 4:50: Dr Ratnasiri, FIGO-PPIUD initiative master trainer, Sri Lanka
Wednesday 19th, FIGO Stand, Registration Hall
11:10 - 11:40am: Dr Shanti, PPIUD master trainer, Nobel Medical College, Biratnagar, Nepal
1:30 - 2:00pm: Dr Anita Makins, PPIUD Project Director 
Posters
Daily on-demand iPoster viewing
Postpartum Intrauterine Device (PPIUD) Insertions across six countries: complication rates detected at 6 week follow up
Planning and Implementing an initiative to promote and deliver post-partum IUD services in six low and middle income countries in Asia and Africa
Factors influencing the likelihood of acceptance of Postpartum Intrauterine Devices (PPIUD) across 4 countries: India, Nepal, Sri Lanka and Tanzania
Obstetric fistula is a neglected public health and human rights issue, and due to a global shortage of trained fistula surgeons, only 1 woman in 50 has access to fistula treatment. The FIGO Fistula Surgery Training Initiative aims to close the gap with a two-tiered approach: education and training.
Posters
Daily on-demand iPoster viewing
FIGO's Fistula Surgery Training Initiative - transforming the lives of thousands of women by addressing the global shortage of fistula surgeons
Meet the editorial team
The International Journal of Gynecology and Obstetrics (IJGO) is FIGO's peer-reviewed medical journal, publishing monthly, with basic and clinical research, review articles, editorials, supplements, special communications, and FIGO guidelines and Committee reports.
Join us in Australia 
FIGO's XXIII Congress will be held in Sydney, Australia, from 24-29 October, 2021, in association with The Royal Australian and New Zealand College of Obstetricians and Gynaecologists (RANZCOG). Learn more about the world's biggest women's health Congress, and how you can help ensure the physical, mental, reproductive and sexual well-being of women throughout the world.