Addressing Gynecological Oncology at WHA71
Image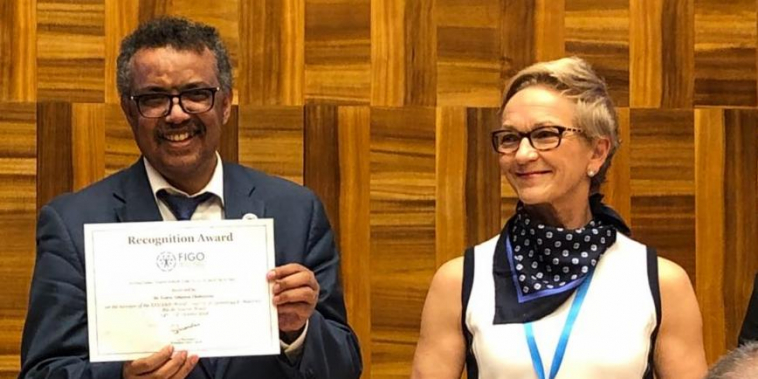 Pictured: Dr Tedros and Professor Seija Grenman
The 71st World Health Assembly was held in Geneva last month. FIGO's Gynecologic Oncology Committee delivered an Official Side Event on Gynecological Oncology – Early Detection and Prevention.
In the WHO global strategy, the elimination of cervical cancer is one of the goals highlighted under reproductive health. In fact, on 19th May, Dr. Tedros had highlighted his Call to Action to Eliminate Cervical Cancer. FIGO was fortunate to have Dr. Tedros attend our side event, and to again hear of his commitment. 
I was proud to facilitate a panel of five experts who presented compelling information and updates, giving an excellent overview of the global situation and provoking robust discussion from attendees:
Prof.CN Purandare, FIGO President, India
Prof. Neerja Bhatla, FIGO Chairperson, Gynecologic Oncology Committee, India
Dr Anne Kihara, FIGO President-Elect, African Federation of Obstetrics and Gynecology, Kenya
Dr Cherian Varghese, Coordinator, Management of Non-communicable Diseases, World Health Organization (WHO)
Dr Barbara Levy, Vice President Health Policy, the American College of Obstetricians and Gynecologists (ACOG), USA
Every year more than 2 million women are diagnosed with breast or cervical cancer, the most commonly diagnosed gynecological cancers worldwide. Sadly, over 270,000 women die from cervical cancer every year. Approximately 85% of these deaths occur in low- and mid-income countries.
The lack of access to proper screening and treatment is obvious in many low- and middle income countries (LMICs). Only 1 in 5 LMICs have the necessary data to plan and drive effective cancer policy.
On the other hand the proven solutions for elimination of cervical cancer are available: HPV vaccination for 11-13 year olds and regular screening for women > 30 years. However, adequate treatment facilities and educated personal need to be in place before embarking on screening initiatives.
Several governments and NGOs have supported projects to achieve these goals. FIGO has member societies in 130 nations/territories, by working together, alongside several governments and NGO's who have supported projects to achieve this goal, we can join hands to increase awareness, health education, early detection and treatment.
When discussing breast carcinoma, it was stated that mammography screening is not cost-effective and feasible in limited resource settings. Instead, clinical breast examination and ultrasound seems to be a promising approach when the necessary evidence from ongoing studies becomes available.
The short, comprehensive presentations by the experts stimulated a lively discussion. The panelists received questions both on teenagers who need information focused and designed especially for them and on postmenopausal women who are not included in screening programs in many countries.
An important question was: "What is the role of FIGO?"
The 130 member societies of FIGO, who specialise in obstetrics and gynecology, are experts who can implement global strategies on reproductive health including prevention, early detection and treatment of gynecologic cancers. The FIGO Gynecologic Oncology Committee works to provide updated reports and guidelines to support that work.
Addressing early detection and prevention is absolutely integral if we are to progress towards reducing premature mortality attributed to cancer, as a non-communicable disease (SDG 3.4). The Gynecological Oncology – Early Detection and Prevention Side Event at the WHA in Geneva was an excellent opportunity to strengthen collaboration between WHO and FIGO as we commit to coordinated action globally to eliminate cervical cancer.
Watch Dr Tedros' full speech: