Announcing the runner-up of the FIGO–WATOG essay competition
Image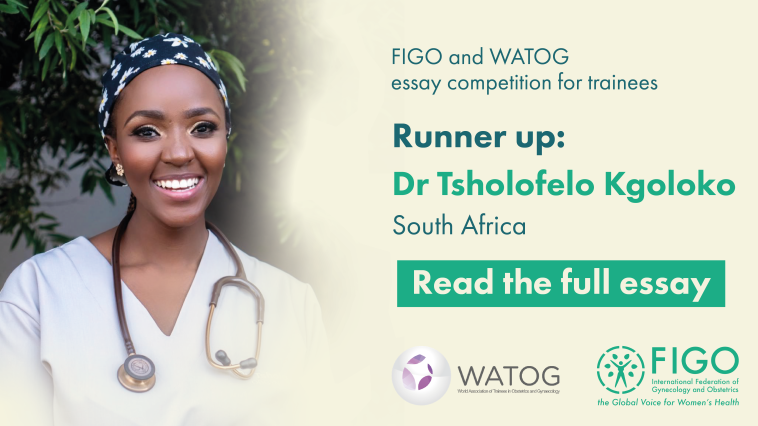 Tsholofelo Kgoloko from South Africa has been selected by FIGO and the World Association of Trainees in Obstetrics and Gynecology (WATOG) as the runner-up of our essay competition on "Innovations in Contraception for Global Reproductive Health". 
Tsholofelo Kgoloko is an Obstetrics and Gynaecology specialist trainee at the University of Pretoria. She's a female reproductive and sexual health advocate with a special interest in adolescent reproductive health. Tsholo is a mentor of The YoungMD Mentorship Programme and member of The South African Association of Trainees in Obstetrics and Gynaecology (SAATOG). 
Her essay focuses on the role of mobile technology to reach adolescents and young people with essential information on family planning and sexual and reproductive health.  
Competition runner up: read the full essay 
"Unintended pregnancies continue to be an avoidable health care problem that prevents women, especially adolescents, from achieving optimum reproductive health. According to the World Health Organization (WHO), at least 10 million unintended pregnancies occur each year among adolescent girls aged 15–19 years of age. Teenage pregnancy is a global health concern and adolescents have been identified as a high-risk group for poor antenatal care, high maternal morbidity and mortality, abandoned babies, future fertility problems, and an increased school drop-out rate. 
Adolescents who may want to avoid pregnancy may be unable to, due to knowledge gaps, misconceptions on different contraceptive methods, how to use and access them. 
It is important to develop an effective communication model for spreading information on adolescent reproductive health. In today's rapid growth of cell phone use, health information is easily accessible. New research shows that 95% of teenagers have access to a cell phone and 45% are almost constantly online. 
Communication via cell phone applications (apps) may create a positive output on information dissemination in the life of the adolescent. For instance, The Centre for Disease Control and Prevention (CDC) Contraception 2016 app, puts the latest CDC contraception guidelines in the hands of the health-care provider. This app uses the medical eligibility criteria (MEC) for the use of a variety of contraceptive options and acts as a guide for the health-care worker. 
A similar, easy to use app can be developed for adolescents using language that is easy to understand. The user can enter their demographics, lifestyle, schedule and concomitant medical conditions. It will then provide a list of the most suitable methods of contraception. Users can choose which category best fits their preference according to the appropriate recommendations. It will also include mechanism of action, missed doses, side-effects and terms of use. Other resource sections of the app may include information such as sexually transmitted disease (STD) identification and health-seeking pathways.  
This method of disseminating information on contraception will overcome the barrier of poor knowledge, provider bias and stigmatization. Overcoming these barriers may improve access to contraception for adolescents. This in accordance with the International Federation of Gynecology and Obstetrics (FIGO) vision, that women of the world achieve the highest possible standards of physical, mental, reproductive and sexual health and well-being throughout their lives." 
– Dr Tsholofelo Kgoloko, South Africa