Announcing the winner of the FIGO –WATOG essay competition
Image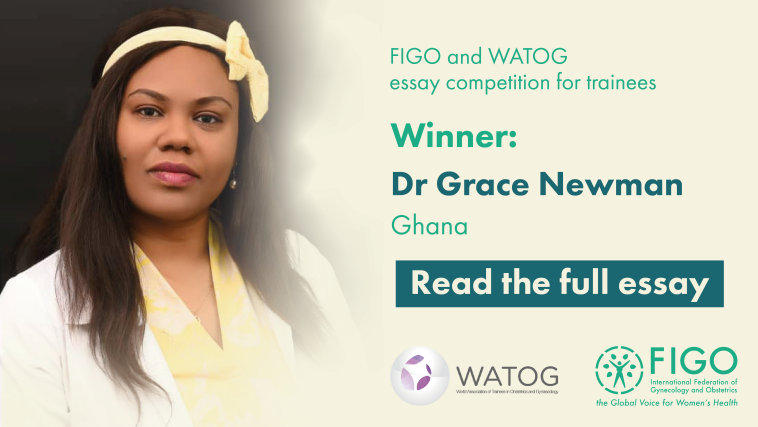 Dr Grace Newman from Ghana has been selected by FIGO and the World Association of Trainees in Obstetrics and Gynecology (WATOG) as the winner of our essay competition on "Innovations in Contraception for Global Reproductive Health".
Grace Newman is Senior Resident in Obstetrics and Gynaecology at Korle Bu Teaching Hospital (KBTH) in Accra, and is a member of the Ghana College of Physicians and Surgeons. She developed her interest in maternal health while she performed obstetric and gynaecologic surgeries in the busy OBGYN Unit of the Battor Catholic Hospital.
Her essay focuses on the importance of a multi-pronged approach to responding to global contraceptive needs, from engaging the media to eliminating financial barriers to access.
Competition winner: read the full essay 
"Contraceptive prevalence and unmet need remain key indicators for population's health, development, women empowerment, and reproductive health access. Currently, contraceptive prevalence rates (CPR) are below 30% in most developing countries where unmet need, unintended pregnancies, unsafe abortions and maternal deaths are highest. Increasing human population and activity contribute to climate change. There is an urgent need for innovations in contraception.  
Globally, key challenges to contraceptive uptake are myths and misconceptions surrounding use, physical and financial barriers especially in deprived locations, and sociocultural factors. Evidence suggests that improving access increases uptake and recommend contraceptive provision by trained local pharmacy personnel.  
Some innovations with remarkable prospects to increase contraceptive uptake in developing countries are:  
Extensive community engagement utilising the influences of community leaders, politicians and popular iconic showbiz personalities as ambassadors to campaign on benefits of contraception while demystifying the myths and misconceptions.  
Incorporating lessons on contraception in the curriculum of basic schools and training the teachers to impart these to adolescent would be cost-effective.  
Eliminating financial barriers remain cornerstone to drive contraceptive uptake. Therefore, governmental and partner agencies should collaborate to ensure widespread availability of non-invasive methods free-of-charge across all healthcare levels with task-shifting.  
Improving contraceptive data capture will enable service managers map areas of higher contraceptive needs and prioritising assess including dedicated mobile contraceptive services.  
Utilising radio/television drama shows to educate on benefit of contraception and family planning. These should consistently infuse comedy and cover other related reproductive health issues. Since most families in developing countries obtain a lot of health information through the media, this approach is likely to reach a huge target population, demystify contraception and ultimately increase uptake.  
Finally, incorporating contraceptive prevalence as a rewarded reportable activity during the regional health review meetings has the prospects of encouraging providers to promote uptake and enhance user experiences through improved quality service.  
In conclusion, maternal morbidity and mortality can be eliminated when pregnancy is primarily prevented through contraception. Innovations to increase uptake should leverage community, governmental and partner synergies."
– Dr Grace Newman, Ghana