Award winners of the FIGO Distinguished Medal and FIGO Award for Non-Obstretrician/Gynecologists
At the Opening Ceremony of the XXIII FIGO World Congress of Gynecology and Obstetrics, FIGO recognised five outstanding and highly distinguished individuals who through their lives have been committed to providing an exceptional service global women's health, and to FIGO.
Image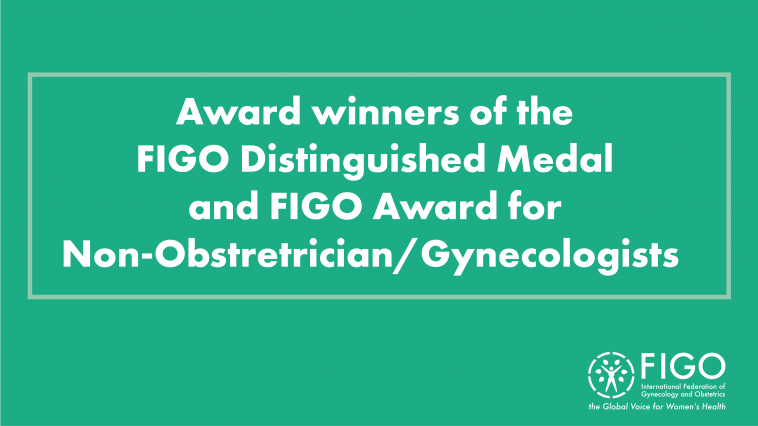 FIGO Distinguished Merit Award – Associate Professor Christine Tippett AM
This award – previously known as the "FIGO Distinguished Service Award" – recognises outstanding contributions to the ideals of FIGO and the promotion and support of women's health worldwide. The Distinguished Merit Award has this year been posthumously awarded to Associate Professor Christine Tippett AM, for the incredible services she has provided to FIGO, OBGYNs and global women's health.
Image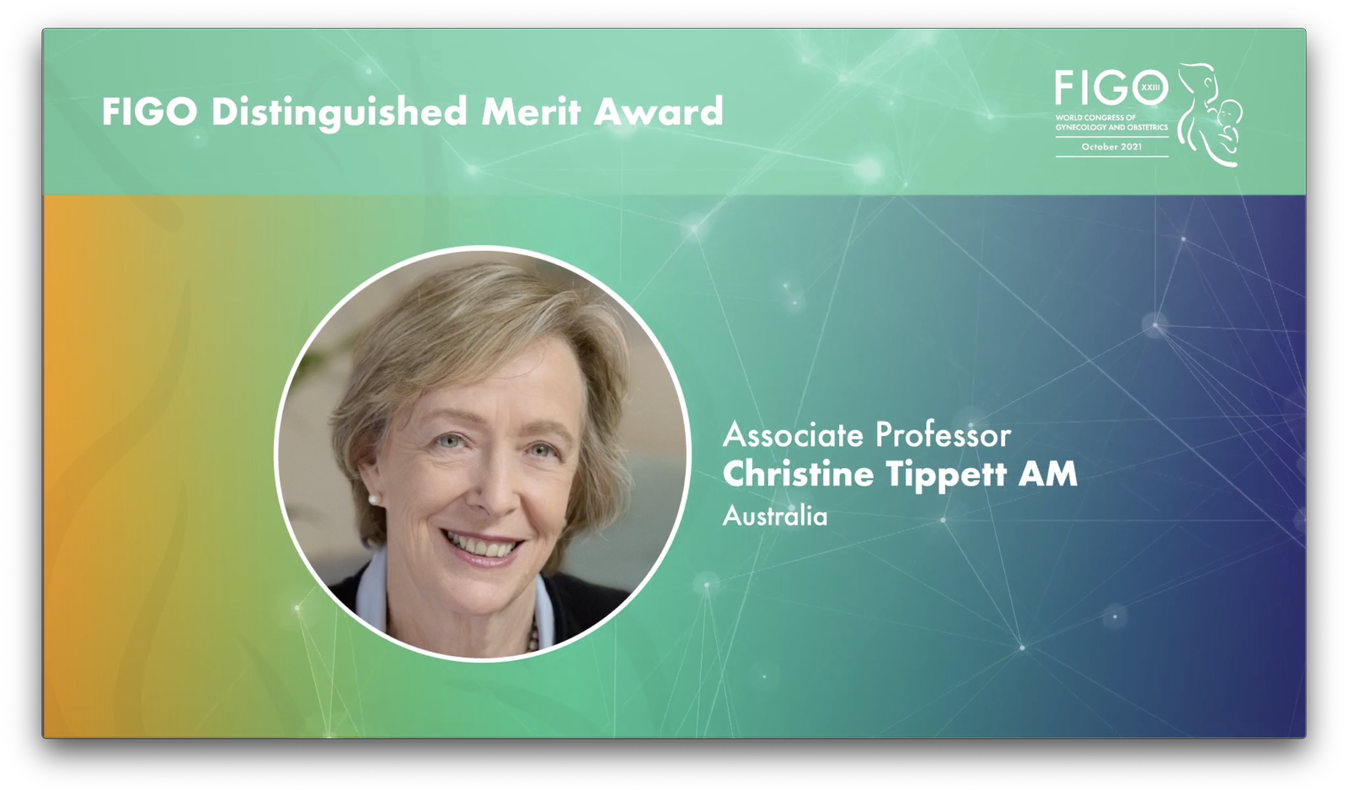 Christine Tippett was an outstanding doctor, gifted teacher, generous mentor and her leadership style was inclusive and highly effective. She enthused everyone she worked with her interest in and commitment to improving women's health globally. I had the privilege of enjoying a professional friendship with Chris for many years and greatly admired her numerous achievements, not least of which was becoming the only female President of RANZCOG in history.

After we both became more involved with FIGO in 2009, our personal friendship grew and I soon learnt of her qualities as a thoughtful, sensitive, fun loving and passionately loyal friend. However, it was the joint decision to stand for election as FIGO Officers that brought us really close. She was thrilled when Jeanne, Lesley and Chris were appointed to leadership roles in the elections in Rio in October 2018.

But one of my very best memories of Chris is the 'Flapper' Party at RANZCOG in 2019 when she insisted on sourcing elaborate costumes for the Art Deco celebration and doing a star turn on the dance floor together, much to the amazement (and admiration) of our junior colleagues, who could not believe how agile, coordinated and 'groovy' we old girls were! It still brings a smile to my lips whenever I think of that evening. She was delighted with how her plans to make everyone have a memorable time had been so successful. Just another special skill of an extraordinarily talented, human, generous and brave woman.

Despite the recurrence of her terminal cancer, she continued to contribute to FIGO and attend Officers' meetings in London in person until COVID-19 struck. Our last 'face to face' was in February 2020 when we all had dinner at my home in London. Never at a loss for practical solutions, she then ensured the exchange of wonderful WhatsApp calls and messages, littered with comical emojis that she designed!

We have all been so lucky to have known her and FIGO benefited enormously from her vision and commitment. I believe that her memory will live on and ask you to help me ensure that it does.

– Professor Dame Lesley Regan, FIGO Honorary Secretary
FIGO Award for Non-Obstetrician/Gynaecologists
The award honours highly distinguished individuals outside of the OBGYN profession. This year, FIGO recognises four people who have performed an exceptional service to women's health.
Image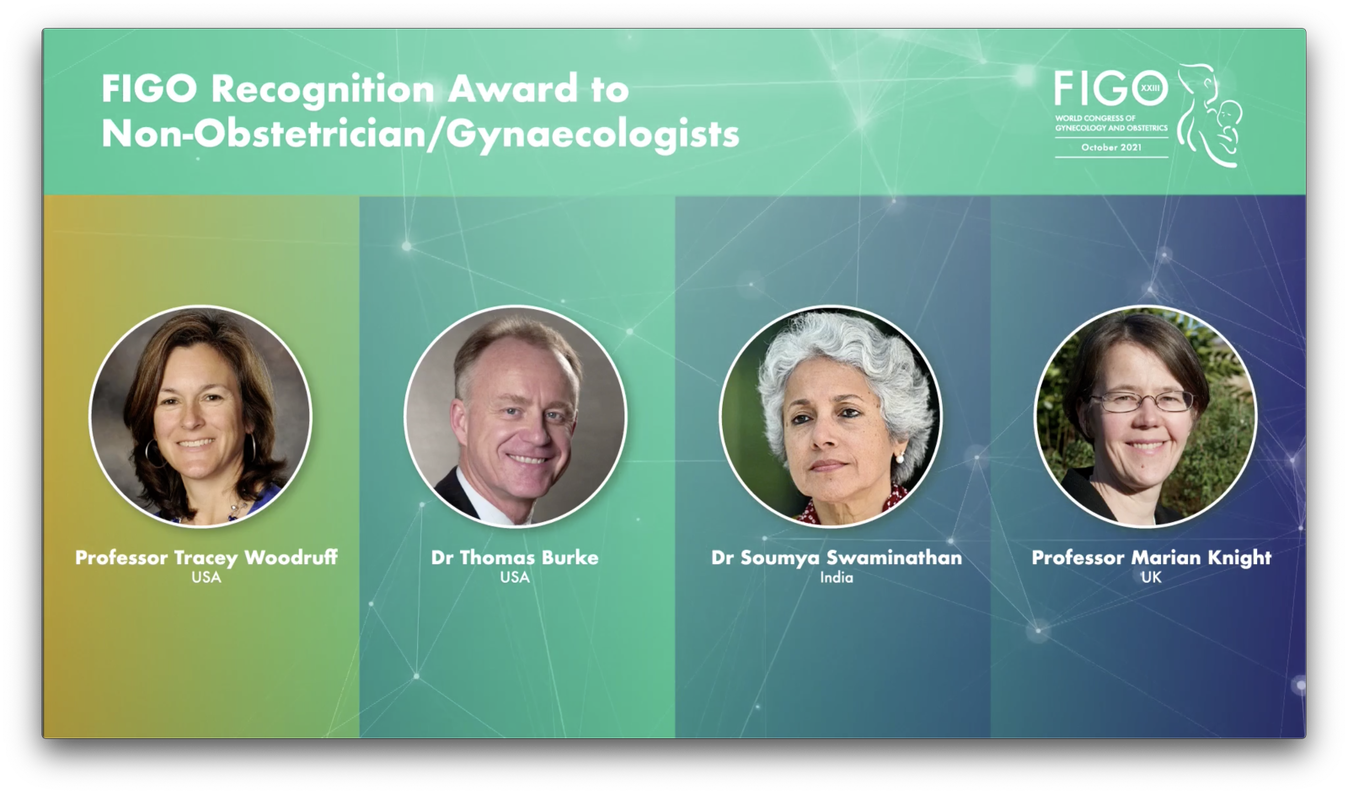 Dr Marian Knight, UK
I am absolutely delighted and honoured at this recognition from FIGO of the international impact of our work. The COVID-19 pandemic has highlighted starkly once again the importance of inclusion of pregnant women in research, as well as the need to tackle disparities in outcomes for women on the basis of their ethnicity, disadvantage, medical or mental health co-morbidities. This award is testament to the efforts of many in generating the evidence we need to improve women's care.
Dr Thomas Burke, USA
It is with great honour that I humbly accept this award from FIGO. FIGO is a remarkable organisation that connects remarkable people committed to the health and wellbeing of women worldwide. There is no greater honour than to be in service to others – especially to our world's mothers.

In addition to thanking the extraordinary leaders of FIGO, I must share that this award represents the work of so many heroes in so many countries. Countless OBGYNs, midwives and many others work tirelessly on behalf of vulnerable mothers all across this beautiful world we share and together call home. To all of them, "you are my inspiration and you are the true heroes. Together we walk in solidarity on behalf of those mothers that need us."
Dr Soumya Swaminathan, India
I'm truly humbled and grateful for this recognition by FIGO and for your having graciously given me this award for a non gynecologist obstetrician for service in the cause of women's health. I would like to thank the FIGO Board of Trustees and the FIGO Council representatives for having chosen me for this Award and I'm really, really honoured and grateful for this recognition. I'm a pediatrician from India and I've spent most of my life working on tuberculosis and HIV, before going on to become the director general of the Indian Council of Medical Research (...)

Throughout my career, I have focused on diseases that disproportionately affect the poor, the marginalized, and also these diseases happen to be associated with a lot of stigma, and I've seen the impact of stigma and social exclusion and discrimination that has particularly on the lives of women around the world. So once again, I'm very grateful. This is going to continue to inspire me in my future work. And thank you so much for this recognition.
Tracey Woodruff, USA
I am honoured and humbled to receive this award from FIGO. It highlights the importance of collaboration among environmental health scientists and health care professionals. Science can help connect the dots and lead to better health outcomes. Fossil fuels, chemicals and climate are interconnected, and they are jeopardising the health of your patients, their children, marginalised communities and the future of humankind. This is a watershed moment. Working together, we can achieve a better, fairer and healthier world. Thank you.