A champion of UHC
Image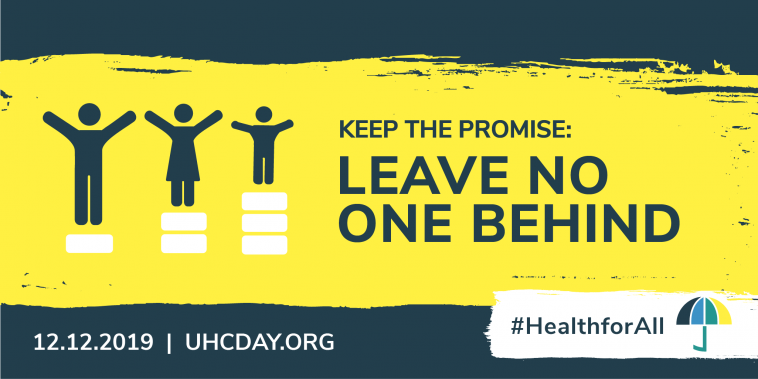 23 September 2019 was a historic moment in the global fight for health equity. 
Following months of campaign activity, on that day, leaders from all United Nations Member States unanimously committed to achieving universal health coverage (UHC) by 2030 in the most ambitious political declaration on health in history. 
To celebrate UHC Day 2019, FIGO hears from Dr Magnifique Irakoze, Vice President of the World Association of Trainees in Obstetrics and Gynecology (WATOG), an emerging network of OB/GYN Trainees, about what this year's Political Declaration means to his country of Rwanda, and to WATOG membership.
Rwanda is now a champion of Universal health coverage
It is only 25 years ago that Rwanda went through a tragic history. In 1994 the horrible genocide claimed the lives of more than 1 million, including a significant number of health care providers, and devastated the countries health infrastructure. The life expectancy in 1994 was 28 years. It was a state of emergency; not only was the country in post-traumatic injuries and diseases, some women were severely violated. 
But, the leadership of Rwanda made health a priority. It was the only choice to heal from the tragic history that the country just survived. Significant efforts were made to strengthen primary health care, the country trained four people per village to become community health workers (CHWs). Now, they ensure newborn and maternal health, keep the antenatal schedules and accompany every pregnant woman at the nearest health centre. They also provided some family planning services including counselling, barrier methods and injectables. 
Rwanda has introduced the community-based health insurances (CBHI) in early 2000. The national insurance scheme is used at 99%, making it easier for the community to afford the necessary and essential health care services in all levels of the Rwandese health care system. 
Rwanda has also invested in restoring the dignity of the girl child by providing equal chances for education and entrepreneurship opportunities. Every public and private primary school has a separate room named "Girls room" equipped with sanitary pads, clean water and other necessary hygienic materials that would assist a girl who might start her menstruation unknowingly or unprepared. Some teachers are trained counsellors to help those young girls no drop out because of menses.
The HPV vaccine is available in the country for the young girls in need and it is meant to be extended for boys as well.
Mobilising health professionals
This year's UN High-level Meeting 'Moving together for a healthier world' affirmed the world's commitment to prioritise health for all.  
Quality care is the foundation of UHC. WATOG is working to advocate for quality education for all the obstetrics and gynecology trainees. The field of obstetrics and gynecology has a lot of emergencies; most of the emergencies need timely and right decisions to be managed. Simple mistakes in obstetrics can cost the life of either the mother or the baby. The education of trainees who will take up that huge responsibility must be of a high quality.
WATOG provides a space for its members to facilitate the exchange of ideas, research collaboration discussion and sharing of best practices, what works and what doesn't work considering their different context. WATOG will continue the advocacy work on quality education for all, which will impact the quality health care for all.
Together we can achieve more
WATOG itself is a successful partnership of young OB/GYN trainees. We are in collaboration with regional and international organisations with similar interests, including FIGO, ISUOG, FLASOG, and AFOG. Our collaboration with them seeks to advance quality education for our members and the sharing of experiences.
Our partnership with FIGO is unique, FIGO inspired and continues to inspire WATOG, through our coordinated efforts, we build a stronghold for women's health both advocates and practitioners.
Our organisations have shared goals and objectives. Our partnership and collaboration provide a smooth transition from a trainee member to a senior member reflected in WATOG and FIGO memberships; this partnership ensures the sustainability of both effort and achievements. I hope to see the partnership growing stronger in the next years.
If this year's UHC commitments are fulfilled, we might live in a healthier, safer and inclusive world free of judgment for choices and stereotypes. I believe in the next ten years the women and young girls' dividend will be harnessed, the right for choices will be a foundation for health and the destination of zero preventable maternal death and zero gender based violence will be closer in reach.
The challenges women face in seeking quality care and achieving active participation in their health and rights are not 'OBGYN problems' – they are challenges we must tackle together.
Our actions in the next few years will set our trajectory toward 2030. In recognition of International UHC Day we urge all FIGO members to, like Rwanda and the members of WATOG, help "Keep the Promise" by investing and collaborating to make 'Health for All' a reality.