COVID-19 Vaccination: FIGO releases statement and hosts webinar
Image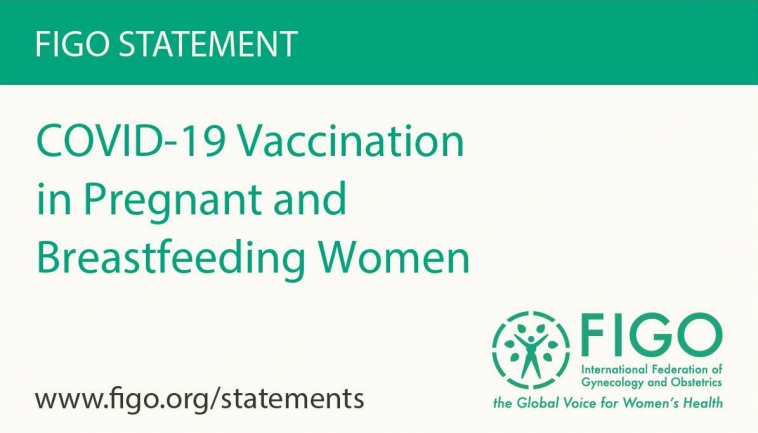 Although the absolute risk for severe COVID-19 in pregnancy remains low, it is now established that pregnant women are at increased risk of severe COVID-19-associated illness compared with non-pregnant women. Such illness may require hospitalisation, admission to intensive care, mechanical ventilation and even cause death. Thus, the prevention of critical COVID-19 infection is of paramount importance for both the mother and her foetus.
To highlight this important issue, FIGO has released a Statement on vaccination in pregnant and breastfeeding women. We will also be hosting a global webinar on 2 March to discuss COVID-19 vaccines – don't miss it.
Vaccination for pregnant women
Given that clinical trials of COVID-19 vaccines specifically in pregnant women have not yet been conducted (some are underway or planned soon), limited data are available on their efficacy and safety during pregnancy. Hence, there is not sufficient evidence to recommend the routine use of COVID-19 vaccines for pregnant or breastfeeding women. Limited data from animal studies are reassuring and do not indicate direct or indirect harmful effects on embryo/fetal development or pregnancy. Additional reassuring data come from a statement released in the USA in the first week of February stating that 20,000 pregnant women had been vaccinated so far with no alarming signs reported.
FIGO, therefore, considers that there are no risks – actual or theoretical – that would outweigh the potential benefits of vaccination for pregnant women and supports offering COVID-19 vaccination to pregnant and breastfeeding women.
Vaccination for breastfeeding women
Breastfeeding confers many health benefits to mother and newborn. COVID-19 vaccines are believed to pose minimal to no potential risk to the newborn through breastmilk. Based on previously administered vaccines, there is the potential for direct neonatal benefit if the vaccine-stimulated immunoglobulin A prove to pass through breastmilk. For breastfeeding women, therefore, the COVID-19 vaccine can be offered if the woman meets the criteria based on prioritisation groups, such as a breastfeeding health care provider.
As additional data from clinical trials and vaccinated pregnant women become available, it will be imperative for obstetricians to keep up to date with that information.
FIGO commits to taking the following actions
FIGO will encourage and support the publication and dissemination of all available data on vaccination in pregnant and breastfeeding women.
We will advocate for the administration of the COVID-19 vaccination to all pregnant women.
When more research data is available, FIGO will review this statement and any advice we have provided to ensure it is clear and accurate
You can read the the full statement here.
COVID vaccination webinar
Join our next Webinar on an in-depth discussion on the COVID-19 vaccination for pregnant and breastfeeding women. In this webinar, leading speakers will set out FIGO's position on COVID-19 vaccination and also explore the need for counselling skills for OBGYNs to ensure women can make informed choices. Taking a risk-based approach to the benefits of universal protection, our expert speakers will discuss the safety, efficacy and indications of the various vaccines for pregnant and breastfeeding women.
This webinar will have a number of FIGO Trustees and Committee Chairs involved, including our President Dr Fuchtner. Register now to attend!