Early screening for pre-eclampsia to save lives
Image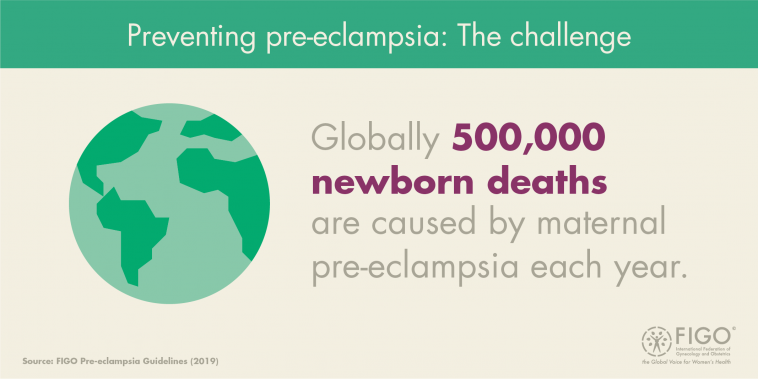 FIGO's new Guidelines to combat pre-eclampsia, released this week in IJGO, are the first evidence-based global recommendations calling for first-trimester screening to improve identification of pregnant women at high risk.
Accurate prediction and uniform prevention of pre-eclampsia continue to elude the scientific community, but one thing is certain: this multisystem disorder, which typically affects 2 – 5 percent of pregnant women and more in low-resource settings, is a leading cause of maternal and perinatal morbidity and mortality around the world.
76,000 women and 500,000 babies die each year from pre-eclampsia. FIGO's Guidelines, developed by world-renowned experts from our Pregnancy and Non-Communicable Disease (NCDs) Committee for a global audience, can make a difference.
With early identification and prevention, skilled healthcare personnel can halt or at least reduce the frequency of pre-eclampsia – and the grief and suffering that follows.
Said Silke Mader, Chair of the Executive Board of EFCNI,
My pregnancy was difficult from the beginning, but unfortunately, my severe form of pre-eclampsia was detected way too late – with fatal consequences. My twins had to be delivered via an emergency C-section in gestational week 25. Due to this late diagnosis and emergency surgery, my own life was at stake, we lost our daughter Lena and our son Lukas survived but was hospitalised for months.
Before that, I was not aware of a condition called pre-eclampsia, nor how dangerous it could be for both, the pregnant woman and her unborn baby. I wish I had been better informed so I could have noticed subtle warning signs. Today, I know that there are hints and signs that could be possible symptoms.
I also did not know that a look into my family history and my own medical history could have been helpful to identify me as a high-risk patient. Identifying a high-risk pregnancy timely can be life-saving. If I had been told back then, that not just any discomfort you experience during your pregnancy is normal and hence, not worth mentioning, I would have talked about my physical state way earlier and more open with my gynaecologist.
Changing demographics mean that more women are entering pregnancy with risk factors that make them vulnerable to pre-eclampsia, but many high-burden countries are also low-resource.
Said Professor Moshe Hod, Chair of the FIGO Pregnancy and NCDs Committee:
"Early screening and preventive care is only possible if women attend antenatal care. For this we require universal access to easily available and convenient antenatal services and to ensure women of reproductive age are aware of the need and availability of these services."
As populations wrestle with a rising NCD epidemic, FIGO's Guidelines have an urgent role to play: not only in screening and prevention, but energising stakeholders to improve access to quality antenatal care around the world. Health is a human right, and every woman deserves the highest standards of wellbeing – and a safe pregnancy that looks ahead to a healthy future, not back in sorrow at a loss that could have been prevented.