Eradicating Obstetric Fistula: Bangladesh
Image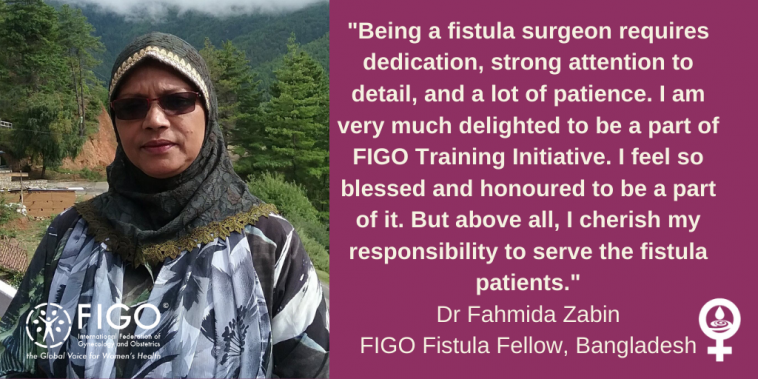 It is estimated that only one woman in 50 has access to fistula treatment. 
One FIGO Fellow, trained to provide life-transforming care to help significantly address the global treatment gap, is Dr Fahmida Zabin, Bangabandhu Sheikh Mujib Medical University, and MAMMS Institute for Fistula and Women's Health, Dhaka, Bangladesh. 
This month FIGO speaks with Dr Fahmida Zabin about her experience of being a fistula surgeon. 
After my post-graduation in Obstetrics & Gynaecology, I had the pleasure of assisting Prof Sayeba Akhter during fistula surgery. Gradually I became inspired to also become a fistula surgeon.  
Being a fistula surgeon requires dedication, strong attention to detail, and a lot of patience. I am very much delighted to be a part of the FIGO Training Initiative. I feel so blessed and honoured to be a part of it. But above all, I cherish my responsibility to serve the fistula patients. 
Patients and their relatives usually do not understand the reasons why obstetric fistula occurred in the first place. It is important to me that affected women and their families understand that obstetric fistula is a childbirth injury and occurs when women do not have access to emergency obstetric care. 
During my work in Dhaka Medical College Hospital, a fistula patient who had been living with the condition for a long time underwent surgery. Her postoperative period was uneventful. However, when she was informed that her catheter was going to be removed the next day, she became very afraid that she would be incontinent again, so afraid that during the night, she attempted to commit suicide. Luckily, she was cared for in time and survived. Contrary to her fears, she was continent upon removal of the catheter.
Fistula surgery and COVID-19
Sadly, the COVID-19 pandemic is having a great impact on my fistula work. Since all routine surgeries have been postponed and no fistula patients are currently admitted, the number of fistula repair surgeries is almost nil. 
Under normal circumstances up to two million women suffer from this preventable condition, with an additional 100,000 developing one each year. Currently, during lockdown, it is a lot more likely that deliveries will be mismanaged at home and so there is an increased risk of obstructed labour and of course obstetric fistula. The numbers are likely to be increasing.
Eradicating fistula in Bangladesh
A national strategy led by the government is required to eradicate obstetric fistula. This strategy should also focus on increased community awareness about the risk and dangers of home deliveries and obstructed labour, training more surgeons eventually resulting in a group of dedicated expert fistula surgeons, and enough resources to overcome some of the logistical challenges associated with fistula patient care. 
The FIGO Fistula Surgery Training Initiative is a globally recognised, state-of-the-art training programme. Using FIGO's Global Competency-Based Fistula Surgery Training Manual, the world's first standardised curriculum, we deliver training, education and research. Dr Fahmida Zabin is one ofour 62 trainee surgeons - 'FIGO Fellows' -–doing incredible work in some of the world's most underserved regions.