Eradicating Obstetric Fistula: Burundi
Image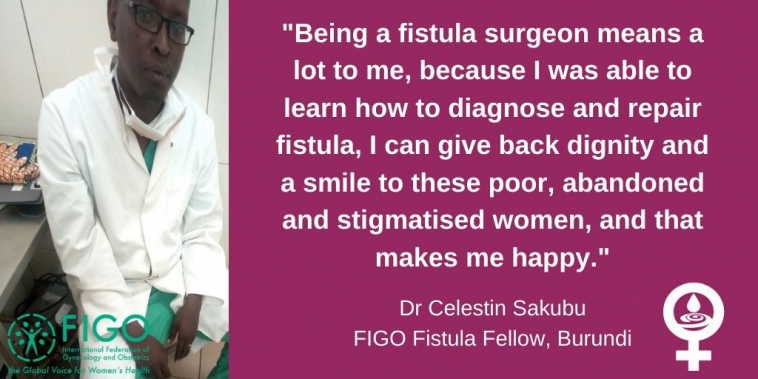 It is estimated that only one woman in 50 has access to fistula treatment. 
One FIGO Fellow, trained to provide life-transforming care to help significantly address the global treatment gap, is Dr Célestin Sakubu, Urumuri Centre, Gitega Regional Hospital, Burundi. 
This month, FIGO spoke to Dr Célestin about his experience of being a fistula surgeon.
Seeing the suffering of women with fistula, I was eager to contribute to their care and treatment. People also need to know that fistula is a preventable and curable health problem.
I was working in a hospital where the only national fistula centre in Burundi is located. I wanted to learn about obstetric fistula from a clinical-perspective, as well as about its management. 
Being a fistula surgeon means a lot to me, because I was able to learn how to diagnose and repair fistula, I can give back dignity and a smile to these poor, abandoned and stigmatised women, and that makes me happy.  
During my time at the Urumuri Centre, I remember one patient in particular; a young lady aged 19, who had married at 18. She had been in labour at home from 9am, but she had trouble moving to the nearest health facility. After difficulty getting there, she arrived at around 8pm in a critical condition, and the healthcare provider assessed her and proposed a transfer to another hospital 60km away. She got to the hospital two days later.
The woman was in very critical condition, the baby was already dead and the head was stuck in the birth canal. Two days later, urine began to leak into her vagina, and soon afterwards she was abandoned by her husband, her relatives and she was stigmatised. In short, she was in a state of total despair. 
Providers were able to treat and support her with this distressing condition in order to transform her life. Now, with her life completely changed by treatment, she wants to help raise awareness about fistula by letting other women know that obstetric fistula is preventable and curable.
Eradicating Obstetric Fistula in Burundi
Eradicating obstetric fistula in Burundi requires measures to improve the health of girls and women of reproductive age, including offering preconception and prenatal consultations and improving the quality of care at health facilities.
Sadly, COVID-19 is affecting my work right now, there are fewer consultations with women with fistula, and a decrease in financial support. Fistula trainings have also been postponed, as well as face to face meetings and conferences for sharing experiences with other fistula surgeons.
The FIGO Fistula Surgery Training Initiative is a globally recognised, state-of-the-art training programme. Using FIGO's Global Competency-Based Fistula Surgery Training Manual, the world's first standardised curriculum, we deliver training, education and research. Dr Celestin Sakubu is one of our 62 trainee surgeons - 'FIGO Fellows' – doing incredible work in some of the world's most underserved regions.