Eradicating Obstetric Fistula: Chad
Image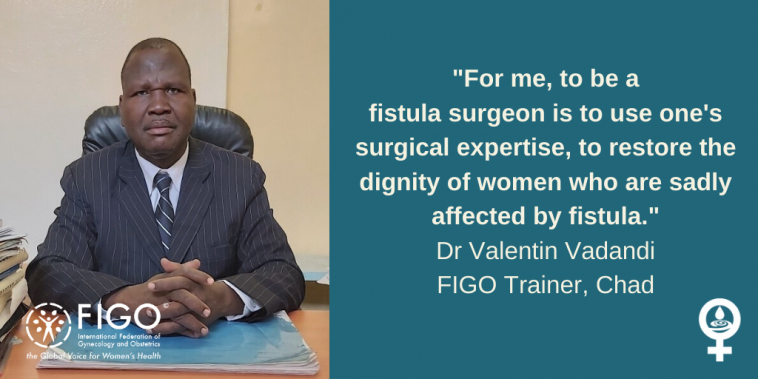 It is estimated that only one woman in 50 has access to fistula treatment.
One FIGO Trainer, who trains FIGO Fellows to provide life-transforming care to help address the global treatment gap, is Dr Valentin Vadandi, a Fistula Surgeon at the Village des Femmes, District Hospital of Abeche, Chad.
This month FIGO spoke to Dr Valentin Vadandi about his experience as a fistula surgeon and FIGO Trainer.
I was motivated to become a fistula surgeon because women who are a victim of fistula are often neglected, marginalised, and abandoned by society, and there is a lack of qualified, skilled personnel who can offer surgical management. For me, to be a fistula surgeon is to contribute and use one's competence and surgical expertise to restore the dignity of women who are sadly affected by fistula.
Being a FIGO trainer is to be committed and determined to use one's support and experience to train younger colleagues in the prevention and treatment of distressing conditions, such as obstetric fistula.
Eradicating obstetric fistula in Chad
Obstetric fistula is a curable medical condition and a reliable indicator reflecting the inadequacies of a country's health system. Eradicating obstetric fistula requires the involvement of all levels of society. As well as treatment services, it requires means of prevention at the individual, community and political levels. All this is only possible through information, education and communication (IEC) for the population and equitable health coverage throughout the country.
A patient's story
In 2012, a young woman named Halima arrived from the Guera region, an area  about 400 km from our fistula treatment centre. She was initially married at the age of 16 and then became pregnant with her first child.  She was in labour for two days at home and delivered a stillborn baby which was followed by formation of an obstetric fistula, with permanent incontinence of urine and stool.  Because of her condition, she was abandoned by her relatives, including her husband. This woman lived with fistula for more than 10 years.
Having learned of the existence of our centre in Abeche, she visited the facility with her mother. She was diagnosed with a vesico-vaginal and recto-vaginal fistula. She was treated free of charge, the operation was a success and she no longer leaks any urine or stool. Three months later for the post-op check-up, she was accompanied not by her mother, but by her brother and father. This demonstrates a clear change in mindset on the part of her family.
Six months later, during the second appointment, she was accompanied by her husband. A year later, at the last check-up, she was declared cured. She later became pregnant. We advised her to be monitored and give birth in our structure, where she underwent an elective caesarean section without complications. As a token of her gratitude, her son now bears my first name.  It was a great joy for me and for her family because as a result of the surgery, her life was transformed  and she completely regained her joie de vivre.
Fistula surgery and COVID-19
COVID-19 is affecting our work this year because the pandemic has brought a phobia to our communities. This will compel fistula victims to continue staying away from treatment centres while the government and donors focus on combating  COVID-19.
Hardjara Djodé's Story 
Image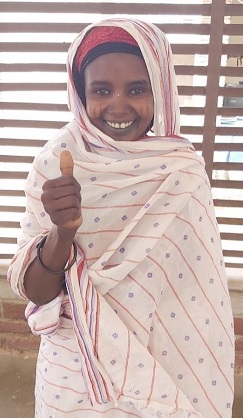 My name is Hardjara Djodé, I am 19 years old and I suffered from fistula two years ago.
I lived in a village, 65 km from a health centre, I was pregnant and at term. The day of the birth, due to the lack of transportation, I had to be assisted by a traditional birth attendant and unfortunately, the baby was still born. From then on, urine and faeces kept leaking out uncontrollably. Faced with this problem, my family isolated me in a hut because of the smell and my husband left me, leaving me to my sad fate. I felt really isolated, rejected by the community and even my husband, and couldn't do my usual activities.
One day, a cousin came to visit me in the village and advised me to go to Abéché where they take care of women with the same problem - obstetric fistula - as me.  I had to sell all my belongings to pay for my trip and thank God I arrived safely. At the centre, I was warmly greeted by the nurses and I found many women who were suffering from the same illness as me - I was reassured because I was not the only one to have this illness.  The surgery, the nutritional care and hospital stay were all free. The operation meant a door to recovery and to my future.
Now that I am healed, I can't wait to go home to start my life again like the other women at the centre, which is called the Women's Village (VDF). My dream for the future is to have a home, to have children and to resume my activities. Thank you very much to Dr Valentin and to the whole VDF team.
The FIGO Fistula Surgery Training Initiative is a globally recognised, state-of-the-art training programme. Using FIGO's Global Competency-Based Fistula Surgery Training Manual, the world's first standardised curriculum, we deliver training, education and research. Dr Valentin Vadandi helps to train our 66 trainee surgeons - 'FIGO Fellows' - who are doing incredible work in some of the world's most underserved regions.