Eradicating Obstetric Fistula: Tanzania
Image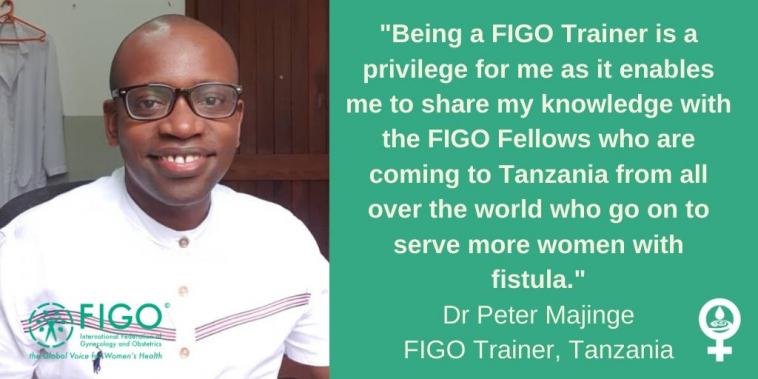 Dr Peter Majinge, Head of the Fistula Unit in CCBRT in Tanzania (and a FIGO Training Centre), trains FIGO Fellows to provide life-transforming care, to help significantly address the global treatment gap. 
This month, FIGO spoke to Dr Peter Majinge about his experience of being a fistula surgeon and FIGO Trainer.
My dream of becoming a fistula surgeon started when I was a very small boy. 
My main source of inspiration was my father who was a fistula surgeon himself. He was always telling me touching stories of his fistula patients. Later when I was in medical school, I decided to do my elective study on fistula patients in the biggest hospital in the northern part of the country. At Bugando Medical Centre, I started to research fistula patients' social demographic characteristics, and learnt how painful their personal stories were. Through these experiences I developed a real interest in this group of women.
Two patients I remember particularly well. 
The first patient was a very young girl from a remote region in Tanzania, who was married at an early age and pregnant for the first time at the age of 15. Unfortunately, she did not attend any antenatal visits. The labour started at home but even after 24 hours of being in labour, thebaby had not been delivered as it was stuck in the birth canal. To help the baby come out, her husband decided to bathe her legs with boiling water, not knowing that by then the baby was already dead. The patient's legs were severely scolded and she ended up with both, a vesico-vaginal fistula and a recto-vaginal fistula. When the patient came to CCBRT she was in a devastating condition. We had to treat her scolds first and repaired her fistulas afterwards. The second patient, had lost her baby and ended up with a hysterectomy, and a fistula. As the husband neglected her and refused to take care of her, she decided to go back home to her parents. She felt so hopeless and was so worried that she would never become a mother, that she was suicidal. Since Rosemary has had the surgery however, her life has changed completely. She now feels like a normal human being and is planning to start her new life by setting up a small-scale business.
Being a Fistula surgeon and FIGO Trainer
Being a fistula surgeon is like giving back hope to heart broken patients. The work allows me to change the patients' lives and restore their dignity. It is a special calling from God, which requires me to be a surgeon and a counsellor at the same time. Furthermore, being a FIGO Trainer is a privilege for me as it enables me to share my knowledge with the FIGO Fellows who are coming to Tanzania from all over the world who go on to serve more women with fistula.
Fistula surgery and COVID-19
Currently, the corona pandemic is affecting patient mobilisation as many patients from rural areas are afraid to come to the big cities like Dar es Salaam. The imposed travel restrictions also make transportation of patients difficult. At the same time, many pregnant women will be afraid to go to hospitals for antenatal visits and delivery right now. This will lead to an increase in home deliveries and the development of many unnecessary obstetric fistulas. We can therefore expect a big work load at the end of the pandemic. 
The FIGO training program is also affected as FIGO Fellows are not able to come to our facility for training due to travel restrictions in different parts of the world.
Eradicating fistula in Tanzania 
The one thing I would like people to know about obstetric fistula is that, it is preventable with safe delivery services and high quality obstetric care, and it can also be cured. As most women with obstetric fistula are traumatised, not only physically, but also psychologically and socially, patients have to be treated with love, care and compassion.
But in order to eradicate obstetric fistula, we need commitment from all stakeholders. This includes political will to prevent fistula in the first place as well as dedicated, skilled and knowledgeable personnel for fistula care and management.
The FIGO Fistula Surgery Training Initiative is a globally recognised, state-of-the-art training programme. Using FIGO's Global Competency-Based Fistula Surgery Training Manual, the world's first standardised curriculum, we deliver training, education and research. Dr Peter Majinge helps to trainour 62 trainee surgeons - 'FIGO Fellows' – who are doing incredible work in some of the world's most underserved regions.