Fertility and environmental health
Image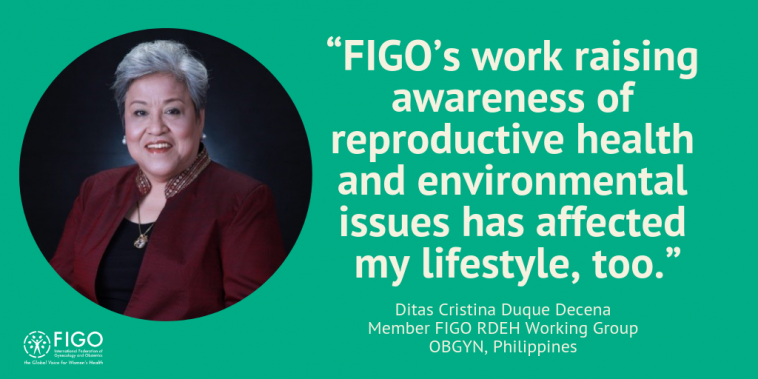 Dr Ditas Cristina Duque Decena, an OBGYN working in the Philippines, talks about what this means for herself, her patients, and her volunteer activities.
What FIGO volunteer activities are you currently involved in?
I'm a member of FIGO's working group on Reproductive Developmental Environmental Health (RDEH), focusing on advocacy. It is amazing how people from different parts of the world could be so driven and united for a cause to promote health.
Why are environmental issues critical to women's health?
We are learning more about the science linking exposure to environmental toxins and impaired reproductive health and fertility, and we are also starting to see the impact. Among my patients, I note an increase in the incidences of polycystic ovary syndrome, cancers and neurodevelopmental disorders.
What motivates you to volunteer?
In my country, waste and garbage disposal is huge a problem. We have an average of 20 typhoons annually, and with the ensuing floods, plastics from the sea are thrown back to the land. It causes sickness, devastation of agricultural lands, long-term poverty and malnutrition.
Giving my time to better understand, study and educate about these environmental threats to human health and reproduction is a necessity if we are to substantially reduce the number of deaths and illnesses and progress towards the 2030 Agenda for Sustainable Development.
What has been your biggest accomplishment?
We formed a local subcommittee, which does a lot of education to healthcare providers in various regions about the impact of a dangerous environment on our health. The goal is to encourage doctors to share information with their patients too. I have been so inspired by the commitment, passion and drive of the FIGO working group to build this ripple effect.
How has your life been shaped by other volunteers?
Other volunteers have made me realise that many things are still to be done, and they have given me the driving force to do more. FIGO's work raising awareness of RDEH issues has affected my lifestyle too, using less plastics and teaching my pregnant patients to avoid chemical toxins and eat more natural foods. I have shared this advocacy with my medical students, and many are now undertaking further research on this topic – critical for future advocacy and change.
This interview  appeared as part of a wider series celebrating FIGO volunteers. Find more stories here.