FIGO at 65: the Power of Partnership
Founded in 1954 by representatives from 42 OBGYN National Member Societies, FIGO grew out of a growing international movement to share knowledge and align best practice in a fast-changing world of health care and human rights.
Image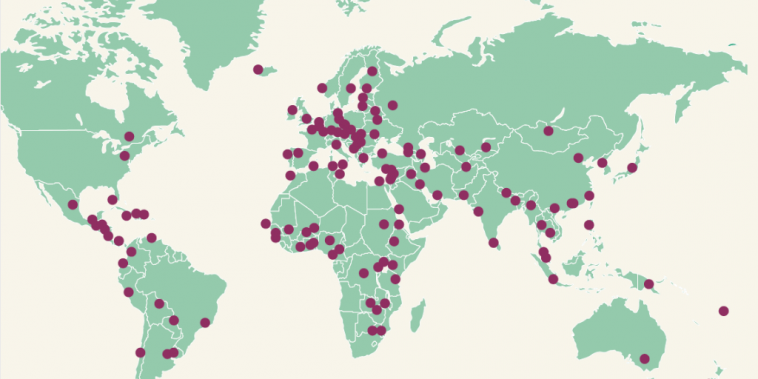 From the very beginning, partnership, fellowship and dialogue have been at the heart of our work to improve the health and wellbeing of every woman. The challenges women face in achieving quality of care, and active participation in their own health and rights are not 'OBGYN problems' – they are challenges we must tackle together.
The biggest benefit of FIGO for me personally, beyond the honour of getting to meet and know leaders in women's health from around the world, has been gaining a growing perspective of the barriers and successes that exist in different countries and regions. Benefitting from this exchange of information allows all FIGO Members, from throughout 132 countries, to advocate for needed changes, support, and develop new methods to tackle issues like maternal mortality and cervical cancer that would not exist without this collaboration. 

Professor Joanna Cain, Past Chair of the Scientific Programme Committee for FIGO
Today, FIGO is the only organisation bringing together professional societies of obstetricians and gynecologists across 132 countries. In research, clinical best practice, and advocacy, we work across professional, geographic and cultural silos to ensure women's health and rights on a global scale.
"FIGO has grown from 42 member societies in 1954 to 132 member societies today. We are in a position to partner member societies and share information, guidelines and best practices.  With FIGO organised around five regions, within each region members we encourage members to share and collaborate. It has proven to be a very effective strategy to improve communication and to bring about changes." 

Dr Jeanne Conry, President Elect, FIGO
Partnership is also at the heart of the 2030 Agenda for Sustainable Development, the United Nations (UN)'s shared blueprint which FIGO commits to supporting through the strength of our expert and diverse National Member Societies, Committees and Working Groups. Their knowledge and experience help shape best practice and innovation, improving women's and newborn health from the frontline to the global level.
"Membership of FIGO has given me the opportunity to work with like-minded professionals throughout many countries where we are all tirelessly working in pursuit of improving women's health and rights. This has been in the form of knowledge and skills transfer and implementing projects that benefit women at the grass root level".

Professor Sir Sabaratnam Arulkumaran, FIGO President 2012-2015
While SDG3 (Good Health and Wellbeing) and SDG5 (Gender Equality) are core areas of FIGO focus, SDG17 (Partnerships For The Goals) is never far from mind. As a global federation, FIGO is fundamentally committed to many of the targets established to strengthen the means of implementation and revitalise the global partnership for sustainable development. These include effective and targeted capacity-building in low-resource setting countries (target 17.9), as we are undertaking with our Advocating for Safe Abortion Project.
The SDGs are integrated and indivisible, and women's health, wellbeing and access to sexual and reproductive health and rights depend on our shared commitment. FIGO is proud of the range of partnerships we have established over the last 65 years, from a long and pioneering relationship with the World Health Organization (WHO) to official relations with some 25 leading networks including the International Confederation of Midwives, International Planned Parenthood Federation, International Federation for Family Health, the Society of Maternal-Foetal Medicine and consultative status with the UN.
As the UN High Level Political Forum continues its review of selected SDGs in New York this week, FIGO welcomes the dialogue ahead, and affirm our commitment to partnerships that will deliver a future where universal access to women's health and rights are a reality.