FIGO announces new President-Elect
Image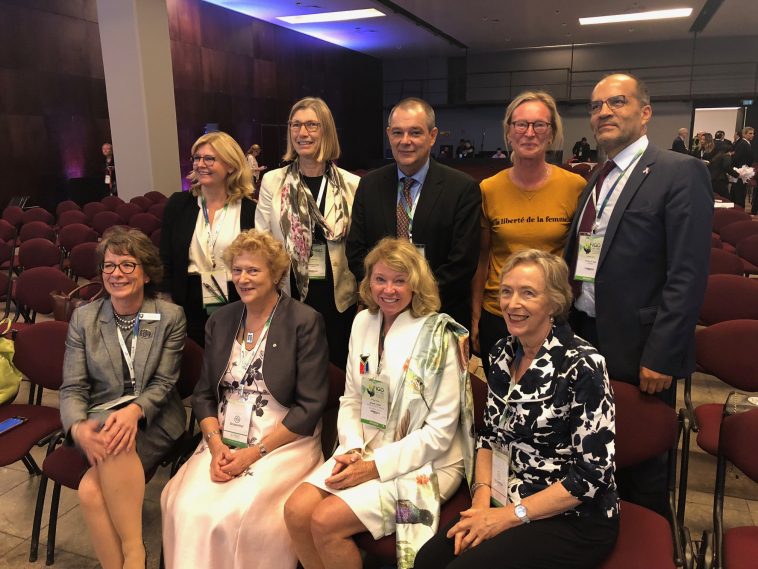 Today, Dr Jeanne Conry, PhD, FACOG, of Granite Bay, California, became President-Elect of FIGO at our XXII FIGO World Congress in Rio de Janiero, Brazil.
Dr Conry's three-year term as President will begin in 2021, she has the distinguished honor of being the second woman to hold this position since FIGO was founded in 1954.
Dr Conry has articulated that her agenda will include convening groups to advocate for bringing women's health to the forefront of international issues, support effective family planning choices for all women, and educate and advocate for awareness about the impact of the environment on reproductive health. 
Jeanne outlines further:
"My focus has always been on improving the health and well-being of women across their life span through advocacy, research, and education. FIGO is in a position to galvanise support for these objectives by partnering effectively with regional, national, and global organizations, as well as effectively integrating and collaborating with its member societies." 
FIGO aspires to be "global voice for women's health." We are the only organisation that brings together professional societies of ob-gyns from around the world and speaks as a united voice to further global women's health care in strategic partnerships. As an experienced leader, Conry will implement that initiative by encouraging member societies to deliver on that future. 
"Ob-gyns are in the unique position to be a strong and effective voice for access to health care all over the world and particularly in places where the need for access to obstetric and gynecologic surgery and preventive services are critical. Exceptional health care requires the empowerment of women, the elimination of violence, the rejection of reproductive coercion, and a demand for dignified high-quality services. I look forward to collaborating with our member associations to strive for excellence in our clinical practice and women's wellness worldwide."
Dr Conry has more than 28 years of experience practicing obstetrics and gynecology. She is Past President of the American College of Obstetricians and Gynecologists (ACOG) and a member of the FIGO Executive Board; chair of the United States Women's Preventive Services Initiative, a collaborative initiative of health professional organisations and consumer advocates who recommend and guide preventive health services across a woman's life span; and Co-Chair of the FIGO Working Group on Reproductive and Developmental Environmental Health. Conry is also a seasoned global lecturer and author of numerous publications. In addition to her many achievements during her ACOG Presidency, Conry introduced the National Maternal Health Initiative, a collaborative that focuses on maternal mortality and women's health across their life spans.  
FIGO President Dr Carlos Fuchtner, comments:
"We know that gender equality in the leadership and governance of our global organization is essential and we look forward to working with Dr. Conry to diversify our leaders to include women, youth, LGBT, and other populations that may not be well-represented. FIGO looks forward to growing and enriching our organization to meet the challenges before us as we work together to improve the lives and health of the women we serve."
End
About FIGO 
FIGO is a professional organization that brings together obstetrical and gynecological associations from all over the world. FIGO's vision is that women of the world achieve the highest possible standards of physical, mental, reproductive, and sexual health and well-being throughout their lives. We lead on global program activities with a particular focus on sub-Saharan Africa and Southeast Asia.  We advocate on a global stage, especially in relation to the Sustainable Development Goals (SDGs) pertaining to reproductive, maternal, newborn, child and adolescent health, and non-communicable diseases (SDG3). We also work to raise the status of women and enable their active participation to achieve their reproductive and sexual rights, including addressing female genital mutilation and gender-based violence (SDG5). FIGO also provides education and training for our member societies and build capacities of those from low-resource countries through strengthening leadership, good practice, and promotion of policy dialogues. FIGO is in official relations with the World Health Organization and holds a consultative status with the United Nations.