The FIGO Cartagena 2022 programme is now live!
Image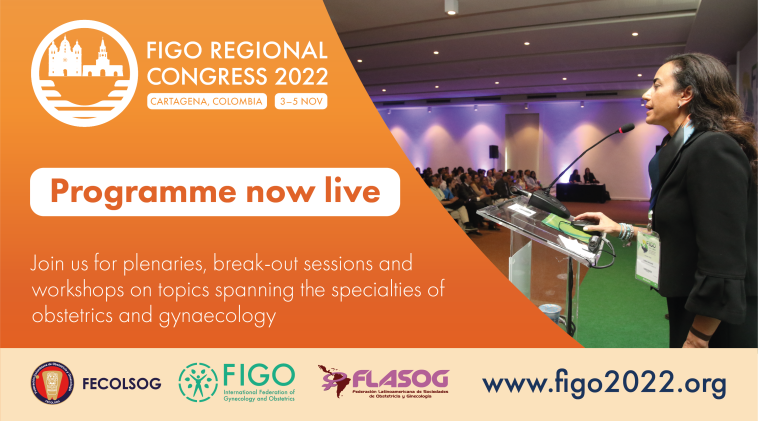 We are pleased to announce that the scientific programme for the FIGO Latin America Regional Congress – Cartagena 2022, taking place 3–5 November at the Hilton Cartagena Hotel, is now available online. You can view the programme now to learn more about the sessions and speakers and start planning your agenda. 
Our world-leading scientific programme will span the specialties of obstetrics and gynaecology, with key themes including sexual and reproductive health and rights, obstetric emergencies, quality and safety of care, vaccination during pregnancy, cervical cancer prevention and treatment, environmental impact on reproductive health, and women's health across the life course. There will be a variety of interactive session formats including plenaries, breakout sessions, hands-on workshops and breakfast meetings with subject experts.
Delegates of FIGO Cartagena 2022 will learn from global leaders in obstetrics and gynaecology including: 
Dr Jorge Milhem Hadad, President of the International Urogynecological Association (IUGA), "Surgical Management of Pelvic Organ Prolapse" 
Dr Laura Gil, Vice Chair of FIGO's Committee on Safe Abortion and OBGYN at the National University of Colombia, "Respectful Care in Safe Abortion" 
Dr Miguel Gutiérrez Ramos, Executive Director of the Latin American Federation of Societies of Obstetrics and Gynaecology (FLASOG), "Inculcating Reproductive Rights in Patient Care"  
Dr Shantha Kumari, President of the Federation of Obstetric and Gynecological Societies of India (FOGSI), "No to Violence Against Women"  
Join us to update and improve your clinical skills, hear the latest scientific breakthroughs and partake in discussions that will help to shape national, regional and global policy. Programming will be available in Spanish and English. 
If you have not yet secured your place, you can register before 1 November to access standard registration fees.