FIGO joins a global coalition for the permanent repeal of the global gag rule
FIGO is proud to join a coalition of more than 200 organisations across sectors and geographies calling for a permanent end to the global gag rule, also known as the Mexico City Policy.

Image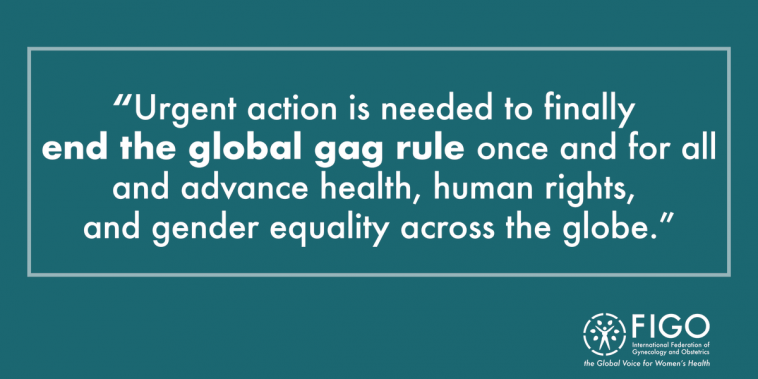 The global gag rule, first instituted in 1984, prohibits non-US organisations from receiving US global health assistance if they provide, counsel, refer or advocate for legal abortion services in their own country, even if these activities are protected by local law and supported solely with non-US funds.
While President Joe Biden rescinded the rule on 28 January 2021, the prospect of reinstatement under future administrations casts a long shadow and leaves the health and lives of millions of people vulnerable to the whims of future US presidents.
As a result of this policy, lifesaving health services have been dismantled in communities around the world, many of which already face systematic barriers to care. Clinics have been forced to close, outreach efforts to underserved populations have been eliminated, and people have lost access to contraception and many other essential health services. These challenges have resulted in more unintended pregnancies, unsafe abortions and preventable deaths.
FIGO stands in solidarity with those working to permanently repeal the global gag rule. Urgent action is needed to finally end the global gag rule once and for all and advance health, human rights and gender equality across the globe.
Read the full statement, available in English, Arabic, French and Spanish.