FIGO launches fundraising campaign to enable trainee OBGYNs to speak at the FIGO 2021 World Congress
Image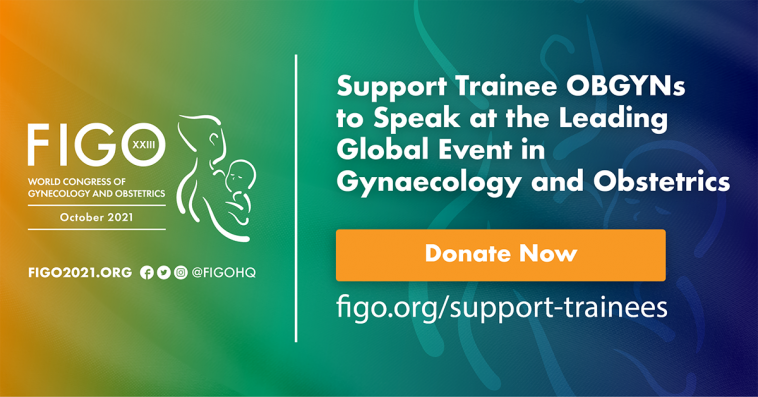 FIGO is excited to announce the launch of a fundraising campaign that seeks to cover the registration fees of trainee OBGYNs, so that they may attend and speak at the FIGO 20201 World Congress. And we need your help!
We are pleased to be able to confirm that Dr Andre Lalonde, FIGO 2021 Congress Organising Committee Chair, has committed 1,000 USD towards this campaign, and Prof Dr Frank Louwen, FIGO 2021 Scientific Programme Committee Chair has already donated 1,000 Euros. You too can donate now to empower young leaders and secure a promising future for the health and rights of women and girls.
Please join your colleagues in covering the registration fees of trainee OBGYNs (100 USD per person), which will provide them with the invaluable opportunity to speak at the world's leading event in gynaecology and obstetrics. Trainee registration fees are not intended for profit – they cover only the basic technology required to host their sessions and attendance. Trainees from low-income and lower-middle-income countries will be prioritised for funding.
FIGO is working more closely than ever with the World Association of Trainees in Obstetrics and Gynecology (WATOG) for this year's FIGO World Congress. WATOG was formed in 2012 with a mission to assist every OBGYN trainee to achieve the highest levels of education. FIGO considers trainees to be the future of OBGYN and works closely with WATOG on issues pertaining to women's health.
WATOG will be hosting 10 scientific sessions and 2 workshops at this year's World Congress, with trainees also invited to speak alongside leading experts in the core scientific sessions. By attending, trainees will be exposed to the latest research from global leaders, improve their education and widen their perspectives. This will inspire them to continue growing as specialists, advocates and researchers, seeking innovative answers to the issues in women and girls' health and rights.
Trainees have a lot to offer the OBGYN community. They provide a novel perspective, are eager to participate, and prepare their sessions with enthusiasm. However, in many countries, trainees may work for over 80 hours a week, have relatively low wages and face difficulties securing funding to attend events like the FIGO World Congress, which are a critical component to their education.
The trainee voice must be heard, and by supporting young OBGYNs with speaking opportunities, you will make a personal contribution to the development of their leadership skills and the future of obstetrics and gynaecology. We are very grateful for your donation.
If you have any questions about the campaign, FIGO 2021, or would like more information about how to donate to support trainees, please contact [email protected].