FIGO welcomes the PMNCH Statement on Climate Change Impacts on the Health of Women, Children and Adolescents
Image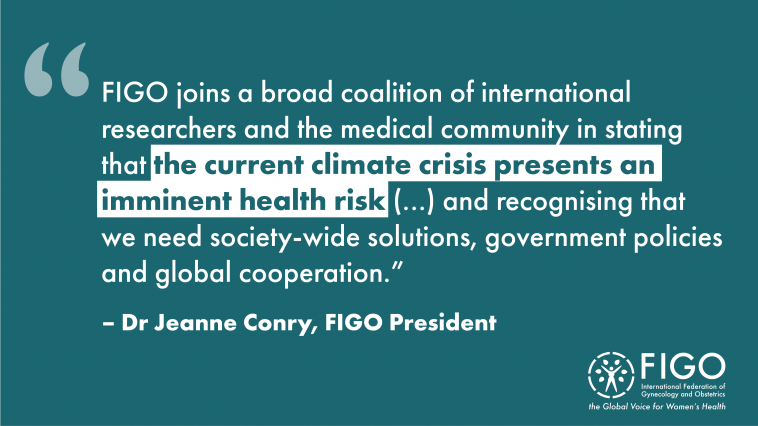 FIGO welcomes the PMNCH Health-Care Professional Associations Constituency (HCPA) Statement on Climate Change Impacts on the Health of Women, Children and Adolescents, published at the start of COP26. This comes shortly after PMNCH's own invitation for all health care workers to sign the Healthy Climate Prescription letter – written to heads of state around the world, as well as every nation's lead climate negotiator – calling for urgent climate action to protect people's health. 
The statement highlights key impacts of climate change on women, children and adolescents such as disruption to vital services, the specific harms caused to newborns, children and adolescents and the heightened impact of climate disruptions in fragile settings. It concludes with a call to action highlighting the vital need for immediate and bold action from policymakers. 
We are proud to have FIGO Chief Executive Professor Mary Ann Lumsden as Vice Chair of the HCPA and contributing to this essential and timely document. This, alongside our own call for health care providers to lead as advocates, in research interpretation, capacity building and education in response to the climate crisis, is representative of FIGO's commitment to raise awareness of the global threat posed by the climate crisis. 
On the PMNCH HCPA Statement, Dr Jeanne Conry, FIGO President, said:   
FIGO joins a broad coalition of international researchers and the medical community in stating that the current climate crisis presents an imminent health risk to pregnant people, developing fetuses and reproductive health, and recognising that we need society-wide solutions, government policies and global cooperation to address and reduce contributors to climate change, including fossil fuel production. 
FIGO is incorporating climate change into its education, advocacy and research programmes within its Committee on Climate Change and Toxic Environmental Exposures, so that global leaders from our member organisations can better effect change in their countries – regions and globally. We are committed to being a leader in the response to the impacts of climate change on global population health, with a particular focus on the health of women and girls.