How OBGYNs can support and advocate for survivors of gender-based violence
25 November – 10 December marks 16 Days of Activism Against Gender-Based Violence (GBV). This year, Dr Rubina Sohail, Chair of the FIGO Committee for Women Facing Crises, uses this opportunity to highlight the key roles obstetricians and gynaecologists play in supporting and advocating for survivors of GBV.
Image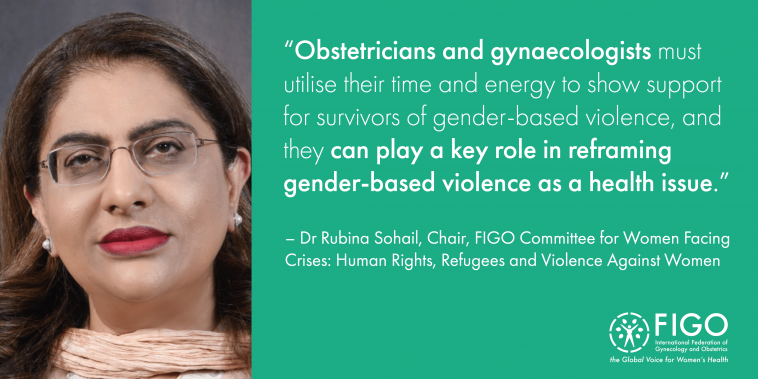 To mark the 16 Days of Activism Against Gender-Based Violence (25 November – 10 December), Dr Rubina Sohail, Chair of the FIGO Committee for Women Facing Crises, shares her insights on how OBGYNs can support and advocate for survivors of gender-based violence (GBV). Dr Sohail provides an overview of the prevalence of GBV both in and out of humanitarian settings, the consequences of the COVID-19 pandemic for women in her country of Pakistan, and practical advice on how OBGYNs can become advocates for survivors of violence.
Gender-based violence: the scale of the problem
Violence against women and girls is a global crisis affecting 736 million women (1 in 3) in their lifetime. In recent years, there is a significant increase in the number of people who require humanitarian assistance – it is estimated that in 2021, a record number of 235 million people will need humanitarian assistance and protection. Amongst these, a greater proportion of women and girls suffer from GBV. Around 70% of women in humanitarian settings experience gender-based violence compared to 35% worldwide.
Victims of violence may present with health-related issues such as STIs, unintended pregnancy, chronic pelvic pain and post-traumatic stress disorder. Health care providers (HCP) need to be aware of the importance of identifying signs of trauma and should be able to incorporate trauma-informed approaches in patient care at all levels of health care delivery.
Gender-based violence during COVID-19: perspectives from Pakistan
Every year around 8 million women in Pakistan face some form of gender-based violence. During the COVID-19 pandemic, an estimated 1.6 million more women were at risk of GBV due to funds being diverted to support the response to the pandemic.
In addition, families faced financial difficulties and women faced the increased likelihood of domestic violence in their homes during lockdown. Moreover, access to help and facilities was limited due to lockdown and failures in referral pathways.  
In response to this, partnerships between the health authorities and developmental partners in Pakistan resulted in setting up of helplines, awareness-raising events, social media campaigns and orientation sessions for care providers. However, with the continuation of the COVID-19 crisis, the challenge to protect the women and girls, and to provide immediate assistance, remains.
Trauma-informed care: how OBGYNs can support survivors
Trauma-informed care recognises and validates a patient's past trauma — which can be caused by sexual assault or domestic violence – and responds to the signs, symptoms and risks of trauma to better support the health needs of patients.
Providers should screen for a history of sexual trauma and with the patient's consent, include this information in their medical records. Overall, providers who are not prepared to support women with a history of sexual trauma risk provoking trauma-related distress that could be prevented with a more informed and sensitive approach to care.
Providers need to receive training and be prepared to identify and provide professional care for survivors of GBV. Some of the key steps that need to be taken by HCPs when addressing patients with a history of trauma are to remain calm, to be able to take a contained history of trauma, and to encourage good self-care and coping skills to build strength, resilience and hope for the women, amongst others.
Other important recommendations for OBGYNs include:
Awareness of the prevalence of GBV in and out of and humanitarian settings
Implement universal screening for current and past trauma
Identification of trauma and its effect on patients
Create an appropriate environment for survivors, as feelings of physical and psychological safety are paramount to effective care relationships.
Avoid multiple interviews to avoid unnecessary stress.
Become familiar with the trauma-informed model of care and universally implement a trauma-informed approach across all levels of their practice
Train clinicians and staff to build a trauma-informed workforce by training
OBGYNs as advocates for survivors
Gender-based violence is considered a taboo subject, and survivors often remain silent on the challenges they face. The FIGO Committee for Women Facing Crises feels that a key window of opportunity for survivors is the contact with health care providers.
As a result, HCPs are central to the response against GBV, and OBGYNs must utilise their time and energy to show support for survivors of GBV. They can play a key role in reframing GBV as a health issue and can play an important part in the following:
Raising awareness and educating the women and girls in communities
Screening women for GBV in clinical settings
Identifying and managing victims of violence
Providing medical treatment and psychological support
Offering referrals and helping in developing a support system
For those in teaching positions, ensuring that a module on GBV module is part of curricula
Training HCP and residents to develop appropriate attitudes and sensitivity to the issue in order to extract a complete history and maintain confidentiality for patients
Training HCP and resident to screen for and provide trauma-informed care
Raising their voice to ensure that there are policies in place to assist victims of violence