IJGO announces its highest ever impact factor
Image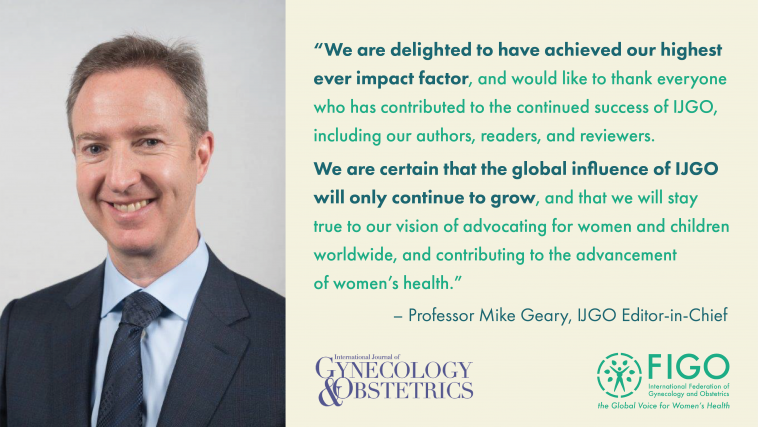 We are proud to announce the latest impact factor for FIGO's official journal, the International Journal of Gynecology & Obstetrics (IJGO). IJGO has achieved a 2021 impact factor of 4.447 – its highest to date – ranking 17 of 85 indexed journals in obstetrics and gynaecology. 
What is a journal impact factor? 
A journal impact factor is a measure of the average frequency with which each article in a journal has been cited in a particular year. While we recognise the limitations and controversies around the impact factor metric, this is nevertheless considered by many to be an indicator of the quality and influence of a journal.  
How did we achieve this?  
IJGO has seen a substantial increase in impact factor over the past three years, thanks in large part to the tireless dedication of our Editorial Board and hard work of our authors and reviewers. We continue to work to improve the timeliness and quality of our peer review processes, and to reach an ever-wider audience – throughout 2021 and 2022 we have achieved an average of 140,000 full-text downloads per month. We collaborate closely with FIGO's expert committees and member societies to attract key content in obstetrics and gynaecology research, with a global remit. 
We are delighted to have achieved our highest-ever impact factor, and would like to thank everyone who has contributed to the continued success of IJGO, including our authors, readers and reviewers. We are certain that the global influence of IJGO will only continue to grow, and that we will stay true to our vision of advocating for women and children worldwide, and contributing to the advancement of women's health.

– Professor Mike Geary, IJGO Editor-in-Chief
Image
We are committed to developing the journal so that it remains a powerful advocate for women's health globally, and a key source of cutting-edge research and education. We encourage you to support FIGO and IJGO by submitting your work, joining as a reviewer (please send a CV and cover email to [email protected]), and of course reading the journal! 
Additional resources
Sign up for IJGO content alerts