IJGO's journal impact factor rises again – from 2.216 to 3.561
The International Journal of Gynecology & Obstetrics (IJGO), the official journal of the International Federation of Gynecology and Obstetrics (FIGO), is delighted to announce yet another increase in our journal impact factor, from 2.216 to 3.561.
Image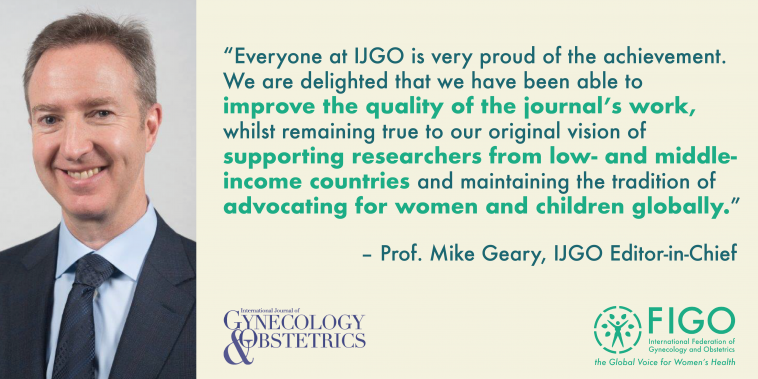 IJGO's journal impact factor improved from 2.216 to 3.561 in 2020 – our highest-ever impact factor. This increase has seen the journal rise through the OBGYN journal rankings to 20th place among 83 indexed journals.
What is a journal impact factor?
A journal impact factor is a measure of the average frequency with which each article in a journal has been cited in a particular year. It is considered by many to be the most accurate measure of the quality and influence of a journal. The algorithm used for calculating a journal's impact factor changed for 2020, which resulted in a modest increase across all journals. Despite this, growth in IJGO's journal impact factor was greater than the average, resulting in the substantial improvement in the IJGO's overall ranking.
How did we do it?
This great achievement was made possible by the tireless dedication of our Editorial Board and hard work of our authors and reviewers. These are very invigorating times for IJGO, with many exciting releases to come throughout 2021 – the FIGO 2021 Cancer Report, our forthcoming special issue on Indigenous and First Nations Women's Health and Wellbeing, and many more.
We are certain that the global influence of IJGO – and through it FIGO – will only continue to grow. We are committed to developing the journal so that it remains a powerful advocate for women's health globally, and a key source of cutting-edge research and education.
"Everyone at IJGO is very proud of the achievement. We are delighted that we have been able to improve the quality of the journal's work, whilst remaining true to our original vision of supporting researchers from low- and middle-income countries and maintaining the tradition of advocating for women and children globally with the aim of improving care. Going forward, we know that the improved impact factor will help us to continue the upward trajectory of IJGO by enabling us to receive and publish high-quality global research." — Prof Michael Geary, IJGO Editor-in-Chief.