International Year of Health & Care Workers
Image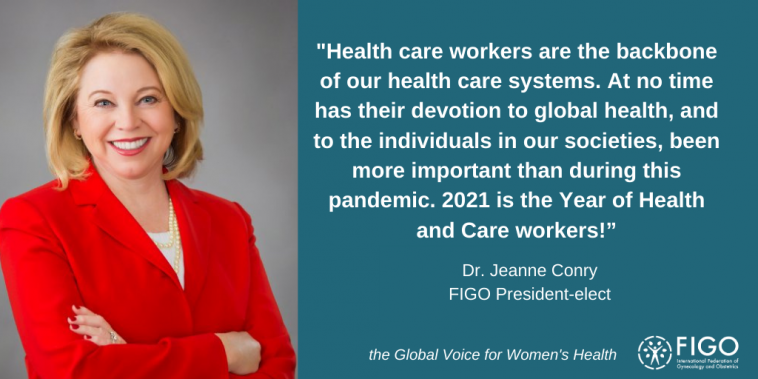 Recognising the dedication and sacrifice of the millions of health and care workers at the forefront of the COVID-19 pandemic, Member States at the virtual 73rd World Health Assembly, designated 2021 as the International Year of Health and Care Workers (YHCW).
FIGO's vision is that the women of the world have the highest possible standards of sexual and reproductive health, with universal access to quality healthcare. Without health and care workers, these goals would be unattainable. Obstetrician-Gynaecologists are partners with midwives, nurses and other health care providers in the defence of women's health and rights.
Jim Campbell, Director of the Health Workforce Department in WHO headquarters, stated:
"Today's decision gives clear direction on consensus and the necessary actions on the health and care workforce. WHO urges all Member States, International Financing Institutions, Global Health Initiatives and partners to invest in health workforce readiness, education and learning to manage the pandemic, maintain health services and prepare for a COVID-19 vaccine."
Jeanne Conry, FIGO's President-Elect, commented:
"Health care workers are the backbone of our health care systems. At no time has their devotion to global health, and to the individuals in our societies, been more important than during this pandemic. 2021 is the Year of Health and Care workers!"
This year, throughout 2021 and beyond, we extend our gratitude and recognise the importance of health workers in enabling us to work towards, and ultimately achieve, our vision of quality health care for all women globally.