Introducing IJGO's new Editor-in-Chief
Image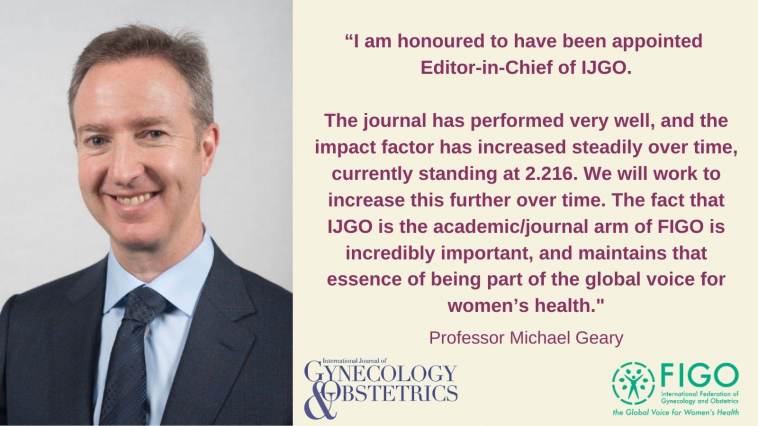 We are delighted to announce the appointment of Prof Michael Geary as the next Editor-in-Chief for the International Journal of Gynecology & Obstetrics (IJGO) from January 2021.
Prof Geary has been an active member of the IJGO Editorial Board since 2015. He has made major contributions to the success of the journal through handling peer review (both as a reviewer and as an Associate Editor), editing IJGO supplements, authoring submissions for the Contemporary Issues in Women's Health section, and helping to develop journal strategy during Editorial Board meetings. Given Prof Geary's substantial contributions to IJGO, the review panel were very confident that he was the best person to assume leadership of the journal.
Prof Geary qualified as a doctor from the National University of Ireland Galway in 1989. He was a Clinical Research Fellow from 1996 to 1998 at University College London, where he ran the Fetal Growth Study, and later rose from the position of Assistant Master at Rotunda Hospital in 1999 to the post of Master/CEO of the Rotunda in 2002, a position which he held for seven years. He was head of Department at Saint Michael's Hospital, Toronto for three years and has continued to be an honorary Professor at University of Toronto following his return to Dublin. His current position is as Clinical Director of the Rotunda Hospital and Professor of Obstetrics & Gynaecology at RCSI, Dublin.
With almost 30 years of experience in the field, Prof Geary has been driven by a desire to constantly improve and optimise safe outcomes for mothers and babies. His approach to care is to ensure that his patients are well informed and that their care is tailored to their individual needs and circumstances. His motivation is for safety first while ensuring patients and partners have a positive and happy birth experience.
Of his new appointment at IJGO, Prof Geary said:
"I am honoured to have been appointed Editor-in-Chief of IJGO.

IJGO has come a long way since its inception in 1963. It has a very wide reach, across all continents of the globe. It has provided a forum for all types of researchers, from those starting out in their careers to those who are at the very highest stage of research expertise. It has facilitated publication of research from very small units with minimal/no funding to those affiliated to premier universities of the highest ranking. Most importantly, it has provided a voice for women and children by publishing work that has had a direct impact on patient care.

The journal has performed very well, and the impact factor has increased steadily over time, currently standing at 2.216. We will work to increase this further over time. The fact that IJGO is the academic/journal arm of FIGO is incredibly important, and maintains that essence of being part of the global voice for women's health.

The specific objectives that I would like to see achieved over the next five years are to extend and broaden the readership of the journal. My clear objective is to continue the great work of my predecessors and to continue to encourage the next generation of researchers, in both clinical and academic research. I believe that one of the key strategies of the journal has been to support researchers from low- and middle-income countries, and this is an approach that must be fostered into the future. Over the next few years I look forward to working with the journal's editorial team, my colleagues at FIGO, and all of my colleagues and friends associated with IJGO."
IJGO and the entire FIGO board and staff look forward to welcoming Prof Geary and working closely with him during his tenure. IJGO has been fortunate to have had a wonderful Editor-in-Chief in the form of Prof Richard Adanu since 2014, and we are excited that his legacy will continue. 
"Prof Michael Geary comes into office as Editor-in-Chief with great plans for expanding the reach and influence of IJGO. These plans will get more members of our community of reviewers having more responsibilities in relation to the journal. I am very confident that under the leadership of Professor Geary, IJGO will attract more great submissions and will have a greater impact on improving women's health globally."
Prof Richard Adanu, IJGO Editor-in-Chief, 2014–2020
Authors: Amy Goggins, Managing Editor, IJGO
FIGO Communications