Launching the International Childbirth Initiative (ICI)
A new initiative launched by the International Childbirth Initiative (ICI) at the XXII FIGO World Congress in Brazil provides comprehensive guidance and support for safe and respectful maternal care globally.
Image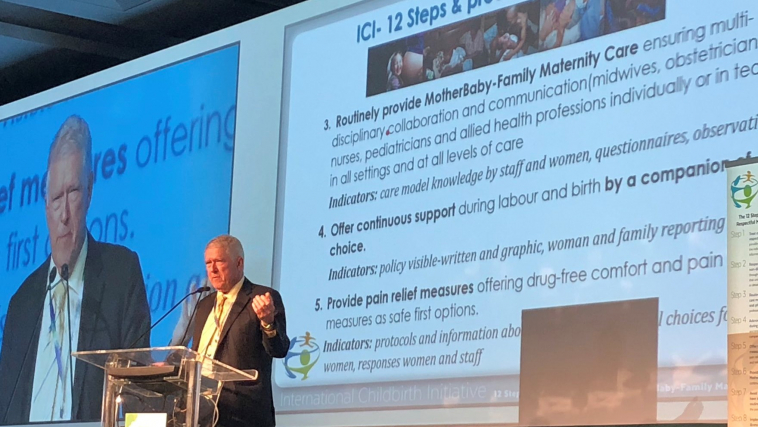 Endorsed by a growing number of health professionals, advocacy groups and educational institutions around the world, '12 Steps to Safe and Respectful MotherBaby-Family Maternity Care' is a clear and unifying template for maternal and newborn health (MNH).
Building on ICI's past work and cutting-edge evidence, the 12 Steps also reflect the best practice of organisations currently working in the field of MNH worldwide.
Introduced on October 16th by André Lalonde alongside a panel of world experts including FIGO President Carlos Fuchtner, the ICI Principles and 12 Steps include:
Promoting compassion and dignity in care provision
Ensuring access to affordable care
Adopting the MotherBaby-Family Model of Care
Adopting midwifery scope of practice
Provision of continues support during labour and birth
Appropriate use of non-pharmacologic and pharmacologic pain relief
Evidence-based practice including avoidance of unnecessary routine producers
Enhancement of health and wellness
Appropriate and effective emergency care
Relevant organisations are encouraged to rally around these 12 Steps, and promote quality of care in a comprehensive way.
Said Dr Lalonde:
"There are many organisations seeking to improve quality of care, but this is often in piecemeal ways due to operational circumstances and limitations. The ICI 12 Steps provide a clear and unifying template."
ICI recognises that the implementation of evidence-based maternity care is an ongoing process and that context varies around the world. A set of basic performance indicators for each step to monitor progress is included, which are practical, reflective and low-cost, using local assessors.
In addition, ICI promotes a supportive human resource policy ensuring a safe and positive work environment, and fully incorporates the 10 Steps of the revised Baby Friendly Hospital Initiative. It also aims to build community, with a global platform for training, sharing and learning that will include data collection and webinars.
The full launch document and a list of endorsing partners is available here. Inquires are encouraged, and should be addressed here.