Lessons from the field: implementing FIGO's combatting PPH project in Kenya
Image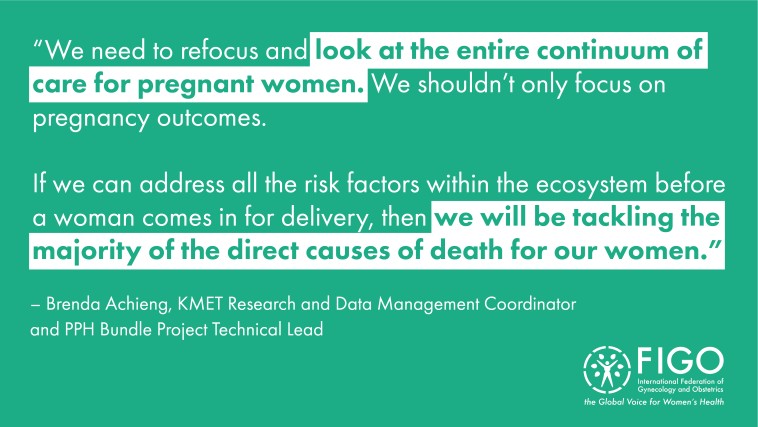 FIGO's Combatting Postpartum Haemorrhage (PPH) Project provides technical support to selected regional and national societies and professional maternal health leaders to help accelerate PPH control efforts for improved PPH diagnosis and management through the use of PPH Emergency Care Using a Bundle Approach (PPH EmC) .  
Implementing the project in Kenya 
In Kenya, FIGO worked with the Kenya Medical and Education Trust (KMET) to support advocacy efforts and in the delivery of the project across selected facilities, implementing the emergency PPH care bundle. The Kenya Obstetrical Gynaecological Society (KOGS) was later brought into the project to create links between the two organisations and ensure the sustainability of the project. The project started in 2019 and lasted for a period of 30 months, closing in August 2022. 
According to Dr Jared Ndege, KOGS Society Liaison Officer, "this project aimed to harmonise the system-based interventions and clinical interventions that would help to reduce maternal mortality and morbidity resulting from PPH" through a collaborative and multidisciplinary approach.  
Addressing maternal mortality and morbidity through the bundle approach 
Dr Ndege highlights that the PPH EmC bundle approach is "magic" for the management of PPH.  
What I mean by "magic" is that before we rolled out the bundle approach, the case fatality rate from PPH was extremely high. We didn't have the exact figures, but we would lose around nine out of 10 mothers to PPH when they developed it. Immediately after we built the capacity of health workers through this project, we saw a drop to a mortality rate of one out of 10. This is why this approach is magic!

– Dr Jared Ndege, KOGS Society Liaison Officer 
According to Brenda Achieng, KMET Research and Data Management Coordinator/ PPH Bundle Project Technical Lead, it is the focus on health systems strengthening that has made the FIGO project a success in Kenya and is the key to combatting PPH. She highlights that "the PPH project has been crucial because, initially, most of the interventions in Kenya focused on the clinical aspects of care. But we know that we need a lot more than that, because there are a lot of issues in the ecosystem that need to be addressed for women to receive optimal health care". 
Within the wider context of the SDG 3 goal of reducing the global maternal mortality rate to 70 deaths per 100,000 live births,  
We need to refocus and look at the entire continuum of care for pregnant women. We shouldn't only focus on pregnancy outcomes, because there are a lot of things that happen within the continuum of care that puts these women at risk. If we can address all these risk factors within the ecosystem before a woman comes in for delivery, then we will be tackling the majority of the direct causes of death for our women.

– Brenda Achieng, KMET Research and Data Management Coordinator/PPH Bundle Project Technical Lead 
Ms Achieng highlights that the PPH EmC bundle approach represented an opportunity to look at both the clinical and non-clinical aspects of care. This method refocuses the conversation to look beyond strictly clinical approaches, to come together and address gaps in the entire healthcare ecosystem. As explained by Monica Oguttu, Founding Executive Director of KMET, "it is really about encouraging everybody to do something, and reminding them that we all have a role to play to make sure that women survive".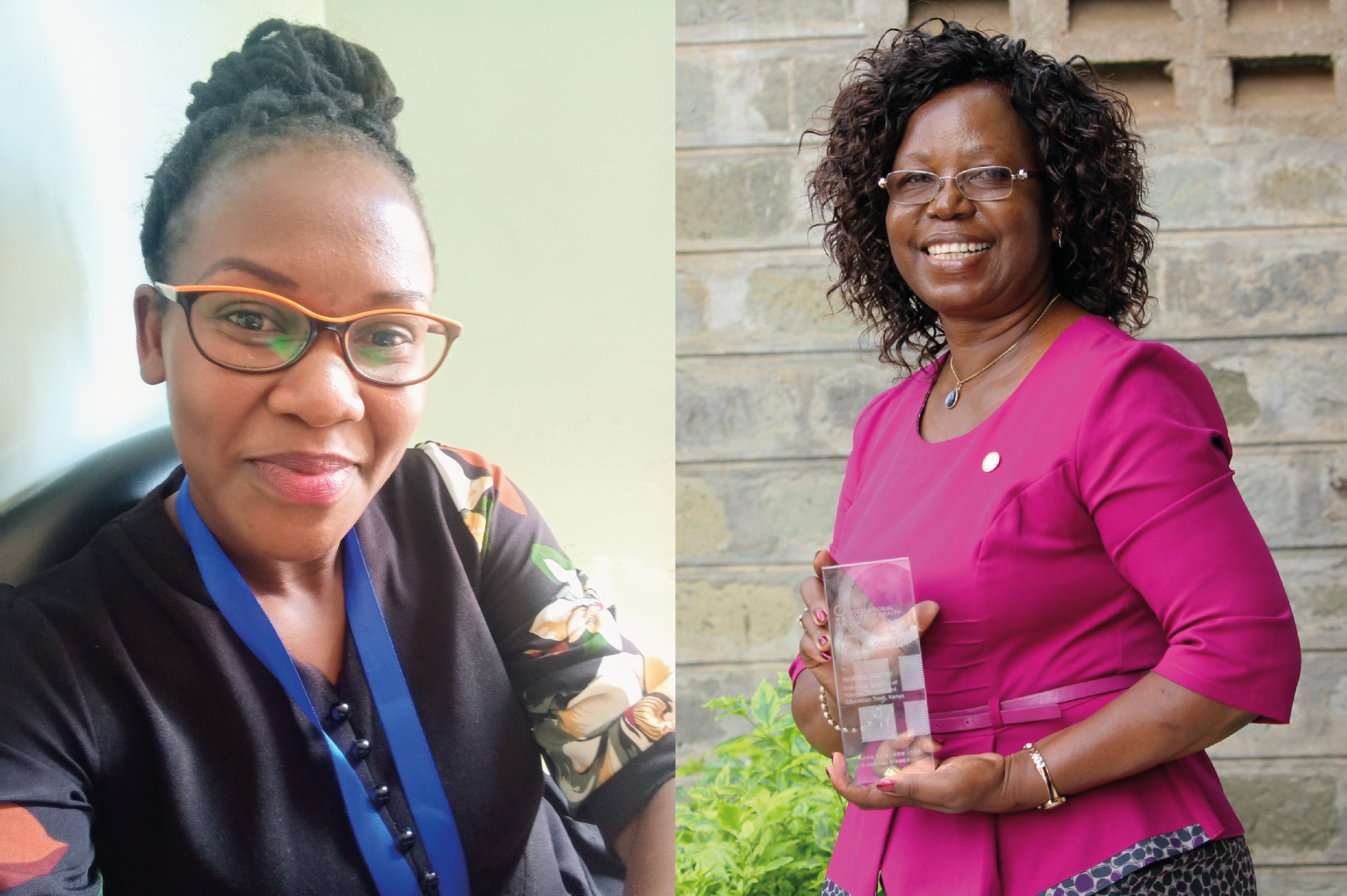 "A new way of thinking": the role of partnerships and system strengthening 
Addressing the continuum of care means that stakeholders across specialities and roles within health care facilities have to work together towards a shared goal of reducing maternal deaths from PPH. Ms Achieng underlines that the PPH EmC bundle approach is "a new way of thinking, and it is something that given a chance it will even be cost effective for us in the long run". 
Ms Oguttu explains that: 
"The PPH bundle approach, implemented through the FIGO project, changed the narrative in terms of how we work. We engaged everybody. Previously, so much of the focus of projects was exclusively on the service provider. Here, we engaged the leadership and other teams across the facilities and focused on system strengthening, because you can have all the knowledge and skills, but if the environment or the supplies that you need are not there, then you cannot achieve more."  
This multidisciplinary approach, involving departments such as laboratory staff, procurement teams and pharmacists, allowed them to ensure that everyone understood labour ward needs in terms of blood supply, commodities and medicines. 
In line with this, Ms Oguttu shared that it is essential to "create programmes together so that there is shared ownership". She adds: "this is what has worked for us during this project: we co-created, co-implemented and co-monitored". 
Ensuring sustainability: the role of evidence, advocacy and policy 
Dr Ndege notes that his message to policymakers is that "this is an approach that needs to be fully embraced and implemented, we should not waste time. It needs to be embraced immediately at all levels – at the county level, nationally and internationally". 
Steps have already been taken in the right direction to integrate the bundle approach as the standard for PPH management in Kenya. It has been included in training curricula, and KMET and KOGS are moving conversations forward with the national government to secure investment in training both pre- and in-service. To achieve this, advocacy efforts play a central role:  
We are going to continue to advocate with KOGS and the Ministry of Health to build a network of champions that can engage the leadership until they adopt the PPH EmC using a bundle approach completely. And you know, once it is adopted, we will continue with training both in-service and pre-service. This would ensure that anybody who leaves university, whether it's midwifery school or medical school, will have already covered the bundle approach. 

– Monica Oguttu, KMET Founding Executive Director  
A key success has also been to include commodities from the bundle approach in the government's national strategic commodities. Commodities such as uterine balloon tamponade (UBT) and tranexamic acid (TXA) are now listed as strategic commodities. As explained by Ms Achieng, "this means that the government will now actively invest in purchasing and supply these through the national supply chain. This will ensure that all counties can easily walk into a shop or a supplies agency and purchase UBT or other commodities that are required without having to buy them using their own budgets". 
KMET and KOGS are now focusing on evidence dissemination and advocacy. Ms Oguttu and Achieng both underline KMET's key focus on documenting evidence that can be shared with partners at the national and regional levels. This data sharing has proved successful, as Ms Oguttu highlights that "colleagues from Tanzania and Uganda asking us how this has been implemented because we have been presenting our results in the region". 
These advocacy efforts will ensure that the PPH bundle approach is adopted more widely.