Midwives Are a Strong Pillar of Obstetric Care
OBGYNs and midwives are partners in the defense of women's health and rights, and FIGO is committed in our approach to collaboration. This month, FIGO has spoken with Dr. Mabvuto Zulu, OBGYN, and member of FIGO member Zambia Association of Gynaecologists & Obstetricians (ZAGO), currently stationed at Mansa General Hospital in Luapula province of Zambia.
Image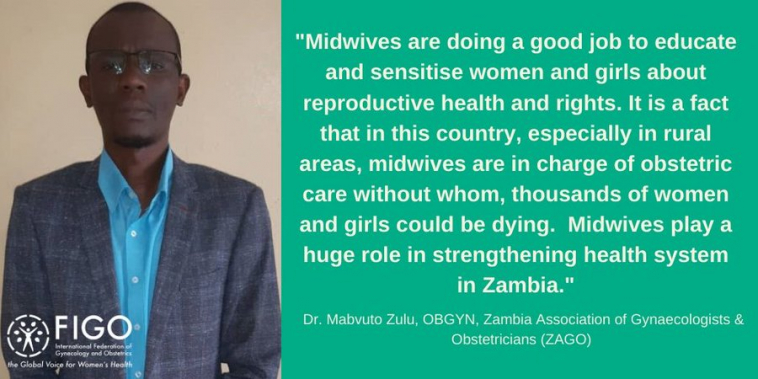 Here he addresses the importance of midwives in delivering quality maternal health care and in strengthening health systems for all women in Zambia.
Dr Zulu explains:
Midwives are a strong pillar of obstetric care worldwide. In a country like Zambia, that has a relatively weak healthcare system owing to, among other things, shortages of OBGYNs, midwives are at the frontline of maternity care.
Maternal mortality a top killer
Maternal mortality is among the top five causes of death in Zambia and it is no wonder.
In 2018, President Edgar Lungu declared maternal and child mortality a national public health emergency. One of the reasons is because of insufficient skilled health personnel and equipment. Despite that, midwives are working extremely hard, under very difficult conditions.
The first person in maternal care is a midwife. If Zambia wants to reduce maternal mortality, we have to look at the midwife. That is the value of midwives. They are the key to obstetric care. I see in the eyes of these professionals nothing but determination to improve maternal health in the country. There are some facilities that only have one midwife attending to several cases a day, successfully.
Their contribution is highly overlooked
From personal experience, I have found working with midwives professionally fulfilling and rewarding.  I tend to think that sometimes, their contribution in obstetrics is highly overlooked. There are several incidents that have inspired me through working with them. One of such occasions is the learning process of delivering a baby.
When I was starting my profession, this particular midwife noticed that I was not hands-on when it came to preparing a woman for labour including the whole process of delivering a baby. This midwife gave me a practical way, allowing me to observe the whole process and then asking me to do it as she kept close watch. I can confidently tell you that many of us OBGYNs have learnt a lot from midwives. They are a strong pillar to obstetrics.
We should, but they are
Here in Zambia, we have very few doctors especially in rural areas. Midwives are therefore instrumental in antenatal clinics especially educating the population.
I know for a fact that midwives have taken a lead to ensure access to healthcare is provided to the remotest parts of this country. Where an area has no established health facility, midwives travel long distances to provide mobile clinics, educating our women and girls on reproductive rights and actual provision of various services including maternity.
It is important to mention that most women and girls are not aware of their reproductive rights, as such are victims of unwanted pregnancies and unsafe abortions, which are fatal at times. However, midwives are doing a good job to educate and sensitise women and girls about reproductive health and rights. It is a fact that in this country, especially in rural areas, midwives are in charge of obstetric care without whom, thousands of women and girls could be dying.  Midwives play a huge role in strengthening health system in Zambia.
ZAGO's engagements with midwives
In ZAGO, midwives are associate members and are involved in a lot of activities including Continuous Medical Education.  In fact, ZAGO has been working closely with the Midwives Association of Zambia because it realises that midwives are allies in obstetric care and therefore should be involved in our work including in advocating for enhanced reproductive health system.
On our advocating for safe abortion project, midwives are well involved and are taking part in advocacy work and training such as Comprehensive Abortion Care (CAC) trainings. For instance, in February 2020 several midwives participated in the CAC training that I was privileged to facilitate.  
A priceless asset
Midwives are a priceless asset to our health care system.  I can't imagine working without them. But if it so happened, it would be very difficult. We would lose a lot of women. We need to be clear that Zambia, with a population of over 15 million only has less than 100 practicing OBGYNs. Now without midwives, the impact it would have on obstetrics is unimaginable.
There are however some challenges that these colleagues face; hierarchy issues are among them. I believe this is mainly because of poor communication between doctors and midwives. However, such challenges can be resolved at personal and institutional level. At policy and administrative level, what needs to be changed is the whole package of conditions of service. Their conditions of service are not very good despite being exposed to a lot of risk.
More collaboration and solidarity with midwives needed
ZAGO should have more engagements. Whenever we have meetings, workshops, training, midwives should be on board.
One example where ZAGO members provided midwives solidarity was being part of their celebrations.  ZAGO members marched in solidarity with the midwives at the district level and then the midwives were addressed by officials from the provincial health office.
My call to policymakers, administrators, and OBGYNs is strengthen your engagement with midwives, by reaching out to them, to better understand how we can strengthen our recognition, support and solidarity with/for them. Midwives contribute a critical role in our society and without midwives, our efforts are but in vain.