Minimal Access Surgery is Essential
Minimal access surgery (MAS) is an increasingly important tool for the proper care of patients who require benign gynecological surgery.

This week FIGO has spoken with Dr JD Villegas from FECOLSOG, Colombia, and Chair of our Minimal Access Surgery Committee, on why Minimal Access Surgery (MAS) is so essential to women's health.
Image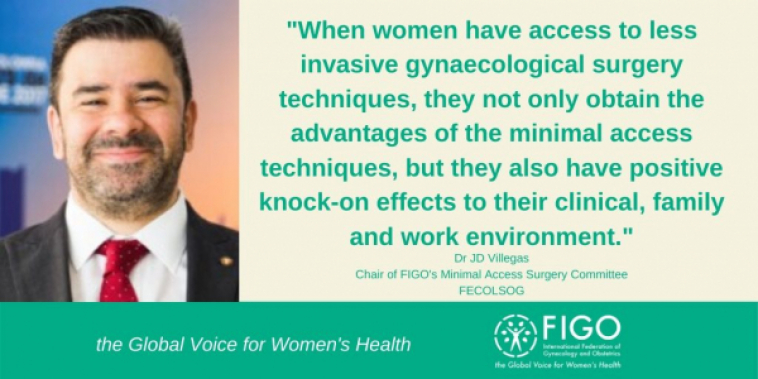 When women have access to less invasive gynecological surgery techniques, they not only obtain the advantages of the minimal access techniques, but they also have positive knock-on effects to their clinical, family and work environment. Patients recover faster and better than when they undergo open surgery (laparotomy), are more able to perform their normal working duties, and also resume their family roles more quickly and efficiently.
There have been numerous studies demonstrating the benefits of minimally invasive gynecologic surgical techniques, with some of those being:
Decreased blood loss
Reduced postoperative pain and complications
Shorter hospitalization times
Faster recovery
However, despite its proven advantages, even today not all patients have access to minimally invasive surgery and laparotomy is still the most frequently used route, especially in low- and middle-income countries around the world.
Women around the world have specific health needs, and the health systems are failing them. Today women's health has become an urgent priority, and access to less invasive routes for benign gynecological surgery is part of this priority in order to improve the healthcare and well-being of women worldwide.
I chair the FIGO MAS committee which seeks to continue working so that both doctors and patients are aware of the advantages of this type of surgery. This will result in more and more patients around the world having access to safer and more effective surgical techniques.
Read our official MAS committee statement on minimal access surgery.
I will be presenting at FIGO's regional congress in Kigali, Rwanda, an event that is organised in collaboration with the African Federation of Obstetricians and Gynecologists (AFOG) and the Rwanda Society of Obstetricians and Gynecologists (RSOG).
I will be presenting on the 'Mission/Vision of the MAS Committee' and '10 Steps For a Safe Total Laparoscopic Hysterectomy (TLH)'. Our Committee looks forward to also covering a broad range of related themes including Approaching the Difficult Pelvis and Setting Up a MIS Reference Centre in LMICs. 
All professionals who are interested in improving their skills and abilities in minimal access surgery should attend our sessions. This is an invaluable opportunity to not only be in touch with world leaders in modern minimally invasive gynecological surgery techniques, but will allow attendees to network with colleagues from various parts of the world.
This is one of many sessions being led by FIGO committees and their partners.
Other sessions at the Kigali conference that you may be interested in:
Menstrual Disorders
Preventing Infertility
Gynaecologic Oncology
Adolescent Health
Attendees will not only take advantage of the opportunity to be in contact with modern gynecological surgery techniques, but will be able to offer their patients better options in gynecological surgical care.
To find out more about the sessions taking place, to register for the event and to submit an abstract proposal please click here.