More surgeons for a fistula-free world
Image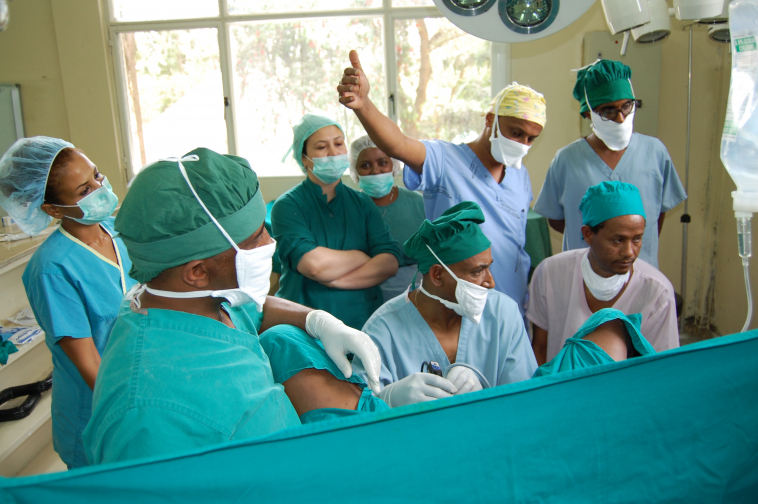 In 2012, having recognised obstetric fistula as a neglected public health and human rights issue requiring greatly accelerated efforts to increase access to treatment, the FIGO Fistula Sugery Training Initiative was launched. 
Seven years later, more than 55 FIGO Fellows (trainee surgeons) are enrolled across 19-fistula-affected countries. This ambitious project, aimed at greatly increasting the number of fistula surgeons in Africa and Asia, has provided more than 7,500 repair operations to date. 
Human connection and interaction are critical components of recovery from obstetric fistula, as is the technical skill to deal with the complex, unique repair process that must be undertaken for each patient.
FIGO Fellows - trainee fistula surgeons working in fistula-affected countries - have the hands and the heart for both.
In the videos below, three surgeons involved in the Fistula Surgery Training Initiative share their thoughts on the scale of the problem and the impact of the programme. 
What challenges do women with obstetric fistula face in their countries?
What are the gaps and challenges in providing quality treatment to fistula-affected women?
What has the FIGO Fistula Surgery Training Initiative achieved - and what is needed now? 
You know we want, we really want this world to be fistula-free, but we know there are still many backlogs in different parts of the world. The trained fistula surgeons are very minimum in comparison to the burden. So it needs to be expanded. We need to have more and more surgeons to make this world fistula-free. 
Professor Sayeba Akhter FIGO Expert Advisory Group, Fistula Training Initiative Member FIGO Committee for Fistula and Genital Trauma Founder of MAMMS Institution of Fistula and Women's Health, Bangladesh
The FIGO training programme is very important because it is significantly trying to fill up the gap in the number of fistula surgeons. And not only the number of fistula surgeons, but continuous support for our fellows, our trainees, to scale up their skills and also enable them to go on delivering the services after they leave their training.
Dr Fekade Ayenachew Aklilu, MD FIGO Expert Advisory Group Fistula Training Initiative FIGO Accredited Trainer Medical Director, Hamlin Fistula Ethiopia (HFE)
I am responsible for the forgotten: the women who become sick because of their context, their poverty - regardless of the fact that in this day and age, their conditions are preventable and can often be repaired.
Dr Kenny Raha  OBGYN Democratic Republic of the Congo FIGO Fellow