In Nigeria, surgery can end the isolation
Obstetric fistula is commonly regarded as a condition of the poor and the illiterate, but without skilled attendance at delivery, anyone can suffer. FIGO Fellow Dr Sadiya Nasir shares her story.
Image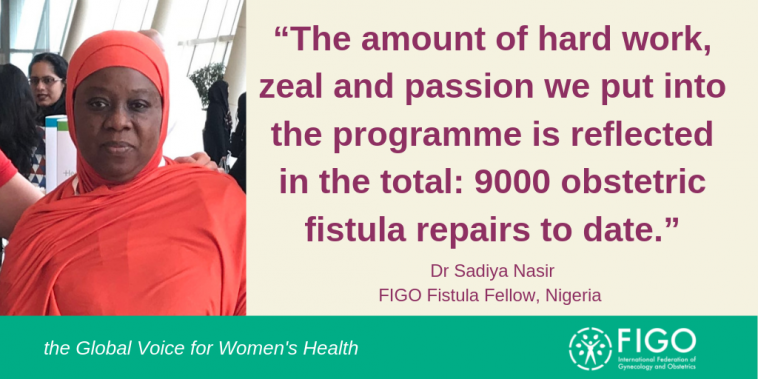 Obstetric fistula is a devastating childbirth injury, and a neglected public health and human rights issue.
2 million women in low-resource settings have an obstetric fistula, and 100,000 develop one every year. Leaking urine and / or faeces and living in despair on the margins of their own life, only 1 in 50 will ever receive treatment.
FIGO Fellows, trainee fistula surgeons from some of the world's most disadvantaged communities, are committed to closing this gap in care. Dr Sadiya Nasir, who works at Babbar Ruga Hospital in Katsina, Nigeria, shares her story.
Obstetric fistula is commonly regarded as a condition of the poor and the illiterate, but without skilled attendance at delivery, anyone can suffer.
Mrs AZ was a 33 year-old lady who presented to our facility after three months of leaking urine. Two days of obstructed labour had been followed by a caesarean section and hysterectomy. The baby did not survive.
She was depressed, talking and behaving erratically. We diagnosed a combination of a large vaginal fistula and a bilateral ureteric fistula. The case will linger forever in my mind - the surgery was so complex, but we managed well, and she was discharged.
Mrs AZ talked about the burden of her fistula, and the impact of her repair surgery:
"It is very important for women to have access to fistula surgery, so as not to live in isolation as I did for three months, not to feel neglected by society, like the world has come to an end. Every woman has the right to a quality life.

Now that I am free of fistula, I do not wish for any woman to have this condition. As much as possible, I will educate and enlighten women in my community on ways to prevent obstetric fistula, and where to seek care in the event it occurs.

I could not imagine that a day like this would come. I am grateful to the entire surgical team who made it possible for me to be dry once again. I will try to re-adjust and live – to enjoy my life normally, as I used to before."
A lot of women who have obstetric fistula are still out there, yet to receive medical attention. Many of them do not know much about the condition and so they hardly seek a cure.
Ending obstetric fistula in our lifetime is a mirage for now. Poverty, ignorance and poor access to quality obstetric services and fistula repair in most low-resource countries are such major contributing factors, they can hardly be tackled in one lifetime.
Still, we are making a difference. It means a lot to me to be part of FIGO's successful Fistula Surgery Training Initiative. The amount of hard work, zeal and passion we put into the programme is reflected in the total: 9000 repairs to date. I am happy to have contributed a significant number.
Maternal mortality is addressed in the 2030 Sustainable Development Agenda but maternal morbidity is not, even though it is a greater burden. Saving a woman from death and leaving her incontinent, isolated and devastated is not life-saving: it is a human rights violation.
Our office is committed to continue the coordination and implementation of this pioneering program, but our funding expires in 2019. Please donate today.