Politics and Family Planning in Nepal
FIGO is proud to partner with the Nepal Society of Obstetricians and Gynaecologists (NESOG) in support of the Nepalese government's pledge to extend family planning access in Nepal: to 'leave no one behind' and 'reach the unreached'.
Image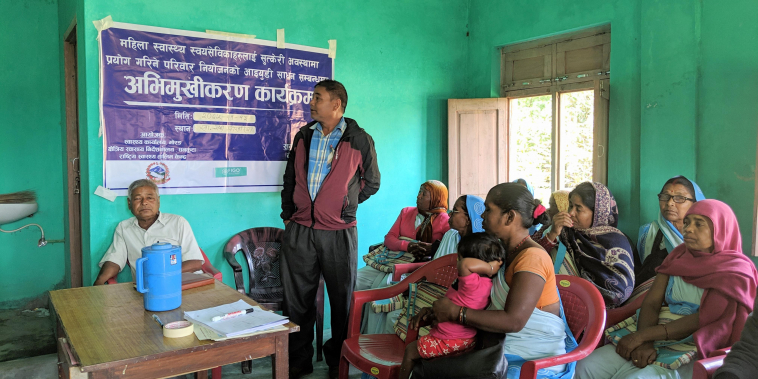 At the Family Planning Summit in London, July 2017, the government of Nepal reaffirmed its Family Planning 2020 commitments made in 2015. 
In an attempt to ensure that women throughout the country have access to the full range of contraceptive options, the government intends to increase their family planning budget by 7 percent each year. 
FIGO's Postpartum Intrauterine Device (PPIUD) Project has been running in Nepal since 2015. The initiative seeks to tackle unmet need for family planning by addressing the gap in the continuum of maternal healthcare which occurs during the postpartum period. It does so by training healthcare providers in postpartum family planning counselling and the insertion of PPIUDs.
Government cooperation has been fundamental to the smooth running of the initiative in Nepal.
Most recently in February 2019, the project team were honoured to receive visits from several government ministers in Province 1. Member Secretary of Women, Children, Elderly and Social Welfare, Mr. Rajendra Poudel, attended an orientation for healthcare workers. He took this opportunity to emphasise the front-line role of healthcare workers in turning project objectives into realities on the ground.
The team were also joined by Minister of Women, Children and Social Welfare Ms. Tham Maya Thapa who visited one of the sites where the project operates, Koshi Zonal hospital.
Ms Thapa underlined the importance of reproductive health and congratulated NESOG and FIGO in supporting the government's aspirations to institutionalise the constitutional fundamental reproductive rights of women and for placing women at the centre of this project.
Deputy National Coordinator of the PPIUD Project in Nepal, Dr Sameena Rajbhandari, explained to us why government support for projects such as this can make all the difference:
"In the current context, government support is essential to institutionalising initiatives such as PPIUD.  With the promulgation of a new constitution in September 2015, the recent elections, and the process of decentralization on its way, the present government is in prime position to formulate long-term policies and plans. Hence, we are at a critical point where scaling up postpartum family planning initiatives can help address unmet need."
Indeed, there is a strong need for more comprehensive access to family planning in Nepal, particularly for those living in remote and rural areas. 
According to the 2016 Demographic and Health Survey, 24 percent of women have an unmet need for family planning and among married women of reproductive age, only 1 percent use an IUD. Within 24 months postpartum, unmet need for family planning rises as high as 52 percent.
The ability to choose when, and if, to have children is not only a fundamental human right but can also be life-saving. The maternal mortality ratio in Nepal is 239 per 100,000 live births and one of the leading causes of death for women of reproductive age. Addressing low contraceptive prevalence rates through projects such as FIGO's PPIUD initiative is a relatively simple and cost-effective way to reduce maternal mortality rates as it reduces the risks associated with short birth intervals.
Since the project's inception, 76,558 women have been counselled in postpartum family planning and of those, 7 percent have chosen to have a PPIUD.
FIGO is founded on the power of partnerships and we are very proud to see NESOG members committed to the ongoing success of the PPIUD project in addressing address the unmet need for modern contraception in Nepal. 
Together we can ensure that every woman achieves the highest possible standards of physical and mental health and wellbeing throughout her life.