Providing contraception services and information throughout the reproductive life course
26 September marks World Contraception Day – an opportunity to raise awareness of the wide range of contraceptive methods and to campaign for a world where every pregnancy is wanted.
Image
On this World Contraception Day, the International Federation of Gynecology and Obstetrics (FIGO) is proud to highlight our ongoing efforts to ensure that every woman and girl of reproductive age can access accurate information about, and safe access to, contraception. Access to contraception and family planning services is essential to the respect of women and girls' bodily autonomy and the fulfilment of their sexual and reproductive rights. 
Training health care professionals in the safe use of contraceptives 
The World Health Organizsation's (WHO) periodically revised Medical eligibility criteria for contraceptive use (MEC) document provides guidance on which patients can use contraceptive methods safely. The document offers up-to-date information and recommendations to health care professionals and policy makers alike. Its goal is to improve the access to, and quality of, family planning services worldwide.   
Since 2016, FIGO has been collaborating with the WHO on disseminating the most up-to-date guidance on family planning. Working through our member societies as part of our MEC project, FIGO has delivered training workshops to OBGYNs and midwives in more than 20 countries in Anglophone Africa, South East Asia, Eastern Mediterranean and more recently Francophone Africa. 
It is vital that FIGO continues to play a key role in disseminating knowledge on family planning to clinicians to ensure the world is reminded of the huge unmet need for contraception and of the strategies and tools we have at our disposal to turn this around. 

– Dr Anita Makins, MEC project lead 
Ensuring young people can access accurate information about contraception 
According to Jill Sheffield, Chair of FIGO's Contraception and Family Planning Committee, young people around the world –especially adolescents – do not have regular access to reliable, up-to-date information related to sexual and reproductive health, including contraception. This information can help inform their decisions and potentially save lives.  
In an age when an increasing number of young people are turning to the internet to access information, it is essential to help them find accurate, non-judgemental and confidential answers to the questions they have. Preventing the spread of misinformation on the internet is key to protecting young people's sexual and reproductive health. 
Ask Dr. FIGO, a projected launched in 2021 and spearheaded by Jill Sheffield, is a free and anonymous digital platform that enables young people to ask questions and receive tailored answers. The answers young people receive come from doctors in their own country who speak their language and have specialised training in obstetrics and gynaecology.  
It allows doctors to reach young people directly, privately, and with exactly the information they want to know about. Ask Dr. FIGO is tailored to their needs and is delivered in a setting that will not be interrupted by school closures or other complications in more traditional settings.  

– Jill Sheffield, Chair of FIGO's Contraception and Family Planning Committee 
Launched as a pilot project in collaboration with the Ethiopian Society of Gynecology and Obstetrics, FIGO hopes that the programme will soon be available to all member societies of FIGO that wish to participate. 
Image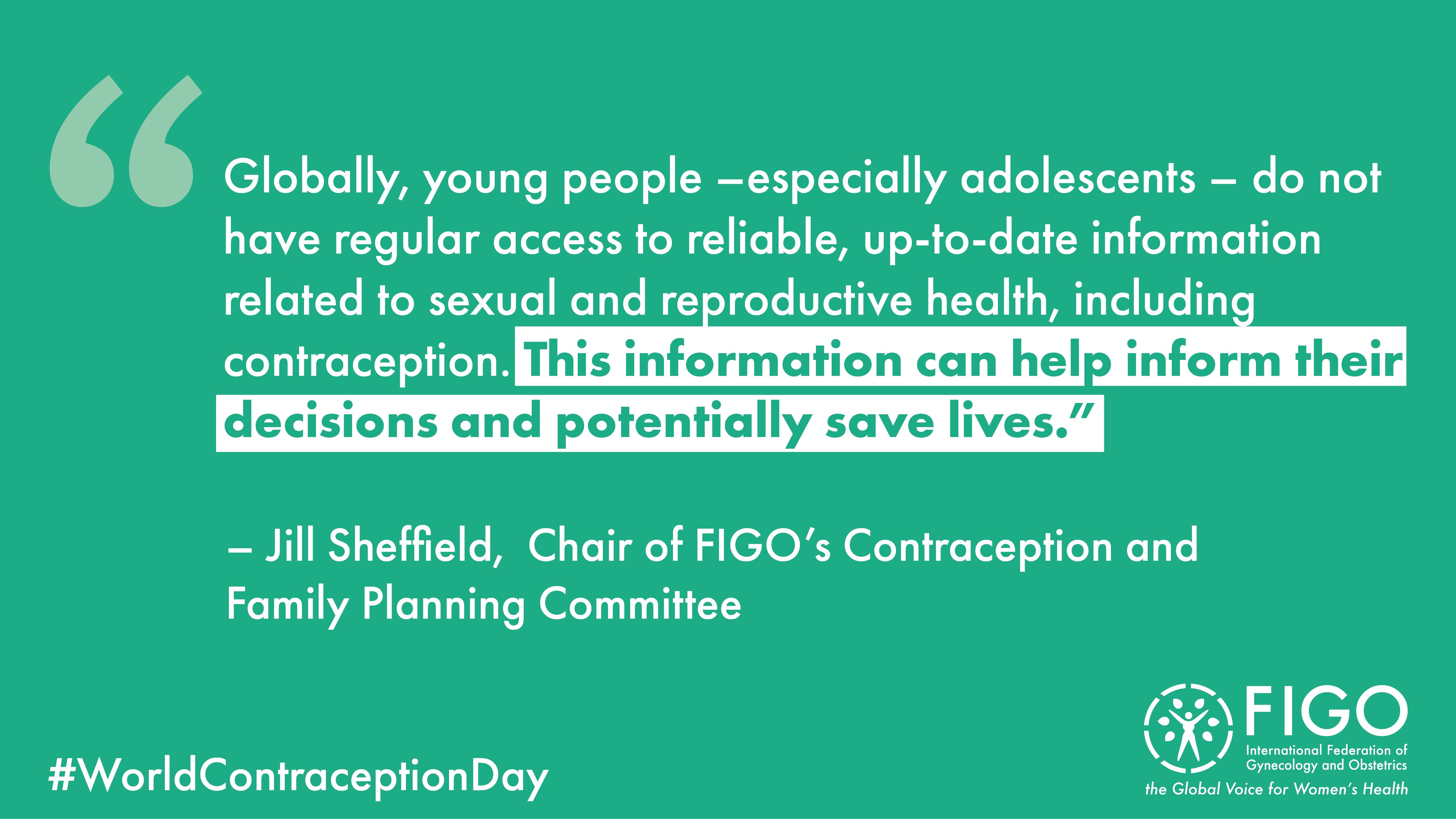 Access to contraception and safe abortion: key aspects of sexual and reproductive health and rights 
FIGO's Advocating for Safe Abortion Project (ASAP) works with ten national member societies of obstetrics and gynaecology to remove barriers to the realisation of sexual and reproductive health and rights. According to Jessica Morris, ASAP Senior Project Manager, 
It is impossible to discuss contraception without discussing abortion. The huge unmet need for contraception, failure rates, lack of reproductive autonomy and gender-based violence all make the need for access to safe abortion an essential part of ensuring women and girls' sexual and reproductive health and rights are upheld.  

Dismantling structures and practices that discriminate against women and girls will ultimately support both contraception uptake and reduce recourse to unsafe abortion.  
Access to contraception and to safe abortion are intrinsically linked – not only because the lack of access to effective contraception may lead to women and girls seeking abortions, but because the provision of either of these services represents an opportunity to educate women and girls.  
Contraception and safe abortion should not be siloed, as both can be used as opportunities to reach women and girls with information and resources. This is true of post-abortion contraceptive counselling, which can help meet women and girls' need for contraception services 

– Jessica Morris, ASAP Senior Project Manager 
Image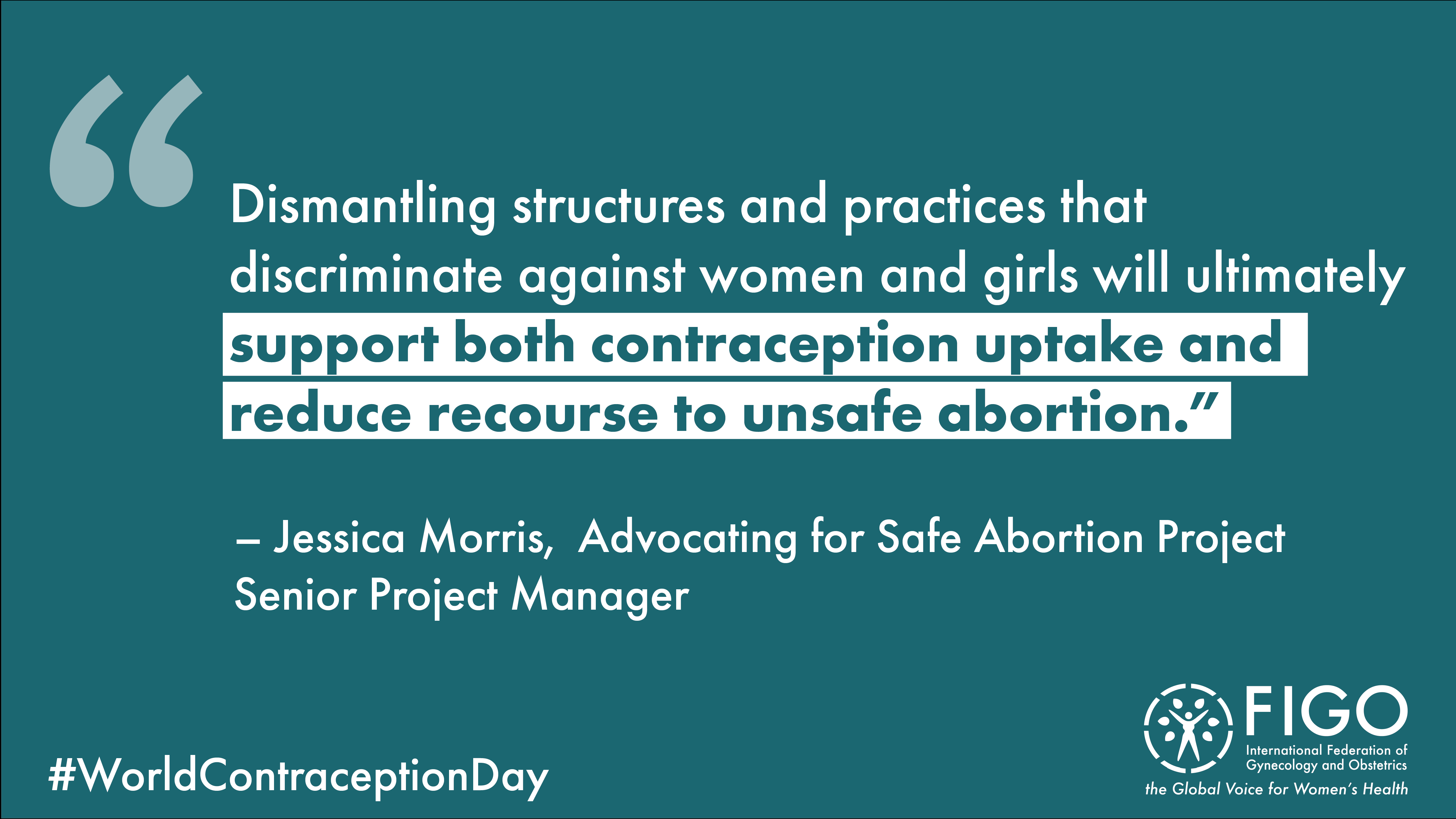 The vital importance of accessing contraception in the postpartum period 
The unmet need for contraception is particularly high in the post-partum period. Yet, short inter-pregnancy intervals result in increased risks of morbidity and mortality to both mothers and their children.  
Having too many children too quickly is a risky business, yet many women all over the world have no choice in the matter. We need policy makers to focus on this high-risk period so that the opportunity of offering integrated health care that includes family planning is not missed.  

– Dr Anita Makins, Project Director of FIGO's Postpartum IUD Initiative 
During the implementation of the PPIUD project, carried out from 2013 to 2020, FIGO worked through its national societies to institutionalise the provision of postpartum intrauterine device (PPIUD) services into routine maternity care. More than 9,000 health care practitioners across six countries were trained in the delivery of postpartum family planning counselling and in the insertion of PPIUDs.  
This project, according to Dr Makins, "proved that it is possible to routinely counsel women about contraception in the peripartum period and to provide to them effective long- acting reversible methods such as the highly cost effective copper coil immediately postpartum.". The success of FIGO's PPIUD project is of vital importance given that, as pointed out by Dr Makins,  
Post-partum family planning is a key tool in decreasing the unmet need for contraception and in reducing maternal and child morbidity and mortality – a step towards achieving sustainability development goals 3 and 5.