Reducing post-partum haemorrhage in the Democratic Republic of Congo
Image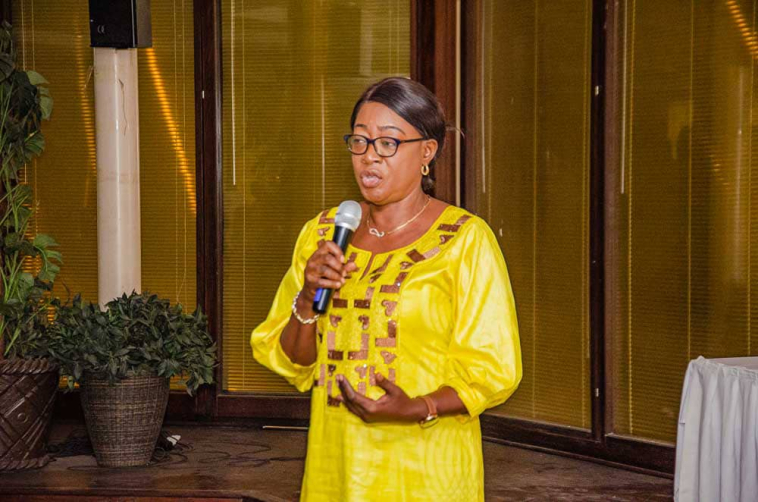 Dr Gertrude Musamba Mutombo is project manager for the AMPLI-PPHI (Accelerating Measurable Progress and Leveraging Investments for Postpartum Haemorrhage Impact) initiative at the Société Congolaise de Gynécologie et d'Obstétrique (SCOGO). She shares her professional experience in the fight against post-partum haemorrhage (PPH) in the Democratic Republic of Congo (DRC) and the importance of working at all levels of the health system to reduce maternal mortality.
What is the scale of the problem of maternal mortality and post-partum haemorrhage in the DRC?
The DRC is one the eight countries that contribute more than 50% of the global burden of maternal deaths. According to the World Bank the ratio of maternal deaths in the DRC, is 693 per 100,000 live births– and the lifetime risk of maternal death for a woman is 1 in 24. The 2021 Maternal, Perinatal Death and Response Surveillance Bulletin in DRC reveals after analysis that 68% of maternal deaths were due to PPH, 11% to infections and 10% to eclampsia during the period covered.
We, obstetrician-gynaecologists, are at the forefront of the fight against PPH because it is we who ensure the management of obstetric complications on a daily basis in health care establishments. Given that the number of Obstetrician-Gynaecologists is still limited in the DRC, the majority are concentrated in large cities, and the number of midwives remains low, it is essential to strengthen the skills and competencies of other providers health professionals, such as nurses, in emergency obstetric and neonatal care (EMONC) in order to enable them to offer quality services and care throughout the country based on standardized care protocols.
What barriers exist to the provision of quality emergency obstetric care?
Emergency obstetric care for PPH can be of low quality for a number of reasons:
Insufficient number of trained providers (obstetricians, general practitioners, midwives, nurses) in emergency obstetric and neonatal care;
Low availability of recommended medicines in health care centres, due to inadequate storage conditions (oxytocin) or unavailability in the country (HSC);
Geographical inaccessibility of hospitals, with a poorly organised ambulance system leading to delays in transporting women and management of complications;
Lack of essential resources, such as blood for transfusions;
Financial inaccessibility of care for low-income households.
Given that it takes a long time for a woman to be taken into care when she starts bleeding, it is essential to prioritise an approach focused on prevention. That's why it's important to introduce new drugs such as heat-stable carbetocin, to get round all of these difficulties.
What, in your professional experience, made you want to focus on reducing post-partum haemorrhage in the DRC?
My experiences are based on my various positions as a gynaecologist and in my work in public health. I've had to deal with a lot of problems, especially problems related to the management of childbirth. As an obstetrician-gynaecologist who has practised in both rural and urban areas, I've worked in general referral hospitals, where we receive cases from health centres. Over the years, I have witnessed many cases of complications in pregnancy and childbirth who were transferred late and maternal deaths caused by PPH.
Since 2003, I have been working in public health, in strategic and operational planning for high impact interventions to reduce maternal and infant mortality. This means that we can act at the source and at scale instead of waiting for women in maternity wards. We have to improve the health of mothers and newborns by finding solutions to the causes of maternal death. If we manage to reduce deaths caused by PPH by introducing drugs to prevent or treat it, we will succeed it significantly reducing maternal mortality rates in our country. In this way, the country can hope to achieve objective 3.1 of the Sustainable Development Goals by 2030.
Can you share your views on the importance of cross-collaboration, whether with midwives, pharmacists or even community leaders, for the prevention and treatment of PPH?
My society's main experience is in building the capacity of service providers. We work closely with midwives to train teams and develop and update standards.
As part of AMPLI-PPHI, we organised an advocacy workshop to encourage support for the introduction and use of thermostable carbetocin, tranexamic acid and misoprostol for distribution at community level. The workshop involved gynaecologists, midwives, pharmacists, community leader – in particular women's associations and civil society leaders in maternal, child, newborn and adolescent health.
We had pharmacists to help them understand their essential role in ensuring the availability of medicines. Key stakeholders in the national essential medicines supply system should, from the outset, see how they can help providers to make drugs available.
Community leaders are also essential because many maternal deaths occur in the community. If community leaders are aware and informed about the danger signs of maternal death or PPH, they can then help to refer women to hospital, and we can provide better care.
In our country, the health system works a lot with communities. We can use the men and women who take part in the health system's strategic meetings, whom we call "community relays", to carry out follow-ups in the community. Especially, when we start early distribution of misoprostol, they have a pivotal role to play in monitoring pregnant women who are unable to give birth in hospital. They can help us to supervise and support them, so that women who have received misoprostol use it.
What does your national society do to protect maternal and child health and what role does it play in improving maternal health in general?
The Société Congolaise de Gynécologie Obstétrique is aware of the essential role it plays in improving general women's health and maternal and child health. We have core competencies and are involved in a large number of high-impact interventions that help to improve maternal and child health. We have a partnership with the Ministry of Public Health at both strategic and operational levels. At the strategic level, our society is a member of the permanent multisectoral technical committee on family planning, and participates in the platform for reproductive, maternal, newborn, child and adolescent health.
We contribute to the development and implementation of standards, particularly with regard to WHO recommendations, the development of training modules for providers, and the updating of monitoring and evaluation tools. We are part of teams of trainers at national level: we train the trainers, who then go on to train healthcare providers in every province of the country. We also provide clinical mentoring, to ensure that providers have a good command of the management of complications related to childbirth, including PPH.
In addition to our work with the government, we also collaborate with national and international NGOs and pharmaceutical companies on a wide range of issues such as emergency obstetric and neonatal care, woman-centred abortion care and the prevention of gynaecological cancers.
How important is the AMPLI-PPHI project in reducing PPH in DRC?
AMPLI-PPHI is really an essential project. The DRC had already begun to incorporate the WHO recommendations by translating them into guidelines since April 2022, but the project will support the implementation of these guidelines in healthcare centres.
The project will facilitate the introduction and use of thermostable carbetocin and tranexamic acid in maternity services, while ensuring their availability. In the future, it will also be necessary to advocate at the level of political decision-makers to see to what extent a budget line can be included in the national budget for the purchase of these two molecules to guarantee their availability at the end of the project. That way, the country won't have to rely solely on external partners.
We already use misoprostol in our health facilities to induce childbirth and to combat PPH, but it's often a product that's used in hospitals. With the AMPLI-PPHI project, using the advanced distribution of misoprostol for self-administration (ADMSA) approach will be trialed: this help us to see how we can get communities involved in the management of this issue. We think this is a really good idea, given the problems associated with transporting urgent cases and delays in treatment.
The project will be able to generate conclusive data and evidence that will guide the Ministry of Public Health in scaling up these additional medications to prevent and treat postpartum haemorrhage and fight against this main cause of maternal mortality in our country.
FIGO is working as part of a consortium on the AMPLI-PPHI project, led by JHPIEGO and in partnership with PATH. Together, we support Ministries of Health to ensure that the right PPH drugs are available at the right time, in the right place, for the right indication and for the right patient across health systems, ultimately saving the lives of thousands of mothers and newborns.
We work though our member societies in Democratic Republic of Congo, Guinea, India and Kenya and engage with an additional 13 member societies, as well as States in India, to share the learning, knowledge and best practices to support on-going PPH efforts.  
The World Health Organization (WHO) has also worked together with key stakeholders including FIGO to develop a roadmap to combat postpartum haemorrhage between 2023 and 2030.