Registration for FIGO Paris 2023 is now open
We are pleased to announce that registration for the FIGO Paris 2023 World Congress is now open. The XXIV World Congress of Gynecology and Obstetrics will be held at the Paris Convention Centre in Paris, France, from 9–12 October 2023. 
Image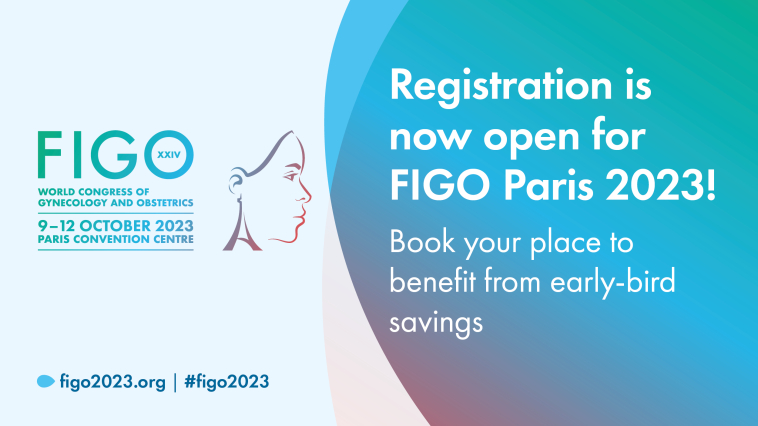 Register now for early bird rates
Join 8,000+ attendees at the leading global event in obstetrics and gynaecology for the first in-person World Congress since FIGO Rio de Janeiro 2018. 
Early bird registration rates will be available until 30 June 2023. You can visit the FIGO Paris 2023 website to find out more about registration, including the exclusive rates available for delegates from low- and middle-income countries. 
Find out more and register now.
Discover the scientific programme 
The scientific programme for FIGO Paris 2023 is now available to view online. The four-day programme will feature 200+ sessions with more than 500 speakers from around the world. 
The FIGO 2023 World Congress programme is brought to you by a Scientific Programme Committee and board of advisors who represent specialties across women's health from more than 45 countries. 
We are delivering our most interactive programme yet, with several new session formats and opportunities for live engagement. Some key scientific programme highlights include: 
Breakfasts with the experts to kick off each day with discussions on the latest challenges and opportunities in women's health 
Renowned endowed lectureships 
100+ seminars and panel discussions 
A dedicated stream for the World Health Organization (WHO) 
Surgical video classrooms 
Technical shorts and feature documentaries in a new film festival 
1,000+ oral and poster abstracts 
Hands-on simulation labs to practice gynaecologic surgical procedures in a life-like simulated environment 
Post-congress workshops that offer attendees a deep-dive into specific areas of women's health 
The evidence-based scientific programme has been developed with supporting organisations including the World Health Organization (WHO) and the World Association of Trainees in Obstetrics & Gynecology (WATOG), as well as FIGO's divisions and committees, member societies and allied regional federations of gynaecology and obstetrics.   
In addition to a world-leading scientific programme, FIGO Paris 2023 will offer a vibrant social programme including a special Gala dinner at the award-winning Le Pré Catelan.
Find out more and register now. 
Explore in multiple languages 
Simultaneous interpretation will be provided in English, French and Spanish for all plenary sessions. Further information about the language of sessions will be shared in due course. French translation of the full programme schedule will be available soon.
More topics and speakers will be added to the programme in the coming weeks. Information on each session and how to register for additional educational activities will be available soon. 
If you have any questions, please contact the FIGO Congress team. 
We look forward to seeing you in Paris soon.