Safe Abortion Advocacy across the air waves in Mozambique
Image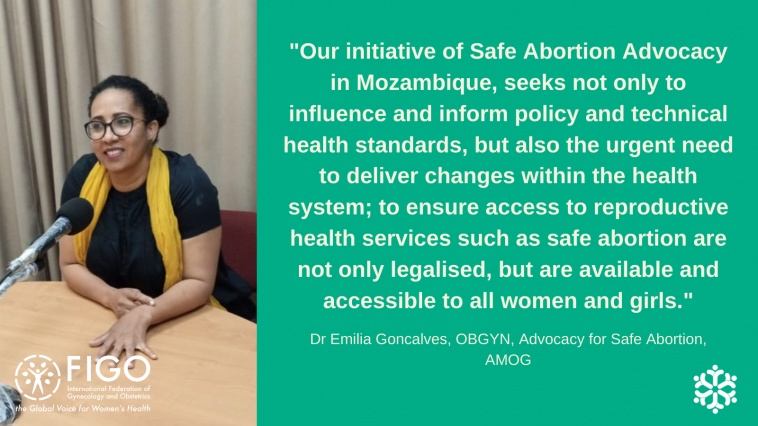 Standing in solidarity with women and girls to mark the 2020 global campaign of 16 days of activism to end gender based violence (GBV), the Mozambican Association of Obstetricians and Gynaecologists (AMOG), together with its partner Mozambique Radio, launched an information campaign to spread awareness of Mozambique's abortion law.
Radio listeners in Sofala, Maputo, Tete, Nampula and Xai Xai tuned in to Mozambique radio and participated in a series of radio call-in shows to ask questions and provide thoughts on how awareness and understanding of Mozambique's abortion law could be strengthened.
Recent history of abortion law in Mozambique
While Mozambique's abortion law was liberalised in 2014 after a successful campaign led by civil society that AMOG was part of, it took a further six years of campaigning to ensure that the penal code was revised and progressive language included in it to legalise abortion. Mozambique's abortion law now permits women to have legal abortions on request during the first 12 weeks of pregnancy. Additionally, the law and penal code spell out that, in cases of rape or incest, abortions will be legal during the first 16 weeks, and in cases of fetal anomaly, the first 24 weeks. Abortions must be performed at officially designated facilities by qualified practitioners. In 2017, the Ministry of Health approved clinical and legal guidelines to implement the new legislation on abortion.
Despite this, knowledge of the abortion law and access to safe abortion services – compounded further by gender inequality – results in many women and girls (including survivors of sexual violence with unwanted pregnancies) being denied a safe abortion. There is a lack of reliable data to demonstrate the full extent of unsafe abortion and how this impacts maternal mortality and morbidity in the country, which is exacerbated further by abortion-related stigma that shrouds the issue of abortion. However, the latest report from the Maternal Mortality Estimation Inter-Agency Group (consisting of World Health Organization [WHO], United Nations Children's Fund [UNICEF], World Bank and United Nations Population Fund [UNFPA]) estimates that Mozambique's maternal mortality ratio is 289 for every 100,000 live births. It is also estimated that 6.7% of maternal deaths are due to complications due to abortion. According to UN Women, 22% of Mozambique women aged 18–49 have experienced intimate partner physical and/or sexual violence at least once in their lifetime. When it comes to child marriage, 48% of women aged 20–24 were first married or in union before 18 years of age. The prevalence of these issues not only demonstrates the gender inequality faced by women and girls, but also has direct consequences for women and girls' reproductive health and rights.
Using radio to spread awareness
Dr Emilia Goncalves, OBGYN, Advocacy for Safe Abortion, AMOG project explained to the radio listeners:
'Women and girls must often negotiate their sexual and reproductive-related goals and intentions with their partners, family members, peers, and other immediate influencers.

AMOG recognises how power dynamics impact women and girls' reproductive health care and rights.

Therefore, our initiative of Safe Abortion Advocacy in Mozambique, seeks not only to influence and inform policy and technical health standards, but also the urgent need to deliver changes within the health system; to ensure access to reproductive health services such as safe abortion are not only legalised, but are available and accessible to all women and girls.'
Mozambique radio listeners raised with Dr Goncalves that, due to the lack of educational information campaigns on Mozambique's abortion law, women and girls are not aware of their right to safe abortion services. Because of this knowledge vacuum, many women and girls seek unsafe abortions, which directly lead to high levels of preventable maternal mortality and morbidity. Radio callers also urged faith-based/religious leaders and other influential figures who have access to large audiences, to provide leadership and engagement by sharing information about Mozambique's abortion law and calling for stronger implementation.
Dr Goncalves advised that in order to strengthen access to safe abortion services for women and girls, governments must invest in healthcare systems and provide healthcare workers with training on the provisions of the abortion law, as well as advising them of their obligations to provide safe abortion services. Healthcare systems must implement the safe abortion technical guidance set by the WHO, and the Ministry of Health should implement abortion data collection systems to better inform, monitor and evaluate its responses.
The radio shows featured strong engagement from male listeners and Dr Goncalves stressed the value of their engagement:
'Participation and support of boys and men is vital if we are to strengthen families' equitable decision making related to contraception and abortion.

We [AMOG] believe radio can spread greater awareness on the issue of safe abortion through information campaigns, which can save lives.'
In addition, she also reaffirmed that, 'women and girls' leadership is key, and can be exercised through self-help groups, in order to build collective movements for championing and advocating for sexual and reproductive health and rights.'
Ensuring the future of safe abortion
AMOG is committed to strengthening the reproductive rights of women and girls in Mozambique. Together with its OBGYN members and partners, AMOG with continue to build stronger awareness among women/girls on their right to safe abortion, as well as securing a greater sense of urgency and accountability from the government to better support, fund and enable healthcare systems and their healthcare workers to deliver access to safe abortion services – time-sensitive and essential healthcare – for all women and girls who require them.