Safe abortion is healthcare
Through our advocacy programmes, FIGO and National Member Societies are active voices for women's sexual and reproductive health and rights at the global and national levels.
Image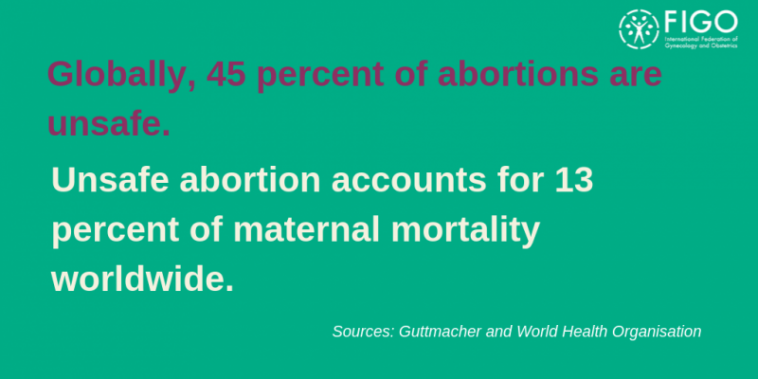 Later this month at the UN High-Level Meeting on Universal Health Coverage (UHC), and in November at the 25thAnniversary of the International Conference on Population and Development, FIGO hopes to see global leaders make commitments towards women's sexual and reproductive health and rights. In order for these to lead to lasting change, they need to be matched by progress at the regional, national and local level. 
FIGO's projects support National Member Societies to be strong advocates for sexual health and rights in their contexts, and ensure promises made in global policy spaces translate into tangible differences in the lives of women and girls. 
Addressing maternal mortality 
This year FIGO has begun a new phase of work aiming to reduce maternal mortality through advocating for safe abortion. When an abortion is carried out by a qualified provider in appropriate settings, it is one of the safest medical procedures known to science. But when safe abortion isn't an option, women seeking to exercise their reproductive choice can be faced with untrained providers, often operating in unsanitary environments, or even attempting to self-induce an abortion.
A catastrophic public health problem
Lack of access to safe abortion results in 45 percent of all abortions globally being unsafe. Unsafe abortion remains a catastrophic public health problem accounting for up to 13 percent of maternal mortality worldwide, with hundreds of thousands of survivors living with long-term complications, including infertility and chronic pain.
Running from 2019 - 2021, FIGO's Advocating for Safe Abortion Project will work with ten National Member Societies to raise their capacity to lead advocacy on safe abortion to the extent permitted by law in their respective countries. 
The National Societies are based in Benin, Cameroon, Ivory Coast, Kenya, Mali, Mozambique, Panama, Peru, Uganda and Zambia.
Building capacity to advocate for safe abortion
The programme will address stigma and lack of knowledge of the law among health professionals, support vibrant national networks for sexual and reproductive rights and generate data and evidence to support advocacy and policy making. It will also build the management and organisational capacity of the National Member Societies, enabling them to be strong voices on women's health and rights in their contexts. Each National Member Society will deliver the programme in a context appropriate way, having developed an action plan to advocate at a national level, based on a comprehensive needs assessment. 
The Society of Gynaecologists and Obstetricians of Cameroon will focus on advocating for comprehensive abortion care. SOGOC's President, Professor Robert Leke said
''Given the devastating consequences of inadequate access to comprehensive abortion care, SOGOC is elated to be involved in the project which will above all contribute to curb maternal mortality and morbidity. SOGOC has the enthusiasm and determination to make the Advocating for Comprehensive Abortion Care project successful in Cameroon and therefore make a significant contribution to reverse the alarming rate of maternal mortality and morbidity caused by unsafe abortions.''
In Panama, the focal point for Sociedad Panameña de Obstetricia y Ginecología (SPOG), Dra. Ruth De Graciela León, said they will work to address misinformation that is prevalent in the general population
''both in terms of sexual and reproductive health, and also where abortion is permitted by the law, and how it can be performed safely.'' She added ''We are motivated by the possibility of having an impact towards reducing maternal deaths in Panama.''
Dr. Kiggundu Charles, the project's focal point at the Association of Obstetricians and Gynaecologists of Uganda said 
''As a leading champion of quality reproductive health in the region, we believe that our government will not be able to make the progress needed in reducing maternal mortality unless they address the underlying barriers to safe abortion.''
September 28th marks International Safe Abortion day, a global day of action in support of the right to safe abortion. This year's theme is 'Abortion is healthcare', highlighting the crucial role of healthcare providers. 
As we reflect on progress which has been made, and the gaps that remain on women's sexual and reproductive health and rights in the 25 years since the ICPD Programme of Action was agreed, FIGO will continue to support and champion the role of healthcare professionals in advocating for these rights at all levels. 
Find out more about our Advocating for Safe Abortion Project here.