A story of Obstetric Fistula from Nepal
Image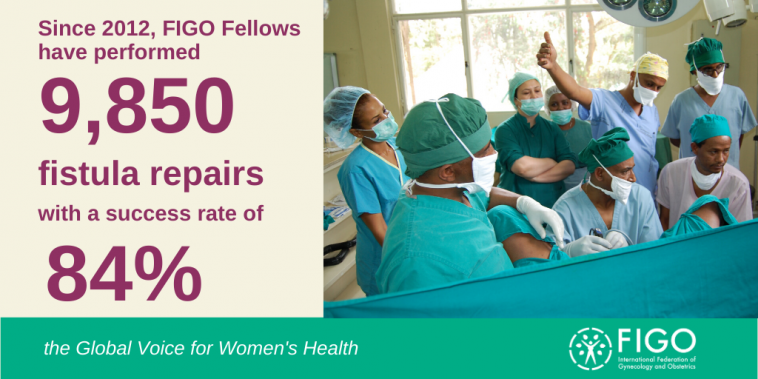 An obstetric fistula is a neglected public health and human rights issue.
It's a life shattering condition affecting two million women in 55 low resource countries of Sub-Saharan Africa and South Asia; with up to 100,000 additional women tragically developing a fistula every year in some of the world's poorest and most disadvantaged communities.
This year, on the International Day to End Obstetric Fistula, FIGO shares the story of Mrs Suku, from the remote area of Sarlahi, Nepal.
"I was only 16 years old when I was ready for my first child birth. But after 3 long days of continuous obstructed labour, I delivered a dead baby at home. While still mourning for the loss of this child, I started to have urine leakage from my vagina. Urine was continuously dribbling down my legs, but I didn't know what to do so I started to live with the condition.

I was lucky that my family accepted the condition, which we thought was incurable. Years passed and I gave birth to 6 more children.

At the age of 60, I was taken to a local health camp by my grandchildren and was very surprised to know that the problem that I had been living with for almost 44 years was curable by surgery.

I was referred to our hospital where I underwent successful Fistula repair.

I am now happy and grateful to be dry. I, got completely a new life, I got back my dignity and confidence. This is life changing. Because it has changed my life, I believe that others should not suffer like me and their lives can also be changed and they can be happy living with their families".
Here at FIGO, we were compelled to help affected women, by addressing the huge treatment gap, no matter how great the challenges. With the help of multiple partners, including fistula experts, fistula treatment facilities and governments, as well as many other agencies focusing on fistula, such as the Fistula Foundation, UNFPA, Norwegian Red Cross and many others, we currently have 54 FIGO Fellows, trainee fistula surgeons, from 19 affected countries in Africa and Asia.
One such FIGO Fellow is Dr Ganesh Dangal, who has helped Mrs Suku.
He explains what it means to him to be trained and mentored as a FIGO Fellow:
"I am proud to be a FIGO Fellow in Fistula Surgery and I am thankful to all involved. I feel great satisfaction once I am able to treat greater numbers of women and help them to regain their lives from Obstetric Fistula. Whenever I see happiness in the eyes of my patients who are cured, I feel motivated and committed to treat more such patients to alleviate their sufferings and agony.

My firm belief is that nobody should suffer from this debilitating condition in the world, and nobody should neglect this public health problem of the emerging countries. Every woman has a right to live a dignified life. There are many patients with Obstetric Fistula hidden in the communities; therefore more surgeons need to be trained to treat them in nearby hospitals. They cannot afford to go to big hospitals in the big cities.

This public health and human rights issue needs to be on top priority of all including our governments, I/NGO's, health professionals and civil society".
For every woman who receives treatment for her fistula, at least 50 more go without because of a global shortage of trained, skilled fistula surgeons, and a huge unmet need to treat and repair the backlog of women suffering from this condition.
There is an essential need for more surgeons to be trained on fistula repair and for more health facilities to provide holistic fistula treatment services, including rehabilitation and social assistance.
Let's bring obstetric fistula back to the forefront of global conversation and ensure that no woman is left behind, especially the most vulnerable and diasdvantaged.