Sustainable Postpartum Family Planning in Tanzania
Students across three regions in Tanzania will now receive up-to-date training and assessment in postpartum family planning, thanks to the work of FIGO's PPIUD Initiative.
Image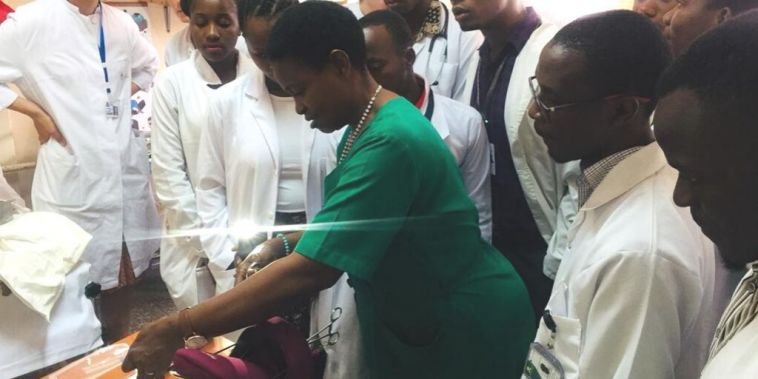 Medical, nursing and midwifery students across three regions in Tanzania will now receive up-to-date training and assessment in postpartum family planning before they graduate, thanks to the work of FIGO's Postpartum Intrauterine Device (PPIUD) Initiative and a broad range of stakeholders.
Tanzania's commitment to integrating postpartum contraceptive skills is growing: the government's National Family Planning Costed Implementation Plan (2019-2023) puts strong emphasis on updating the national practical training curriculum. Last year FIGO's in-country PPIUD partner, the Tanzania Midwives Association (TAMA), launched a series of successful consultative meetings in support of this goal.
Postpartum family planning has now been added to student skills logbooks, and practical training and simulation stations have been established at university facilities across the Dar es Salaam, Mbeya and Dodoma regions. Dr Sebalda Leshabari, TAMA General Secretary, celebrated this progress:
"Including PPIUD and Postpartum family planning in the students' evaluation logbooks is one of the great achievements reached by the project. These structures assist to hold each part responsible: both tutors (for teaching) and students (for practice and evaluation).

The training stations available in the labour wards of the hospitals affiliated to these universities allow students on rotation and placement to practice their skills. Overall, it sharpens our focus of strengthening pre-service training, as a way to ensure sustainability of the project's work."
FIGO's PPIUD Initiative has trained more than 1,500 Tanzanian providers in postpartum IUD counselling and insertion, and empowered more than 55,000 women to make the right family planning choice for themselves. Integration of these services into routine maternity care is the long-term aim in all six countries where the project was rolled out.
The power of partnership has been fundamental to PPIUD's success in Tanzania. Drawing on strong relationships, TAMA was able to bring together PPIUD Facility Coordinators, Deputy Coordinators and Master Trainers, with heads of the Nursing, Midwifery and OBGYN Schools representing 23 programmes from institutions across the three regions.
Together they assessed existing means of student teaching and evaluation around postpartum family planning at affiliated institutions, and found them lacking. While family planning partly featured in the curricula, the most recent technical skills and theory were missing.
Mandatory student logbooks, used to ensure practice and evaluation of critical skills during training placements, had almost no relevant indicators: 21 out of the 23 programme logbooks had zero reference to postpartum family planning, and the remaining two did not specify PPIUD and other methods.
Working in partnership with Nursing, Midwifery and Medical Schools, the FIGO PPIUD Initiative set out to expand the coverage of practical teaching and assessments in postpartum family planning. This academic year, all affiliated programmes are providing updated student logbooks to document progress in PPIUD counselling and insertion training, as well as wider services.
Alongside gaps in assessment, the consultative groups identified a practical challenge: facilities did not have capacity to provide hand-on training and teaching. FIGO's PPIUD Initiative was able to provide university hospitals with practice tables containing a Mama U model and Kelly's forceps. These proved extremely popular during the recent exam season, allowing students to develop their skills in PPIUD insertion in their own time and at their own pace.
As Dr Peter Wangwe, member of the PPIUD Initiative Steering Committee in Tanzania and Head of Obstetrics and Gynaecology at the Muhimbili University of Health and Allied Sciences (MUHAS) in Dar es Salaam, explained:
"Expanding the teaching and assessment of postpartum family planning for our students ensures that they leave their training with detailed prior knowledge of a range of methods.

With the practical training they now receive, students can gain invaluable experience so that once they are qualified, they are already equipped with postpartum family planning skills. As a result, they will only require a short time to refresh these skills in cases of in-service training, rather than a full formal training".
Pre-service training is essential for long-term, effective family planning care. FIGO, in our commitment to meeting the unmet need for access to modern contraception, is working to build local capacity and increase the uptake of postpartum family planning so that every woman in Tanzania is able to make an informed choice about her body and her future well-being.