Target to reduce newborn deaths within reach
Impressive progress has been made across the world to improve the health and survival rate of young children. The number of infants who die before the age of five has more than halved since 1990, from 93 deaths per 1000 live births to 39 per 1000 live births today.
Image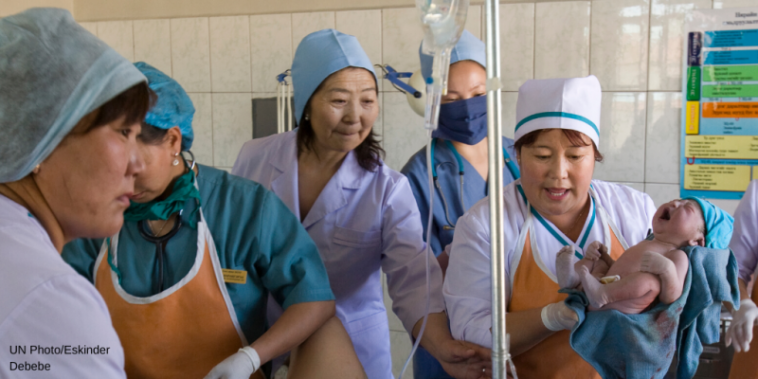 Early infancy is a critical moment. Just under half of deaths of children under five years old occur within the first month of life, due to prematurity, complications such as birth asphyxia and birth trauma, and neonatal sepsis. About a third of these 2.5 million infant deaths occur within the first day of life, and nearly three quarters in the first week.
The vast majority of these newborn deaths take place in low- and lower-middle income countries. Levels of maternal deaths are nearly 50 times higher for women in sub-Saharan Africa and their babies are 10 times more likely to die in their first month of life, compared to high-income countries.
Increasing the pace of progress
Between 1990 and 2018, under the Millennium Development Goals and current Sustainable Development Goals (SDGs), the worldwide number of neonatal deaths fell from 5.0 million to 2.5 million.
The World Health Organization's Every Newborn Action Plan has helped to drive this positive change by offering a comprehensive roadmap for improving coverage and quality of care before, during, and after birth.
Earlier this year the World Health Organization reported that globally, progress is on track to reach the SDG 3.2 neonatal mortality rate target of 12 per 1,000 births by 2030.
It is vital that we keep or increase the pace of progress. Currently 7,000 newborns die each day around the world. Reaching the SDG target would save the lives of 5 million infants between 2019 and 2030, most in Southern Asia and sub-Saharan Africa.
Newborn deaths can be prevented
Most of these tragic deaths can be prevented through quality antenatal care, skilled care at birth, postnatal care for mother and baby, and care of small and sick newborns. Focusing on the critical periods before and immediately following birth is essential to saving more children's lives.
Launched at the XXII FIGO World Congress in Rio de Janeiro in 2018, FIGO's International Childbirth Initiative (ICI) Working Group has produced best practice guidance for maternal and newborn health, offering a template for the quality care which will best protect women and their babies.
Dr André Lalonde, Chair of the FIGO ICI working group, said:
Our initiative is mother, baby, and family friendly, and it's based on a universal principle that a woman has a choice. Physicians, healthcare workers, midwives, nurses - we have to share that decision-making with women.
FIGO's 132 National Member Societies, and the wider global women's health community, must keep up the pressure nationally and internationally to ensure that action to protect newborn lives is prioritised and invested in.