Unfinished business of women's health and rights
UNFPA's 2019 State of World Population (SWOP) report, released last week in the UK, celebrates progress made towards achieving universal reproductive health and rights in the 25 years following the International Conference on Population and Development (ICPD) in Cairo.
Image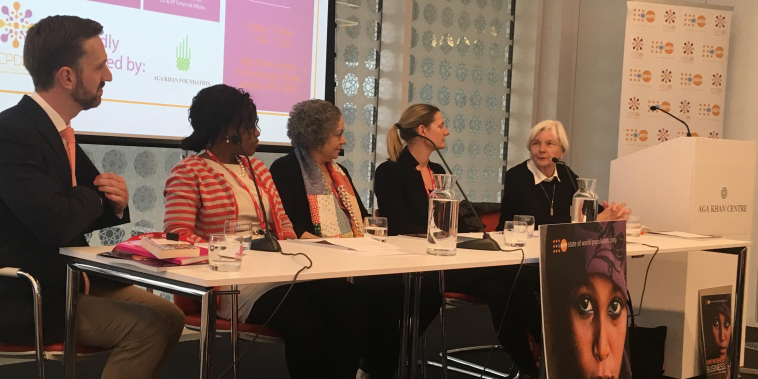 At the launch in London, FIGO's Honorary Secretary Prof Lesley Regan applauded these ambitious goals, and highlighted the role of OBGYNs in making them a reality:
"We've got to be braver in our commitment to the broad agenda of the ICPD Programme of Action. Why wouldn't you want the women in your family to be autonomous, happier and safer? Through FIGO's expert committees, advocacy and programmes in partnership with National Member Societies, we strive towards meaningful achievement of women's specific health needs and rights. There is much to celebrate, but we've got to make this 'unfinished business' everybody's business too."
Since 1994, life expectancy at birth has risen in every region of the world while total fertility rate per woman has declined, as more women and girls make informed decisions about their sexual and reproductive health.
Still, the SWOP report is unflinching in its assessment of just how much unfinished business lies ahead.
The contraceptive prevalence rate for married women aged 15 – 49 with a modern method is still only 37 percent in low-resource settings. Adolescent birth rate is 91 per 1,000 girls, and data for many key indicators, including child marriage and FGM/C prevalence, is still extremely limited. If the goal of 'health for all' is to leave no one behind, starting with those furthers behind, it is clear we have a long way to go.
As the global voice for women's health, FIGO is committed to bold work with governments, civil society and international organisations to ensure rights and choices for all women, wherever they are in the world. Representing the OBGYN community across 132 countries, with activities closely aligned to the Global Strategy on Women's, Children's and Adolescents' Health, we are resolute in our support of UNPFA's call to action on achieving the 'three zeroes':
- no unmet need for contraception - no preventable maternal deaths - no violence or harmful practices against women and girls
In November, FIGO will join governments, UN agencies, civil society, private sector organisations, women's groups and youth networks in Kenya at the Nairobi Summit on ICPD 25, marking the 25th anniversary of ICPD, and accelerating the promise of its Programme of Action.
Panellists at the launch in London praised the breadth of the Programme of Action, which addresses reproductive health and rights but in a wider context of women's specific health needs, including reproductive cancers and post-natal care. They warned against narrowing the agenda to any single issue.
Said Marianne Haslegrave, part of the UK's original delegation to ICPD in 1994,
"Greater commitment to the 2030 Agenda for Sustainable Development is the way forward. We need to be far more progressive as a movement than we have been since 1994, we need to look to a broader perspective."
One crucial consensus of the Programme of Action is still a challenge 25 years on: involving women in the leadership, planning, decision-making, management, implementation, organisation and evaluation of services. In the build up to the UN High Level Meeting on Universal Health Coverage (UHC) in September, FIGO is joining advocates around the world to demand that UHC truly works for women.
This means comprehensive language on sexual and reproductive health and rights. As Dr Natalia Kanem, United Nations Under-Secretary-General and Executive Director of UNFPA writes,
"We still have a long way to go before all women and girls have the power and the means to govern their own bodies and make informed decisions about their sexual and reproductive health. The lack of this power – which influences so man other facets of life, from education to income to safety – leaves women unable to shape their own futures. The fight for rights and choices must continue until they are a reality for all."