Uniting for every woman every child at UNGA
This week it was a great pleasure to represent FIGO at the high-level reception co-organised by UN Every Woman Every Child (EWEC) Secretariat, the Ministry of Health and Family Welfare of the Government of India and the Partnership for Maternal, Newborn and Child Health (PMNCH) "Uniting for every woman every child".
Image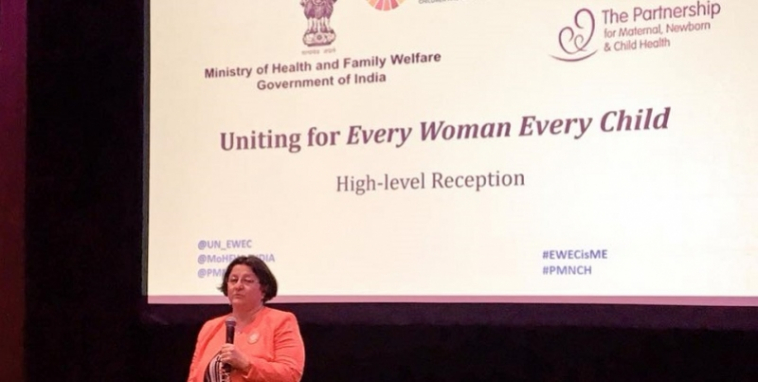 Although Ms. Amina J. Mohammed, UN Deputy Secretary General wasn't present, she reaffirmed via video the strong commitment of the UN Secretary General Antonio Guterres to invest in the health of women and children. Ms. Helga Fogstad, Executive Director of PMNCH, addressed the audience with an awe-inspiring message.
Afterwards Dr. Natalia Kanem Executive Director of UNFPA and host of EWEC secretariat introduced an interesting an stimulating panel discussion moderated by Mr. Ray Kumar, founder and CEO of Devex.
Among the speakers were Dr. Anders Nordström, Ambassador for Global Health at the Ministry of Ferign Affairs of Sweden and PMNCH board mamber, H.E. Jagat Prakash Nadda, Minister of Health and Family Welfare of India and member of the high-level steering group for EWEC, H.E. Nikolai Astrup, Minister of international Development of Norway, Mr. Michel Sidibé, Executive Director of UNAIDS and chair of the H6 Partnership, Mr Alexander Feldman, President and CEO of the US-ASEAN Business Council and Ms Tikhala Itaye PMNCH adolescent and Youth constituency board member and She decides Chairpeson.
I had the pleasure to greet old and new friends and colleagues from all over the world. It was an incredible and unique occasion to discuss the progress and challenges in women's, children's and adolescents' health in the world. I really think that with these premises and the wonderful work of PMNCH we are about to create something new and really impressive. We need the community to stay together, avoid divisions and rivalries and press strongly for the replenishment of the Global Financing Facility (GFF), so that more financial resources can be available, especially in low income setting, where mortality remains stubberly high.
Stay tuned for the PMNCH Partners Forum in India in December where a lot of new ideas and innovations will be shared.