World Patient Safety Day 2021: FIGO acts to ensure safe maternal and newborn health
Image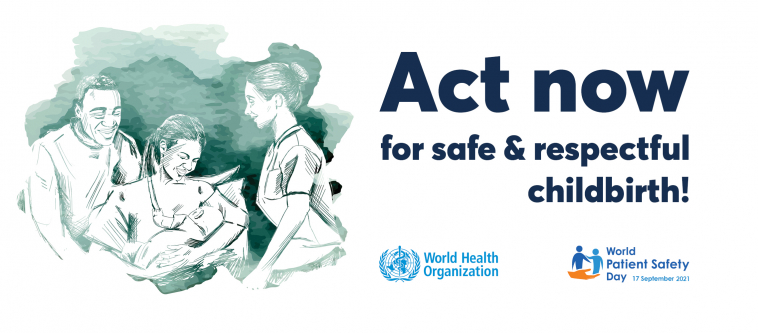 Today marks World Patient Safety Day, a day to enhance global understanding of patient safety, increase public engagement in the safety of health care and promote global actions to enhance patient safety and reduce patient harm. This year, the World Health Organization (WHO) has put a particular focus on safe maternal and newborn care, urging all stakeholders to 'Act now for safe and respectful childbirth!'
Almost 1,000 women die every day from preventable causes related to pregnancy and childbirth, and around 6,700 newborns die every day, amounting to 47% of all deaths among those aged under 5. In addition, about 2 million babies are stillborn every year – more than 40% of these occur during labour. The majority of the tragic deaths of mothers and newborns during childbirth are avoidable through the provision of safe, high-quality care.
As the global voice for women's health, FIGO brought together a working group of leading health experts to publish a series of documents to guide health care professionals in the delivery of safe and respectful maternity care, and to call on nations around the world to commit to respecting, protecting and fulfilling the right to maternal and newborn health.
A unified voice for patient-centred care from pre-pregnancy to postpartum
On this day, the WHO highlights the importance of involving stakeholders at all levels of society in maternal and newborn care: pregnant people, their families and communities, health care workers and leaders, facility managers, and policy makers.
In light of this, FIGO is proud to have brought together in a unified statement more than 30 national and regional OBGYN societies to speak with one voice calling for patient-centred care to be delivered equitably around the world, from pre-pregnancy to postpartum.
You can still co-sign to the statement to indicate your commitment to safe maternal and newborn health. As an individual or organisation, simply visit this page and share your name and affiliation.
On this World Patient Safety Day, we speak with one voice to call for safe and respectful childbirth. Reducing maternal mortality requires collaboration throughout the medical community and support from government entities and policymakers. FIGO encourages all nations, leaders, colleagues and partners to apply to maternal and newborn care and the crisis of maternal mortality around the world the same focus we have seen during the global pandemic. 

– Dr Jeanne Conry, FIGO President Elect
Childbirth: Bill of Rights
In addition, FIGO worked with member societies, national public health organisations and charities – including the Royal College of Obstetricians and Gynaecologists (RCOG), the American College of Obstetricians and Gynecologists (ACOG) and the Centers for Disease Control and Prevention (CDC) – on a Childbirth Bill of Rights.
This document encourages governments around the world to adopt measures that support maternal and newborn health. It encompasses the health care dimensions of pre-pregnancy, prenatal, and postnatal care.
All countries must provide safe, inclusive, accessible, affordable and respectful maternity care to ensure the best possible health outcomes. The Bill of Rights will help to power efforts to reach Sustainable Development Goals 3.1 and 3.2, which aim to reduce the global maternal mortality ratio to less than 70 per 100,000 live births and end preventable deaths of children and newborns by 2030.
Maternal care is not just about the care provided during pregnancy itself. It's about the pre-pregnancy care that allows our patients to be in optimal health prior to conception; it's about respectful, compassionate, comprehensive prenatal care that is centred on our patients; and it's about postnatal care that reflects the unique needs of our patients in the postpartum period.

–  Dr J Martin Tucker, President of ACOG
We welcome this joint statement and Bill of Rights as two incredibly important documents in advocating for the rights of women and girls globally. Working alongside our global equivalent professional organisations and partners is essential to ensuring that women have access to safe and essential healthcare. We hope to see governments and policymakers adopt the recommendations within the Bill of Rights, prioritising maternal and newborn care. 

–  Dr Edward Morris, President of RCOG 
Ethical Framework for Respectful Maternity Care During Pregnancy and Childbirth
The FIGO Committee for the Ethical Aspects of Human Reproduction and Women's Health has developed an Ethical Framework for Respectful Maternity Care During Pregnancy and Childbirth.
This statement complements the Bill of Rights by providing an ethics-based reference of care: it offers key recommendations for health care professionals on the principles of beneficence, nonmaleficence, justice and autonomy in relation to maternity care during pregnancy and childbirth.  
In support of the 'Bill of Rights' the FIGO committee for Ethical and professional aspects of Human Reproduction and women's health has come out with this important document providing an Ethics-based reference of care.

Pregnancy, labour and birth are healthy and life-changing physiologic processes for most women and their families, so it's important that the care is looked at from the point of ethical principles.

–  Dr. Sanjay Gupte, Chair of the FIGO Committee for the Ethical Aspects of Human Reproduction and Women's Health
Health Systems Strengthening and Respectful Care
We have also shared a statement on the need for global health system strengthening efforts and the importance of respectful care, in line with the International Childbirth Initiative's (ICI) aim to deliver care that is safe, respectful and grounded in evidence.
This document presents key recommendations to promote and provide safe and respectful maternity care, and highlights FIGO's commitment to ensuring respectful care is a central element in the practice of obstetrics and gynaecology around the globe.
Pregnant women need to feel respected in contact with health care providers when they receive care, as this makes them more likely to seek care when needed. Such health care needs to be evidence-based and delivered safely, as part of a system where basic equipment is provided. Health care providers should record their services and events to follow up on the quality of care.

– Professor Bo Jacobsson, Chair of the FIGO Working Group for Preterm Delivery
A Model for Safe Childbirth
FIGO has also released a Model for Safe Childbirth, highlighting the need for health care professionals providing maternity care to identify, report and monitor events that can be considered signs of unsafe care.
We are committed to working with partner organisations to identify factors that condition the occurrence of an incident or adverse outcomes for patients. The development of this model requires systematic approaches to improve the care delivery around the world in all settings.
Childbirth is a complex process, and it is essential to implement a safe delivery model, taking into account that it is estimated that in the world around 300,000 women die during and after pregnancy and childbirth, and more than 2 million newborns die within 28 days after birth. Most of these deaths occurred in low-resource settings and most could have been prevented.

– Edgar Iván Ortiz Lizcano, former President of the Latin American Federation of Societies of Obstetrics and Gynecology (2014–2017)
Next steps: a blueprint for future action
By using World Patient Safety Day 2021 as a starting point to raise awareness on the issues of maternal and newborn safety, particularly during childbirth, FIGO aims to create sustainable, long-term engagement among health care professionals to improve quality of care in this area. The documents published today day will serve as a blueprint for future action, putting best practice and avoidance of harm at the very centre of maternal and perinatal health care.
View all of FIGO and partners' statements using the navigation below or visit this page. The statements will soon also be published in French and Spanish, and the relevant statement pages will be updated when they are available.