FIGO History
FIGO is a global NGO working to improve the health and wellbeing of women and newborns worldwide.
Founded in 1954 by representatives from 42 national OBGYN member societies, FIGO grew out of a growing international movement to share knowledge and align best practice in a fast-changing world of health care and human rights.
The first meeting was convened by the inspiring gynaecologist and obstetrician, Professor Hubert de Watteville (1907-1984) from Berne, Switzerland, on 26th July, 1954.
It set out the mission of FIGO:
Image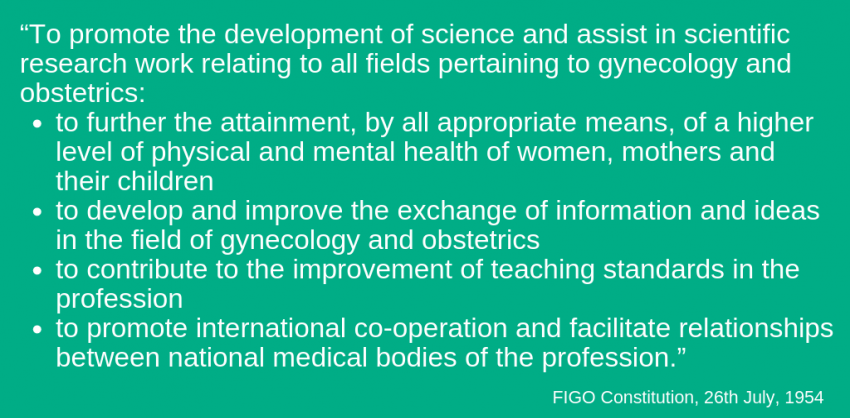 Today, FIGO has a membership base across 132 countries and remains the only organisation bringing together professional societies of obstetricians and gynecologists in research, advocacy and clinical best practice.
Although the federation has grown, our mission and commitments remain precisely the same as those set out on the first day. Each National Member Society is committed to ensuring that women of the world to achieve the highest possible standards of physical, mental, reproductive and sexual health and wellbeing throughout their lives.    
 I am sure that Professor de Watteville, who was largely responsible for the inception of FIGO, would be surprised and impressed by the breadth and scope of activities now being undertaken; but I am confident that our work is greatly impacting on the healthcare available to all women and their children, wherever they are in the world. 

Professor Arnaldo Acosta, FIGO President 2003 - 2006
Collaboration was at the heart of our founding, and remains central to our work. FIGO entered into official relations with the World Health Organization (WHO) in 1956, just two years after our founding meeting. This long and pioneering relationship has resulted in a success story that is as an example of the importance of collaboration between NGO and intergovernmental organisations in maximising impact at both policy and implementation levels.
Membership of FIGO has given me the opportunity to work with like-minded professionals throughout many countries where we are all tirelessly working in pursuit of improving women's health and rights. This has been in the form of knowledge and skills transfer and implementing projects that benefit women at the grass root level. 

Sir Sabaratnam Arulkumaran, FIGO President 2012-2015
Women and children are often the most marginalised when it comes to gender rights, human rights and health equity. FIGO is committed to a radically different world: one where every woman achieves active participation in her own health and rights, and the highest possible standards of health wherever she is in the world.
Since I first became involved in FIGO we have seen a significant reduction in maternal mortality, greater access to contraception and abortion services i.e movement in the right direction to achieve women's health and rights in line with the 1995 Beijing declaration of 'Planet 50:50' or SDG 5 by the year 2030.   

Sir Sabaratnam Arulkumaran, FIGO President 2012-2015
Today, FIGO leads on global programme activities, with a particular focus on sub-Saharan Africa, Latin America and South East Asia. Our work includes capacity building of many of our National Member Societies from low-resource countries through strengthening leadership, good practice and promotion of policy dialogues.
We continue to advocate on a global stage, especially in relation to the Sustainable Development Goals (SDGs) pertaining to reproductive, maternal, newborn, child and adolescent health and non-communicable diseases (SDG3). We also work to raise the status of women and enable their active participation to achieve their reproductive and sexual rights, including addressing FGM and gender-based violence (SDG5).