Dr Anne Beatrice Kihara on the achievements of the Maputo Protocol and remaining challenges across Africa
On 11 July 2023, FIGO is celebrating the 20th anniversary of the Maputo Protocol by sharing reflections from across Africa on how the Maputo Protocol has impacted the practice of obstetrics and gynaecology. Dr Anne Beatrice Kihara, FIGO President-Elect and OBGYN from Kenya, reflects on the successes and the future of the Maputo Protocol.
Image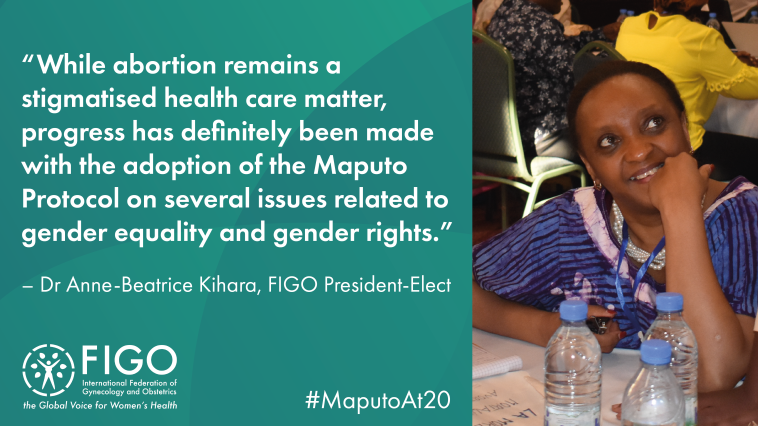 Dr Anne Beatrice Kihara is FIGO's current President-Elect, set to become the first African woman to be FIGO President from October 2023. Since 2021, Dr Kihara has been the President of the African Federation of Obstetricians and Gynaecologists.  
What have been the key achievements of the Maputo Protocol? 
While abortion remains a stigmatised health care matter, progress has definitely been made with the adoption of the Maputo Protocol on several issues related to gender equality and gender rights.  
The Maputo Protocol has helped to address harmful cultural practices, support women's and girls' empowerment through education and employment, promote economic safety nets, and work towards a zero-rate unmet family planning needs and a zero-rate preventable maternal deaths. It has also promoted the need to pay attention to vulnerable and marginalised populations such as people living with HIV, people living with disabilities, humanitarian crises, urban informal and rural populations, adolescents and youth.  
Are there still challenges in implementing the Maputo Protocol for your country context?  
A key challenge is women's and girls' lack of awareness of their rights to safe abortion care and of their countries' ratification of the Maputo Protocol. Gender disempowerment, the lack of supportive voices to uphold abortion as a time sensitive essential health service and right, and the lack of regulation on "conscientious objection" in health care workers present very serious barriers to women's and girls' access safe abortion services. 
In addition, legal challenges exist, such as nonalignment and difficulties in including the protocol's protections within national constitutions, differing interpretations of the law, and conflicts with penal codes that punish women and girls who seek abortion care as well as the health care workers who provide them. 
How can the challenges to the implementation of the Maputo Protocol be addressed? 
Strengthening access to safe abortion are requires a multi-tier approach, which must include: 
Creating enabling environments for safe sexual practices, access to family planning services and dissemination of information for the prevention for sexual transmitted diseases and HIV. 
Providing options when unintended pregnancies occur, such as pregnancy crisis centres, adoption services and safe abortion services. 
Averting complications from unsafe abortion – post abortion care services that include family planning and contraception. 
Building resilient health care systems based on clinical evidence. 
Investing in advocacy to deliver improved health outcomes based on clinical evidence, human rights and patient-centred health care. 
Undertaking research to gain in-depth understanding of socio-behavioural influences.  
Diversifying the service delivery models and use of technologies in abortion programming and operationalisation. 
What role can healthcare professionals, particularly OBGYNs, play in advocating for the full implementation of the Maputo Protocol and addressing the barriers that still exist in realising women's and girl's sexual and reproductive rights 
The Livingstone Safe Abortion Care Charter focuses on seven key priority areas that OBGYNs identified to address the scale of unsafe abortion – a leading cause of preventable maternal deaths and disabilities.  
The commitments in the Livingstone Charter build and sustain political will, and are crucial to advance safe abortion care - nationally and globally - as well as to ensure that advances made so far are not rolled back, as has recently happened in parts of the world.