Dr Simon Peter Kayondo on implementing the Maputo Protocol in Uganda
On 11 July 2023, FIGO is celebrating the 20th anniversary of the Maputo Protocol by sharing reflections from across Africa on how the Maputo Protocol has impacted the practice of obstetrics and gynaecology. Dr Simon Peter Kayondo, an obstetrician-gynaecologist from Uganda, discusses the achievements of the treaty and the remaining challenges to fully implement its provisions in the Ugandan context.
Image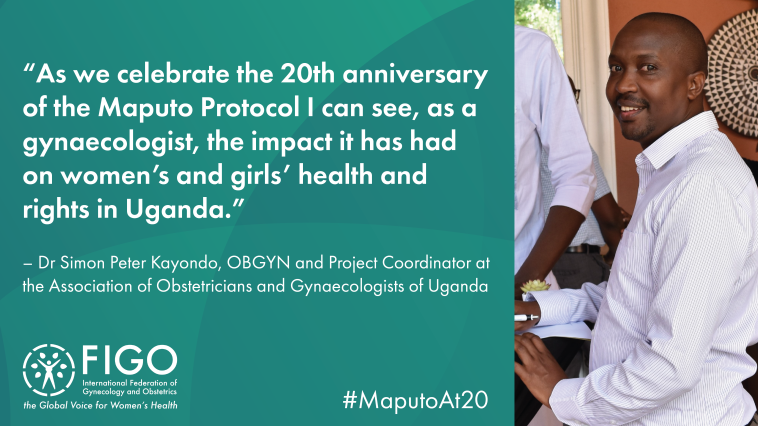 Dr Simon Peter Kayondo is an obstetrician-gynaecologist and Project Coordinator at the Association of Obstetricians and Gynaecologists of Uganda (AOGU). Within AOGU, he works on FIGO's Advocating for Safe Abortion Project, and he is also a member of the East, Central and Southern Africa College of Obstetrics and Gynaecology (ECSACOG) – FIGO Community of Practice. 
What have been the key achievements of the Maputo Protocol? 
As we celebrate the 20th Anniversary of the Maputo protocol I can see, as a gynaecologist, the impact it has had on the women's and girls' health and rights, especially in Uganda.  
The protocol has certainly had its fair share of positive contribution to legislation, policy and guidelines in favour of women's health and rights in Uganda. For example, Uganda has laws in our constitution that protect against torture, sexual violence and promote equality for women, in line with Article 4 (2) a, and Uganda's constitution also prohibits forced marriage in line with Article 6 a.
Are there still challenges in implementing the Maputo Protocol in Uganda?   
Uganda's ratification of the Maputo protocol has reservations on Articles 14 (1) a, which states that women must have the right to control their fertility, and 14 (2) c which ensures access to safe abortion for selected circumstances including rape and incest. These reservations water down the positives attributable to the protocol in the Ugandan context.  
With a total fertility rate of 5.4% and an unmet need for modern contraception of 28%, Uganda needs to lift its reservation on 14 (1) a. These figures fuel the high number of unwanted pregnancies and, as a result, unsafe abortions.  
The reservation on 14 (2) c means that even women that conceive as a result of rape or incest must resort to clandestine, unsafe avenues for abortion.  
It is no wonder then that, 20 years after the signing of the protocol, unsafe abortion still ranks among the top five causes of maternal mortality and morbidity in Uganda. A nation that still sacrifices many of its women to the most easily preventable cause of death and disability, unsafe abortion, should give us a lot to reflect on! 
How can the challenges to the implementation of the Maputo Protocol be addressed? 
On this 20th anniversary of the Maputo protocol, we must be looking to change the trend and change the narrative. We must look at our local circumstances and decide to move in a different and more positive direction.  
Uganda needs to lift the reservations made to the protocol, clarify its abortion laws, policies and guidelines, and provide a safe and favourable environment for access to safe effective contraception and abortion care. These clarifications will aid targeted training and service delivery, which currently remain stagnant due to a restrictive penal code and an unclear policy environment. Uganda needs to do this for its women and girls, Uganda needs to do this for its own future. A healthy and empowered population is the cornerstone to the nation's growth and development.