Against the medicalisation of FGM/C
Image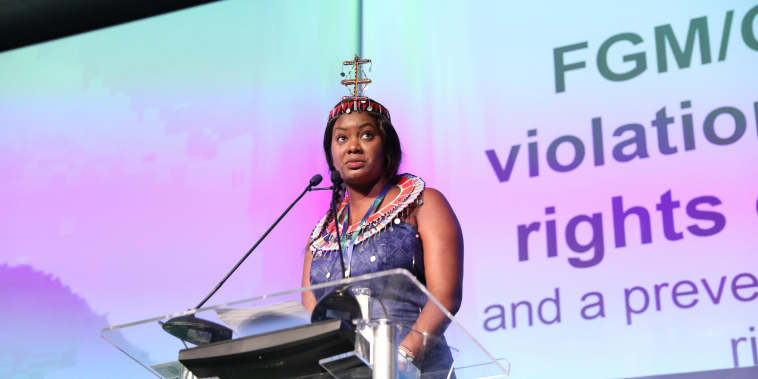 25 years ago, during FIGO's 1994 Montreal General Assembly, we formed a Resolution on Female Genital Mutilation (FGM).
It is as true and relevant today as it was then, and we reiterate our firm stand against the practice, by any community. FIGO encourages our 132 member societies – particularly those where the practice is prevalent – to urge their national governments to sign up to international human rights agreements condemning the practice.
What is FGM/C?
FGM/Cutting (FGM/C) is the collective name for procedures that intentionally alter the female genital organs for non-medical reasons.
This is worth reiterating: it is non-medical and has no health benefits for those on whom it is carried out. Suggesting that it should be performed for medical reasons is a human rights violation.
Often motivated by cultural beliefs about the acceptable sexual behaviour of women, the practice can also be associated with modesty and cleanliness, with girls erroneously considered more hygienic and feminine after the removal of certain body parts.
The World Health Organization (WHO) divides FGM/C into four categories:
Type 1: The partial or total removal of the clitoris, also referred to as a clitoridectomy.
Type 2: The partial or total removal of the clitoris and the labia minora, also known as excision.
Type 3: The narrowing of the vaginal opening through the creation of a covering seal, also known as infibulations.
Type 4: Any other harmful procedures to the female genitalia, including pricking, piercing and cauterising.
Data on FGM prevalence
UNICEF estimates that more than 200 million girls and women alive today have been cut in the 30 countries in Africa, the Middle East and Asia where FGM/C is concentrated.
This does not include, for example, girls who have been subjected to FGM/C in high-resource settings, or taken from countries such as the UK to be mutilated elsewhere.
True figures on prevalence can be unreliable, but it is thought that the practice has been declining over the past three decades. In the 30 countries where data is available, around one in three girls are thought to have undergone it today, compared to one in two in the mid-1980s.
However, the decline has been uneven - and in some nations, rates have been going up. At current levels, the United Nations Population Fund (UNFPA) believes 68 million girls will be cut in 25 countries between 2015 and 2030 because FGM-concentrated countries are experiencing rapid youth population growth.
Without more urgent action, any progress made towards the eradication of FGM could be lost.
The devastation wreaked by FGM
WHO notes that health-care providers are increasingly asked to perform FGM/C, perpetuating the belief that FGM is medicalised and therefore safe. FIGO joins WHO in the strongest opposition to any medicalisation of the procedure.
"The 'medicalisation' of FGM is an alarming trend being seen all over the world but it doesn't justify this abuse of human rights of young girls and women," said Professor Ajay Rane, Deputy Chair of the FIGO Committee for Fistula and Genital Trauma.
Frequently using dirty instruments and no anaesthetic, FGM/C can cause haemorrhaging, infection and shock. Long-term complications carry significant physical and sexual consequences, including incontinence and infertility, and frequently causes psychological trauma.
Research studies in Burkina Faso and Mali suggest women with infibulations are around two-and-a-half times more likely to have a gynaecological complication as those with a Type 1 or 2, although the latter should not be viewed as any less serious and severe.
Recent estimates also suggest that many of the countries where FGM is most prevalent also have high maternal mortality ratios and high numbers of maternal death, sometimes above 550 per 100,000 live births.
FIGO reiterates the necessity of building a strong evidence base to ensure that providers offer high quality healthcare to girls and women who have experienced health complications following FGM/C. This evidence base provides much needed recommendations for quality clinical care and we emphasise the vital importance of our members ensuring that quality care is available to the women and girls living with FGM.
What is being done to eliminate FGM?
Important work is being carried out worldwide to make FGM a thing of the past, with governments increasingly passing laws to outlaw the practice.
At the international level, the UN General Assembly continues to build on efforts that began in the 1960s to speak out against FGM by moving it away from being a purely healthcare-related issue to being seen as one of human rights.
In 2012, it adopted a resolution on the elimination of FGM and in 2016, the WHO, the UNPFA and UNICEF collaborated on the first evidence-based guidelines on the management of health complications from FGM.
At the regional and community level, advocates are also working to inform people about the health consequences of FGM/C, and to adapt cultural norms – for instance by promoting alternative rite of passage ceremonies that celebrate the onset of womanhood yet do not harm girls.
An unacceptable institution
As UNPFA states, behaviour can change when people are educated that it is possible to leave behind harmful practices without giving up valuable parts of their culture and heritage.
As part of FIGO's vision that women of the world achieve the highest possible standards of physical, mental, reproductive and sexual health and wellbeing throughout their lives, we are supportive of the intensifying of global efforts to end FGM/C, especially in relation to the new Sustainable Development Goals (SDGs) pertaining to reproductive, maternal, newborn, child and adolescent health (RMNCAH).
FIGO stands by our commitment to:
Explain the dangers of FGM
Educate health professionals about the harm it can cause
Support those who want to end the practice
Assist in any research that will contribute to its elimination
Oppose any attempt to medicalise it.
Everyone has a responsibility to be informed about FGM and to inform others so that this unnecessary cruelty and abuse of girls can be brought to an end.