Be an advocate for better PPH management
Image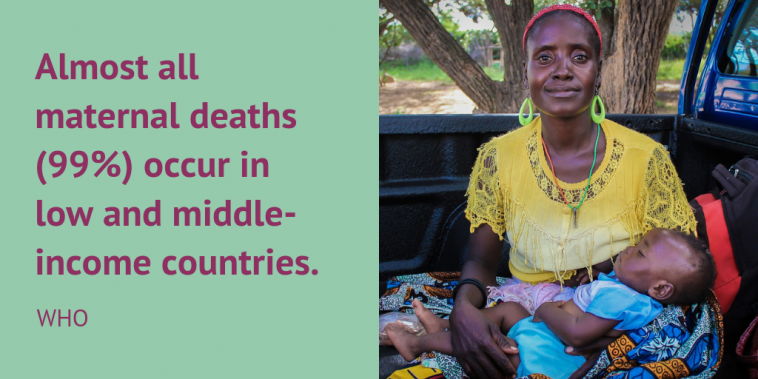 830 women die every day from complications of pregnancy and childbirth. Postpartum haemorrhage (PPH) is the leading cause of maternal mortality with almost all maternal deaths (99%) occurring in low and middle-income countries.
In addition to deaths, many more women are left with long-lasting and debilitating consequences. The majority of these deaths and disabilities are preventable; almost all complications can be treated if women have access to high-quality maternal health care.
Sub-Saharan Africa remains the region with the highest ratio of maternal mortality, at 546 per 100,000 live births, so there is still a long way to go to meet the SDG3 target of reducing the global maternal mortality ratio to less than 70 per 100 000 live births.
Uterine atony – when the uterus fails to contract after giving birth leading to heavy bleeding – is one of the main causes of PPH. Uterotonic medication can prevent and treat PPH from uterine atony. One such uterotonic is misoprostol, and though oxytocin remains the first choice for PPH management, it is an essential tool especially in low-resource settings because it is:
✓ heat and light stable
✓ widely available
✓ low cost
✓ easy to administer (table form!)
A 600-μg oral dose of misoprostol has been shown to prevent PPH in community-based randomized controlled trials, and an 800-μg sublingual dose of misoprostol appears to be a good first-line treatment for controlling PPH. Misoprostol has been recommended by FIGO and the WHO.
In 2016 FIGO invited all 130 member associations (national societies of obstetrics and gynaecology) to participate in an electronic survey to find out about misoprostol for PPH in their countries (publication coming soon). Sixty nine societies (53%) responded. Findings indicate that:
Many countries do not have national guidelines on PPH management
National guidelines on PPH that exist are often not up-to-date and evidence-based – do not have misoprostol in their prevention and treatment protocols
Even when comprehensive guidelines exist, healthcare workers don't know about them or are unable to implement them
Misoprostol is often not included on national Essential Medicine Lists
Policies and programs do not support implementation of best practice of PPH management including misoprostol use
Given these findings and the global imperative to reduce death and disability from PPH and meet the SDG target, FIGO urges our members to become advocates for maternal health. If any of the above points apply to your country, consider getting involved.  
Catalyst for change
Advocacy is the strategic use of information and action to shape opinion, policies and practices. It is a powerful and important catalyst for change.
Advocates can work to improve the laws, policies and systems that affect the communities they serve and healthcare providers can be some of the most powerful advocates for change. This is because of occupational credibility, first-hand experience, specialised knowledge, social capital, and a unique positioning between clients and policymakers.
You can be one of the most persuasive and compelling messengers on the planet! If you are not sure where to start, FIGO has developed a series of advocacy materials to help you, including:
You can find these here: www.FIGO.org/pph and best wishes to all budding and active advocates!